For this review, we fed a fresh spool of Prusament Prusa Galaxy Black PLA through the Original Prusa i3 MK2S and, for funsies, the TEVO Flash.
As you might expect from a company that takes great pride in its packaging and the appearance of its products, a spool of Prusament is no exception.
Coming in a brown cardboard box, playfully decorated with chat window-like messages giving the definition of Prusa (a man from the Czech Republic named after a printer, no less) and assurances of quality,  the real point of differentiation is in the label. Here you find a short overview of the specific spool's production, along with the customary notations on the color and finish.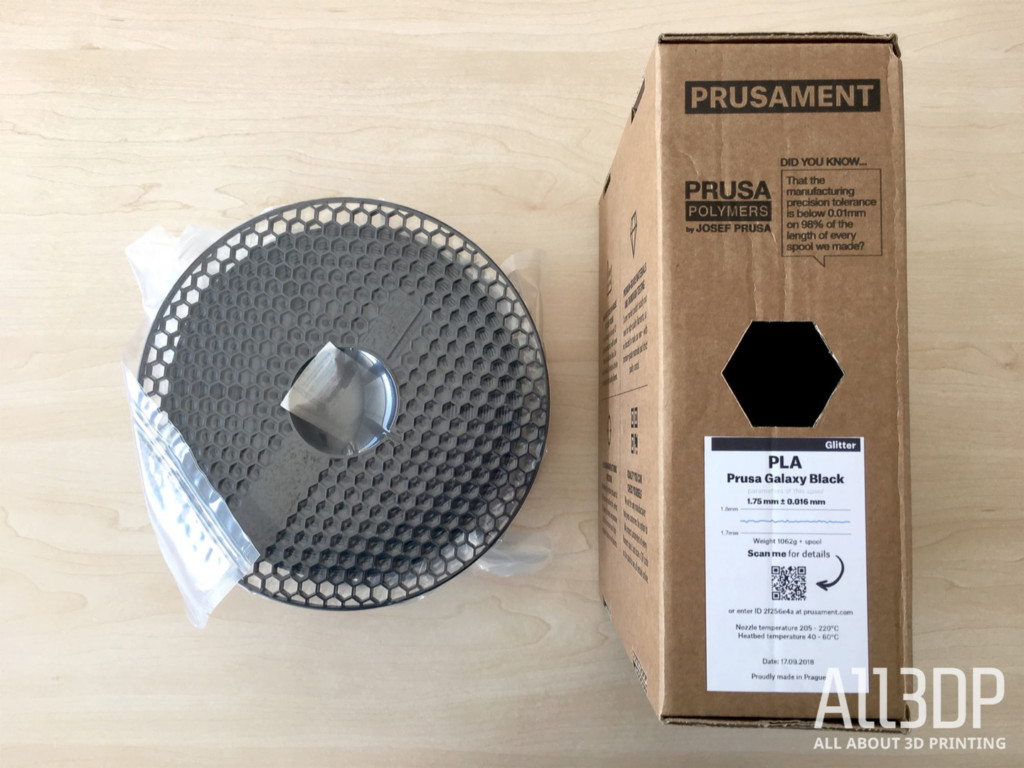 It's all very Prusary (yeah, we're coining a new term for this review).
Inside the box, you have the spool itself with a sachet of desiccant inside a resealable airtight bag. As mentioned before, the spooling of Prusament is picture perfect with no crossovers or overlaps between the loops of material.
We can't attest to have had a better printing experience because of this. Perhaps more critical to avoid filament tangling is the tension and properties of the materials itself. Other filaments we've used will gleefully unwind, twist and knot themselves at the first sign of slack when changing materials for printing — we did not experience this with Prusament PLA, which unspools without a fuss.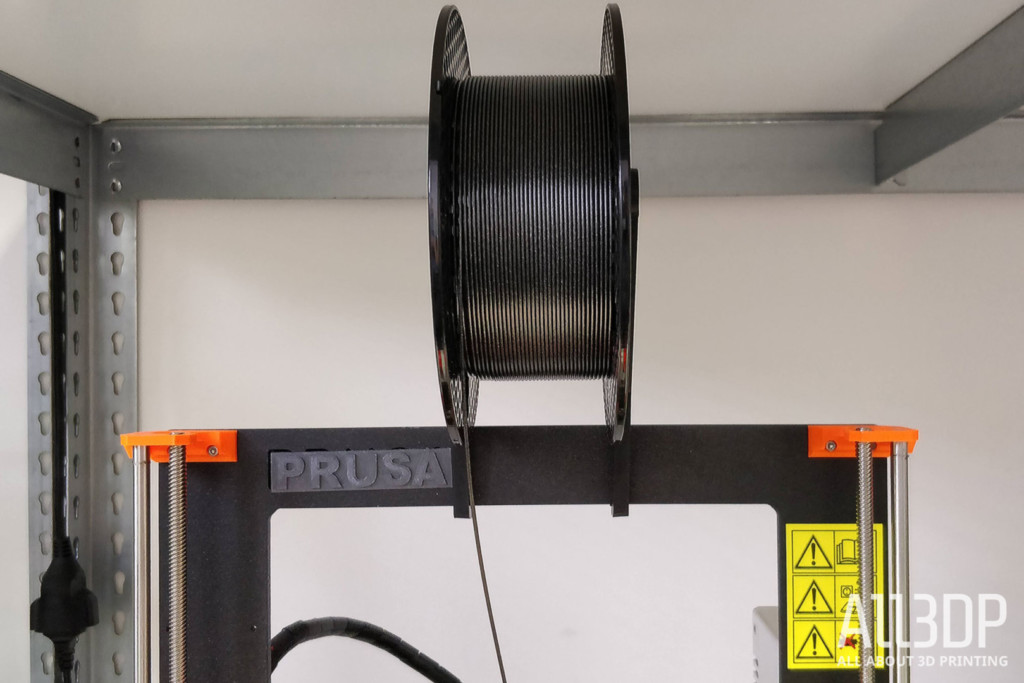 As is the wont of 3D printing reviews, we began our test of Prusament with the jolly torture test, 3DBenchy. Printed on the Prusa i3 MK2S using Slic3r Prusa Edition's inbuilt material profile for Prusament, the result is, for the most part, excellent.
Layer and shell bonding appears, to the naked eye, flawless. Flat planes are smooth, and the first layer printed on the PEI surface take on a glossy shine, bridges are bridged with nary a sign of sagging.
Print on glass and Galaxy Black Prusament gains a mirror-like finish that, combined with the varying shapes and sizes of glitter, gives it a strange sense of depth.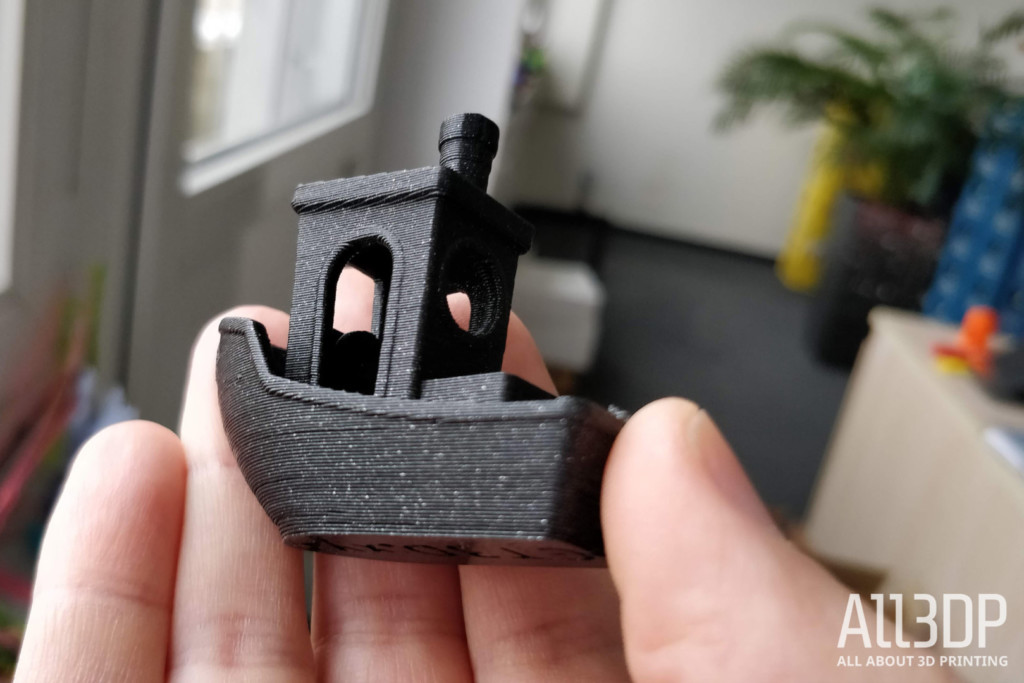 The added glitter does a great job masking layer lines and generally leaves a smooth looking print that is optically forgiving where print flaws are present. Indeed, our test Benchy suffers from a whisper of under-extrusion in places — not necessarily caused by the filament, it could be a clog that worked itself free — but only by getting up close and personal with the print would you be able to tell.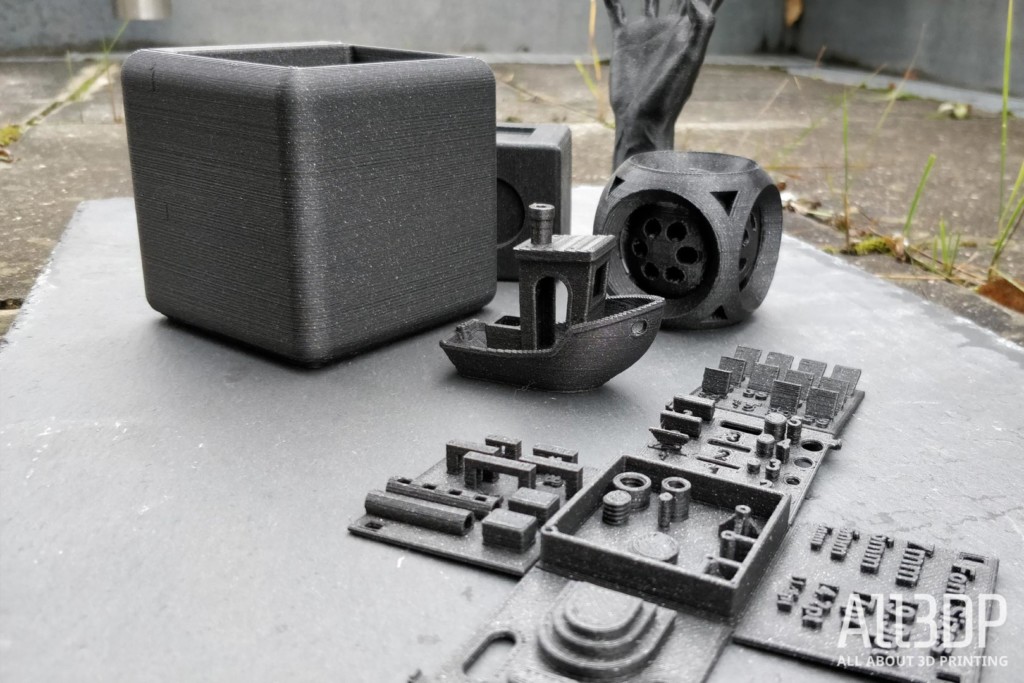 The feel in hand is smooth, but not glossy. We'd liken it more to a matte finish, but the ocean of glitter sparkles leaves prints glowing under direct light.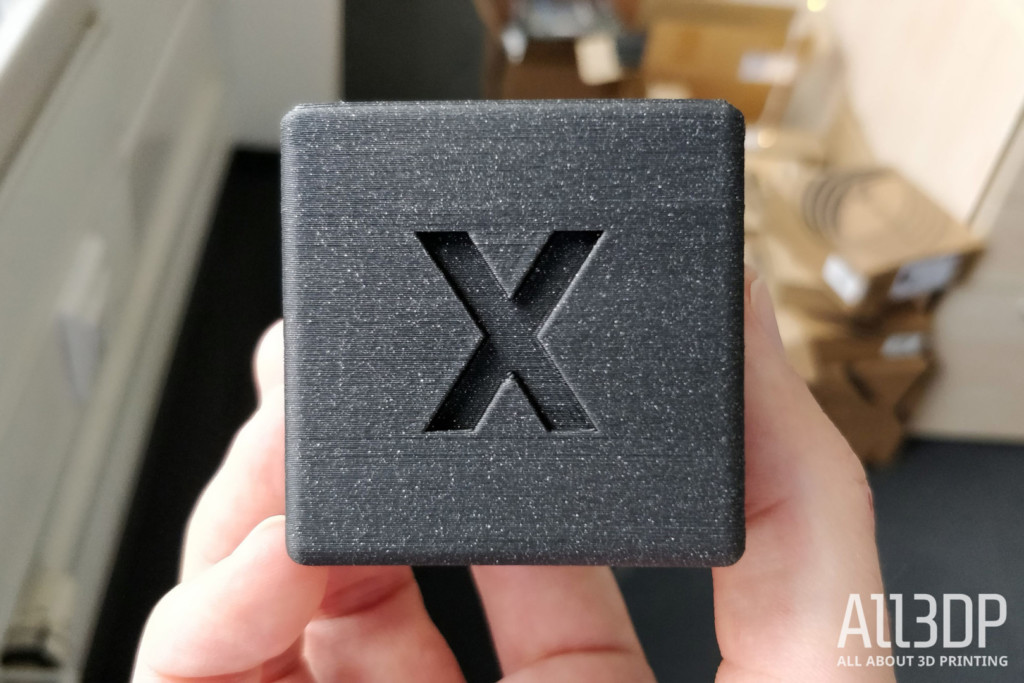 Printing at hotter temperatures appears to darken the grey to a more charcoal color, which isn't unpleasant, but is noticeably different from what we imagine is the intended dark, dull grey.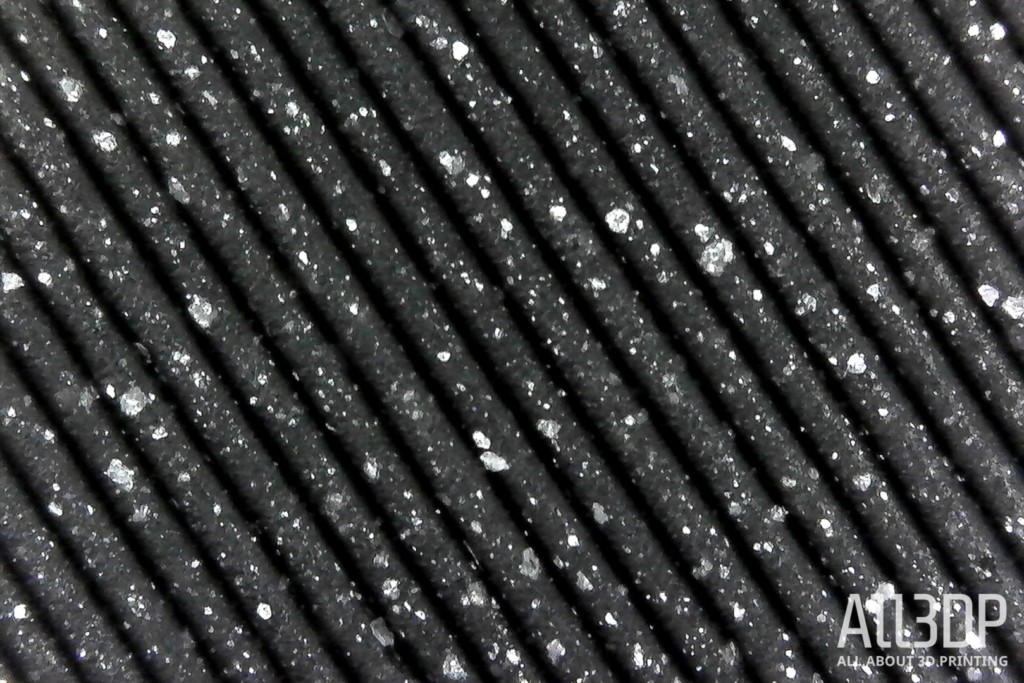 Putting Prusament Prusa Galaxy Black under the microscope, we get a clear look at the additive guff that gives this filament its shine.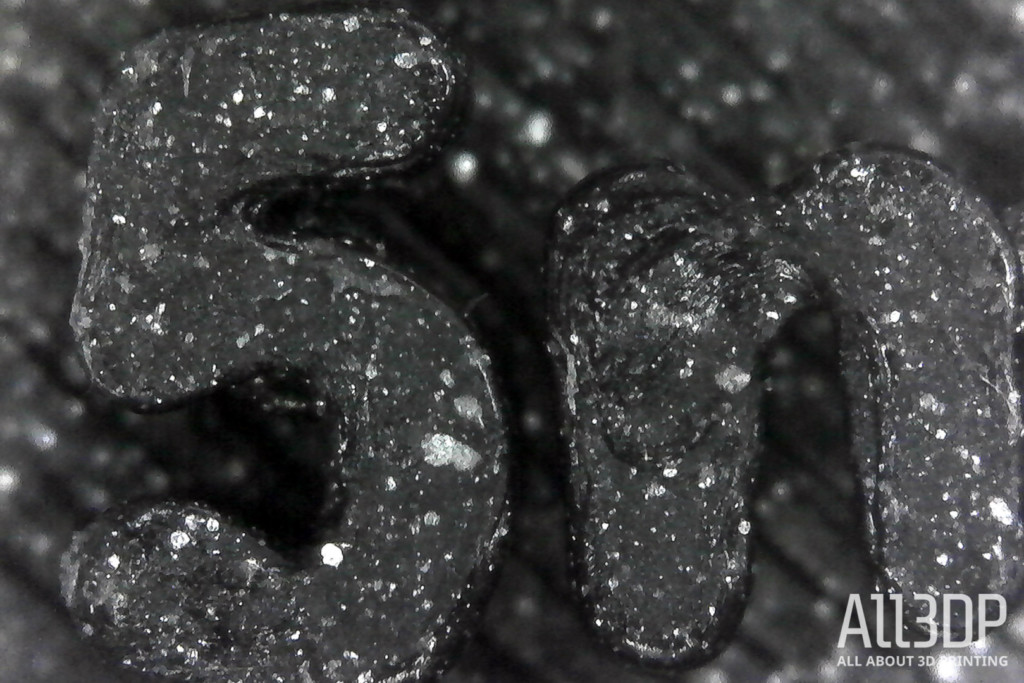 Hopping from a Prusa-optimized machine printing Prusa-optimized filament to the TEVO Flash (slicing using Repetier-Host using middle-of-the-road print settings) provided additional clarity for our main thoughts using Prusament: this filament is fiiine.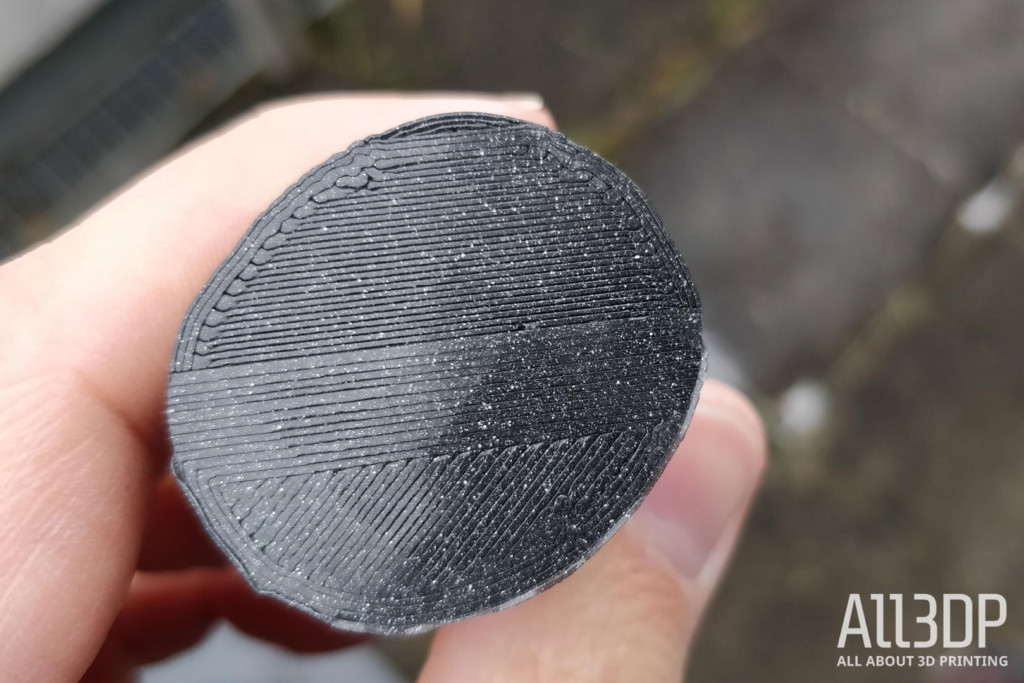 Printing on a machine such as the Flash, that attempts (with varying degrees of success) to print fast, is the ever-present specter of ghosting. Due to the lustrous finish of this particular color of Prusament, it is natural that the different directions of scattering light highlight such artifacts, making them stand out even more. Just a cautionary note.
All3DP's Verdict
Overall we're pretty pleased with our time printing Prusament Prusa Galaxy Black PLA. Prusa Research (or rather Prusa Polymers, to give due credit to this particular branch of the Prusa empire) has achieved no small feat in being able to provide exacting data specific to each spool, and for their efforts the resulting filament a fine material to print with.
Speaking on the provided data, much like the ticker-tape diagnostics that come paired with every printer that leaves the company's warehouse, it's this level of thought and care that makes the company stand apart.
Admittedly, for as much as we're fans of the sharing of such data, we're a little in the dark on the value of some of it for those (read: us) doing day-to-day printing with Prusament.
It's one thing to claim an ovality target of 2% in the filament production process, but to tell us that our spool is at 2.2% leaves us wondering what we're missing out on. "What if it was 1.9%? What if that jerk next door has an ovality of 0.5% – he'll brag about it for days!" And so on…
Of course, don't let such silliness overshadow the meaningful data given with each coil of Prusament. The exact weight and length of your filament can improve your costings for prints if that matters to you. It would just be nice to see some visible use for the rest of it.
Does Prusament PLA print better than other sparkly PLA blends? Not necessarily — it might not tangle as much, but this would require far greater testing to verify. It prints as well as any other premium PLA filament, which is as much as you could ask for.
Fed through a perfectly dialed in printer is where you will likely see the gains from the tighter tolerances of Prusament. On all other machines that inflect their mechanical misgivings on the prints, we imagine the supposed superiority of Prusament is rendered moot.
For the transparency behind its production and the wealth of data given to you, the customer, with every spool, we're big fans. Will we exclusively be printing Prusament PLA from now on out – probably not. For those looking for a bit of provenance with their printing paired with a quality feeling and looking PLA, Prusament does the trick.