With a tagline that's one adjective short of a Daft Punk song, TEVO's "Better, Faster, Stronger" Flash 3D printer brings a raft of features with it that have caught our attention. Always the company to differentiate itself from the crowd, TEVO seems set to continue on its course with the Flash — a splash of color in a market of dreary stamped out clones.
For starters, the print volume is a little larger than we previously predicted after seeing their teaser video. At 235 x 235 x 250mm, it puts the TEVO Flash's print volume at fraction over that of the likes of the Prusa Mk3, Anet A8 and other Prusa i3 designs.
A TEVO Titan extruder in a Bowden arrangement ships with the TEVO Flash, mounted to the X-axis rail which is itself driven by a lead screw that is fixed at both ends (meaning greater stability as the Z-axis printing increases).
It also appears that the mechanical endstops have been replaced with proximity sensors, which the company claims offer "better homing accuracy".
Next our attention is drawn to the print head itself. Unlike TEVO's Tarantula, Black Widow and Tornado 3D printers, the Flash features dual print cooling fans.
An interesting point for the TEVO Flash is the inclusion of smoothers. Small boards that connect between the mainboard and stepper motors driving the printer's axes, they smooth out the missteps caused by a discrepancy between the motors' voltage and the supplied voltage. Basically, this should see a reduction or elimination of the "salmon skin" effect on the surface of prints — an issue seen on prints from TEVO's Tornado 3D printer too.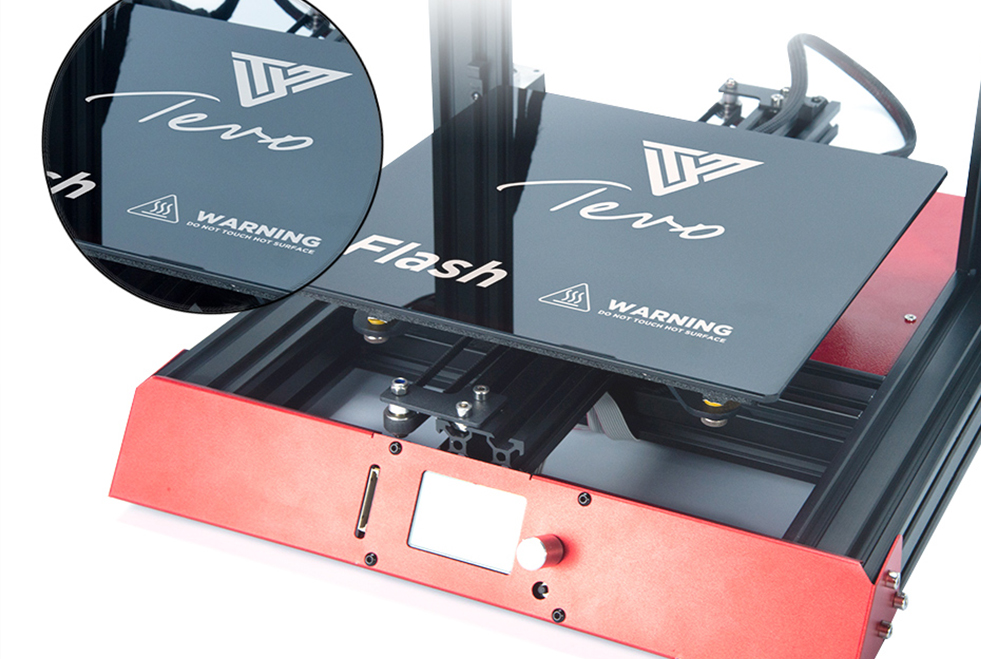 One thing that is returning from the TEVO Tornado is the fast-heating AC heated bed. On the Tornado this was a contentious feature given the lack of grounding and proper strain relief for mains-carrying cables. If these points are addressed then we'd celebrate it's inclusion, especially so since this heated bed is paired to a "glass-ceramic" print plate.
But, looking at the imagery provided on the TEVO webpages, there's no apparent change there. We'll have to reserve judgement until we get our hands on the printer.
The next big change for the TEVO Flash is the inclusion of a Volcano hot end. We presume this is a TEVO-made derivative of E3D's open-source Volcano hot end which, thanks to its super long melt zone allows for thicker extrusions and faster flow rates. Paired to a large nozzle this could amp up your output, but as it is the TEVO Flash comes with a 0.4mm nozzle.
Those looking to pick one up have a few options: the most basic TEVO Flash comes as described above and semi-assembled. Upgraded models featuring dual Z-axis, BLTouch and TMC2100 stepper drivers are also available available, either individually or combined.
This means the price also varies, with the barebones TEVO Flash costing $239 and the all singing all dancing dual Z-axis, BLTouch and upgraded driver Flash retailing for $369.