In essence, the Prusa MK3S looks and feels exactly like its predecessor, offering the same 250 x 210 x 200mm build volume, a sturdy frame with iconic orange-colored 3D prints parts, as well as staple features like the removable magnetic print bed and power recovery.
However, after gathering feedback from the recent survey, Prusa Research decided to set forth on a journey to solve some of the issues that its loyal user base have experienced.
NEW FEATURES
REDESIGNED EXTRUDER
The most noteworthy change implemented into the Prusa i3 MK3S is the completely redesigned extruder assembly. A number of users suggested that the extruder should be easier to access. This led the manufacturer to modify the design so that users can change the nozzle of PTFE tubing without having to take apart the entire assembly.
Additionally, the nozzle and extruder nozzle has been moved closer to the X-axis, reducing resonance and improving print quality. Other refinements that the new extruder provides include improved cooling and better Y-axis belt tensioning.
UPDATED FILAMENT SENSOR
Not only has the Prusa team completely reworked the extruder, but they've also introduced a new filament sensor that offers improved compatibility with specific filaments, something that the original sensor tended to struggle with.
After experimenting with a mechanical switch mechanism for the new sensor, the manufacturer found the initial results to be highly unreliable for long term use. Instead, Prusa Research opted to combine new ideas with old ones, creating an optical sensor that is triggered by a simple mechanical lever. With this hybrid approach, the new sensor isn't deterred by the optical properties of the filament.
OLDER ENHANCEMENTS INCLUDED
All other enhancements that have been made to the MK3 model since its release will also be included on the new Prusa i3 MK3S. This includes new genuine Gates belts, textile sleeves to replace spiral wraps, a new Einsy case, anti-rust coating for the PEI sheets, along with dozens of firmware and more robust plastic parts.
New print profiles on Slic3r software
Aside from the hardware upgrades, Prusa has also added new print profiles for the MK3 and MK3S. To access them, all you have to do is download Slic3r Prusa Edition 1.41.3 or newer.
There is now a 70μm profile that offers an option in between 50μm and 100μm. It's being marketed as a great alternative for 3D printing miniatures. Prusa Research has also packaged its 150μm Optimal and 200μm profiles into Quality and Speed modes, respectively. As you can imagine, Quality is made for high surface quality, while Speed increases the print speed without much sacrifice in quality.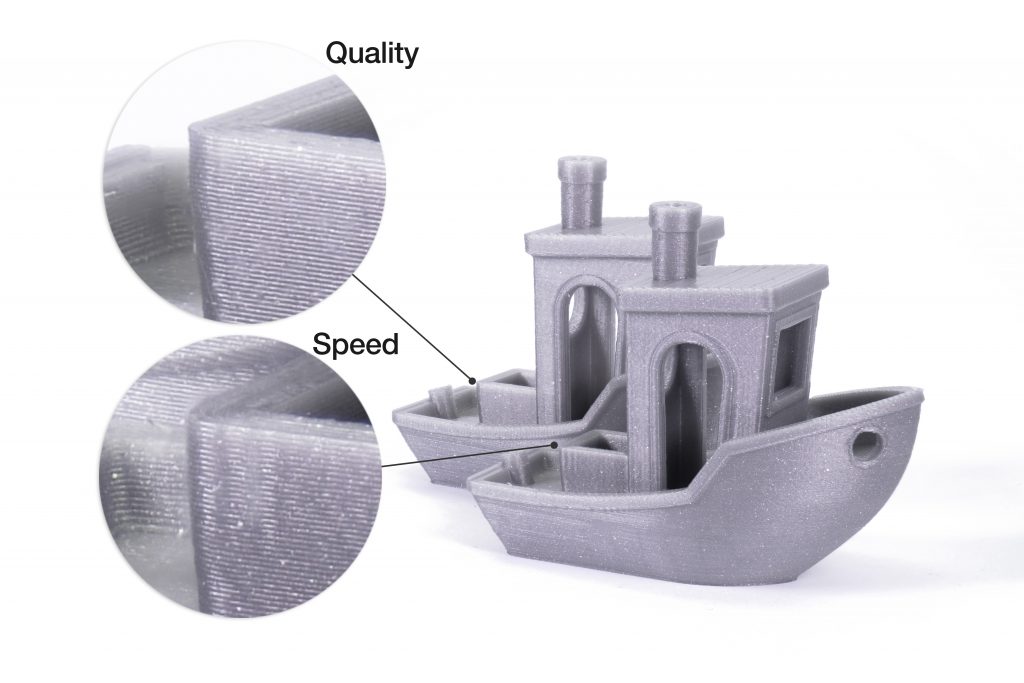 UPGRADES & PRICING
The fully assembled model of the Prusa i3 MK3S is available for €999, while the DIY kit can be had for €749. The new version is already shipping to customers. Anyone that happened to order the previous model from January 2019 onward will receive a voucher for the free upgrade.
For the rest of the MK3 owners, the upgrade kit can be purchased for €19.99 (granted that they print the plastic parts on their own). If you don't want to print your parts, you'll pay €39.99.
OLD (BUT STILL GOOD) FEATURES
MK52 Magnetic HeatBed
This removable magnetic PEI-coated spring steel bed — probably one of the best you can find on a printer these days — is a hugely awesome feature that makes the usability of it tippy top. As the sheet cools down, parts can be popped off by simply flexing the sheet inward.
Power Panic
The Prusa i3 MK3 can recover and resume a print-job after a power loss because of its EINSY RAMBo motherboard. It can monitor power, which allows for the detection of blown fuses, and it also features Trinamic drivers which are super fast, quiet, and can detect (and correct) layer shift while printing.
Automatic bed leveling
Fiddling around with your bed trying to level it perfectly is frustrating at best. Prusa does the hard work for you with auto bed leveling so your prints can be beauties on the first try.