Formlabs launches the Fuse 1 selective laser sintering 3D printer, and the Form Cell, an automated production solution for the Form 2.
While the 3D printing industry continues growing at a rapid pace, few companies have experienced the success that Formlabs has. After strengthening their desktop SLA 3D printing line with the Form 2 back in 2015, the Massachusetts startup has been on the rise ever since.
Don't Miss: Formlabs Michael Sorkin Talks New Products, Global Expansion, And 3D Printed Sex Toys
Formlabs has expanded both its global presence and product line, unveiling new products like the Form Wash & Form Cure earlier this year. This week, the 3D printing pioneer added two new breakthrough products to its product line. They also announced a partnership with the athletic sportswear brand New Balance. The company is launching the Fuse 1, their first selective laser sintering printer, as well as the Form Cell, an automated production solution for the Form 2.
Formlabs Brings SLS 3D Printing To The Benchtop With Fuse 1
Arguably the biggest announcement of the bunch is the Fuse 1, a compact SLS 3D printer designed for the benchtop. This potentially revolutionary machine will offer the industrial power of selective laser sintering at 20x less the cost.
Although the technology is different from SLA, Formlabs is putting the same intuitiveness and functionality found on the Form 2 into the Fuse 1. At the start, materials will include Nylon PA 12 and PA 11, capable of producing strong and durable prototypes and even use-end parts. The SLS technology allows users to print complex parts without supports in an affordable way.
The Fuse 1 will start at $9,999, and can be reserved on June 5 with a $1,000 deposit. However, a full package is also available for $19,999, including a post-processing station, an extra build piston for continuous usage, and initial material load. Formlabs plans to start shipping this printer sometime around mid-2018.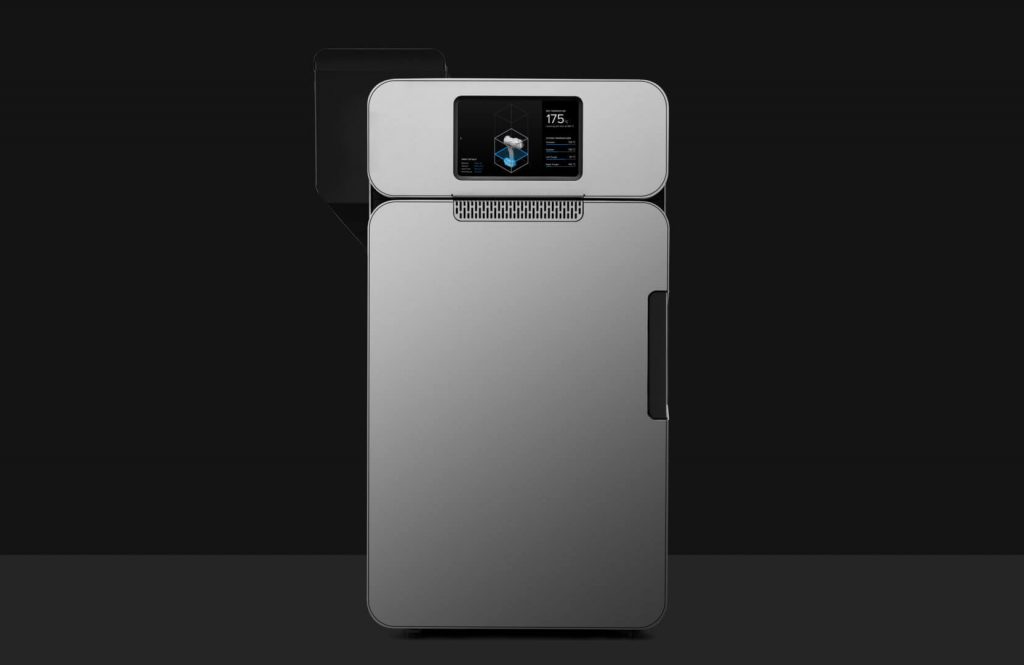 Form 2 Receives Automated Boost With Form Cell Production System
Formlabs is also releasing the Form Cell, an automated production system for the Form 2. This breakthrough solution will enable users to setup a row of Form 2 printers, the Form Wash, and a curing unit all in one integrated place. The system uses an industrial robotic gantry system to automate the entire printing process from start to finish.
The Form Cell is optimized to produce the lowest cost per part. The system will effectively eliminate manual labor from the 3D printing while enabling around the clock manufacturing.
This production system also includes advanced software that provides a number of innovative features. This includes print job scheduling, error detection, remote monitoring, part and serial number printing, and more. Formlabs engineered the Form Cell to be factory ready, instilling API endpoints for integration with various business or homegrown workflow systems.
Currently, Formlabs is accepting applications to become a development partner for the Form Cell. They also offer the possibility to develop you own production solution setup to meet the particular needs of your business. All in all, both products aim to enhance the 3D printing workflow for their increasingly large and unique customer base.
"By enabling teams to easily iterate and also to directly manufacture final products, Fuse 1 and Form Cell open up a wealth of innovation flexibility within the product development cycle, from early prototyping to manufacturing," said Dávid Lakatos, chief product officer of Formlabs.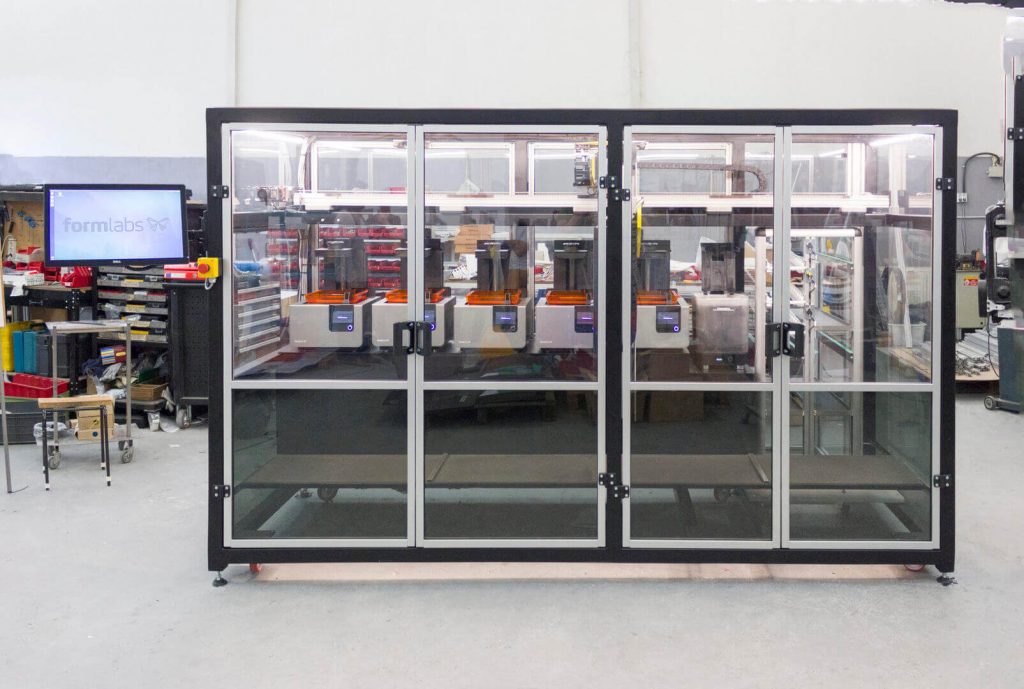 Formlabs & New Balance Partner Up For 3D Printed Footwear
The announcement of two products might seem like enough for one week, but Formlabs had even more news to share. During the Digital Factory manufacturing conference on Monday, the athletic sportswear brand New Balance announced a partnership with Formlabs.
Together, the two Boston-based companies will work to integrate Formlabs 3D printing technology into New Balance's production workflow.
The new collaboration will lead to the development of footwear-specific resin materials. They will also work to develop speciality printers capable of creating products that improve athlete performance. New Balance will use the Form 2 to help produce future lines of high-performance footwear. Their ultimate aim is to provide personalized products and a better fit to their global customer base.
Although the partnership with Formlabs is new, this footwear company has had skin in the game for some time. Back in 2015, New Balance released a line of running shoes equipped with a 3D printed midsole.
So, as you can probably tell, it's been a historically gigantic week for Formlabs. With the Fuse 1 and Form Cell joining the Form Wash & Form Cure on the product line, it's clear that the startup is looking to expand their horizons through new technology, while also strengthening the products that have helped get them this far.
You can learn more about the Fuse 1 and Form Cell on the Formlabs website. If you want to learn more about this trailblazing startup, check out our video interview with Managing Director Michael Sorkin below!
Source: Press Release
License: The text of "Formlabs Expands Into New Horizons With Fuse 1 & Form Cell" by All3DP is licensed under a Creative Commons Attribution 4.0 International License.
Subscribe to updates from All3DP
You are subscribed to updates from All3DP
Subscribe
You can't subscribe to updates from All3DP. Learn more…