Beating Nike and Adidas to market, New Balance announced a collaboration with 3D Systems to manufacture running shoes with a 3D printed midsole.
Earlier this year, sportswear giants Adidas and Nike expressed an interest in 3D printed running shoes. But hot on their heels (excuse the pun) are New Balance, who this week announced a pivotal partnership with 3D Systems.
The plan is to produce and sell a sneaker with a completely 3D printed midsole, launched in time for the Boston Marathon in April 2016.
But eager beavers can head to the Consumer Electronics Show (CES) in Las Vegas in January, where they'll be treated to a first glimpse.
https://www.youtube.com/watch?v=y3pmP5rkIiA
New Balance embraces New Technology
New Balance's sneaker features a 3D-printed midsole made from a newly developed elastomeric powder and DuraForm Flex TPU.
The mid-sole will be made using selective laser sintering (SLS), an expensive process which uses a laser to convert powdered materials into solid objects, built layer-by-layer.
The design of the midsole is based on underfoot pressure data from heel strikers. New Balance have added more cushioning elements in areas of higher average pressure.
Sean Murphy, New Balance Senior Manager of Innovation and Engineering, said about the project:
"To deliver this level of performance with a 3D printed component, we paired experts in running and biomechanics with leaders in plastics engineering, material development and generative design. These are the types of collaborations that will drive footwear design and manufacturing in the future."
This is not the first time that the company has used 3D printing — in 2013 track athlete and middle distance runner Jack Bolas competed New Balance data-customized, 3D printed spike plates.
Since then, Team New Balance athletes have continued to compete in custom, printed spikes, including US Olympic Athlete Kim Conley at the 2014 USATF Outdoor National Championships where she came in first in the 10,000m.
New Balance President and CEO Robert DeMartini said: "With 3D printing we are able to pursue performance customization at a whole new level."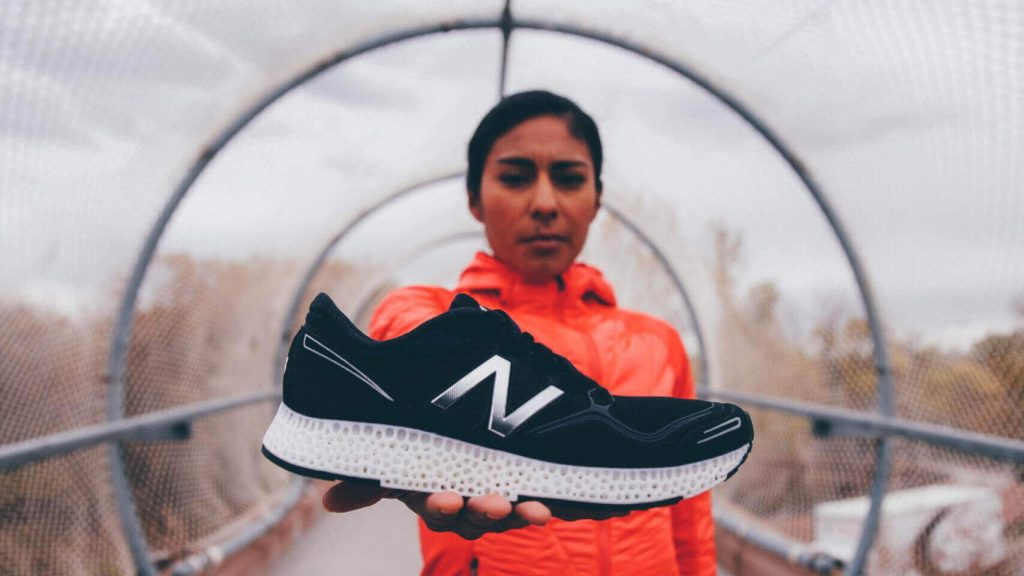 License: The text of "New Balance to Launch 3D Printed Running Shoes" by All3DP is licensed under a Creative Commons Attribution 4.0 International License.
Subscribe to updates from All3DP
You are subscribed to updates from All3DP
Subscribe
You can't subscribe to updates from All3DP. Learn more…