All3DP visits Formlabs Europe to talk to Managing Director Michael Sorkin about the Form Wash + Form Cure, their Berlin office expansion, and more!
Exclusive Interview: Inside BigRep: Bringing in Big Bucks, Building Smaller Printers
Exclusive Interview:
Back in 2011, a group of MIT graduates founded the startup Formlabs, aiming to make stereolithography 3D printing affordable and accessible through the desktop format. Fast-forward almost six years later, the company is one of the most successful and fastest growing in the industry.
Their most recent printer, the Form 2, has become the benchmark of desktop SLA 3D printing. In a market that is flooded with FDM printers, Formlabs is constantly perched among the top of highest rated printer lists. With this success and handsome amount of investments ($35 million in a Series B last year, to be exact), the Massachusetts startup is expanding its reach across the globe.
Not only is Formlabs expanding its global reach, the company has also unveiled new products to further compliment its 3D printing ecosystem. In September, Formlabs will begin shipping the Form Wash + Form Cure, two products intended to simplify the post-processing required after SLA printing.
The Form Wash provides an automated process for users to clean their Form 2 prints with fresh isopropyl alcohol (IPA) keeping parts directly on the build platform. On the other hand, the Form Cure is engineered to heat up 3D printed parts and optimize the mechanical properties of Formlabs' resins. Using 13 multi-directional LEDs
In order to get a firsthand look at this impressive growth and new products, All3DP recently paid a visit to Formlabs' new office in Berlin, Germany. After a quick tour of the company's grandiose three-story space, we sat down to talk with Formlabs Europe Managing Director Michael Sorkin about the company's expansion, the Form Wash + Form Cure, 3D printed sex toys, and much more!
Check out the video of our visit below, and be sure to read the extended interview below!
Q: Going from the Form 1 to the Form 2, can you talk about the development process and the advancements you've made since the beginning?
Michael Sorkin: We started very simply. We started with a very simple, but very nice SLA machine. It had one button, so it was kind of disruptive not only to use 3D printing, but also to see a 3D printer in such shape and such a design, and such a user experience. You don't have to mess around with cables or complicated software. You really need to just plug it in the computer with a USB drive. Mac, Windows, it doesn't matter. And then you can start printing.
We were really listening to our users, basically, to our community, to our Kickstarter backers when we initially started. We're really refining the concept of the 3D printing process itself. We're not focusing only on the fancy gadgets inside. We're focusing on real ability of the prints, real ability of the machine, obviously the resolution, the material variety. We're focused on development of the lasers, the enclosure of the machine so you cannot get dust inside. The resin tank is heated so you have a very controlled process there, and a very reliable print processing output.
Q: You look at the 3D printing trend reports, you guys are always on the top there. Can you talk about being in a market that's flooded with FDM printers and succeeding with SLA technology?
It's fun. First of all, we're at the top, but that's just the beginning. Looking at the market itself and the FDM machines, they are great machines. I've been using, I would say, an Ultimaker since the beginning – a do-it-yourself kit Ultimaker original. It's a great machine. For everyone who really wants to start very affordable, very cheap and get some simple parts out of it. If you really fine-tune the machine, you can also get very nice parts of it – ABS, PLA. Due to the complexity right now of the market, there are so many brands on the market of FDM machines, but also starting for the SLA machines.
I'm not confused as the player of this industry. It's more that the customer expectations are not being fulfilled. Because everybody here or in this market, especially the young companies who are dreaming of becoming leaders and the best, who are going to lead and provide the solutions the customers need. The reality was that the majority of those companies are very young, so they really need to learn about the market, about how they can deliver a product, about the certification process, the packaging. It's not that easy to bring out a final product.
For us, it was on the side favorable that everybody was focused on the FDM, which was a little crowded – all different brands, different success stories, some less successful stories. We could really provide a groundbreaking solution in a nice package and for the right price, which broke this trend and provided another solution. Which is, again, can you provide simple parts, but also get very complex and very detailed.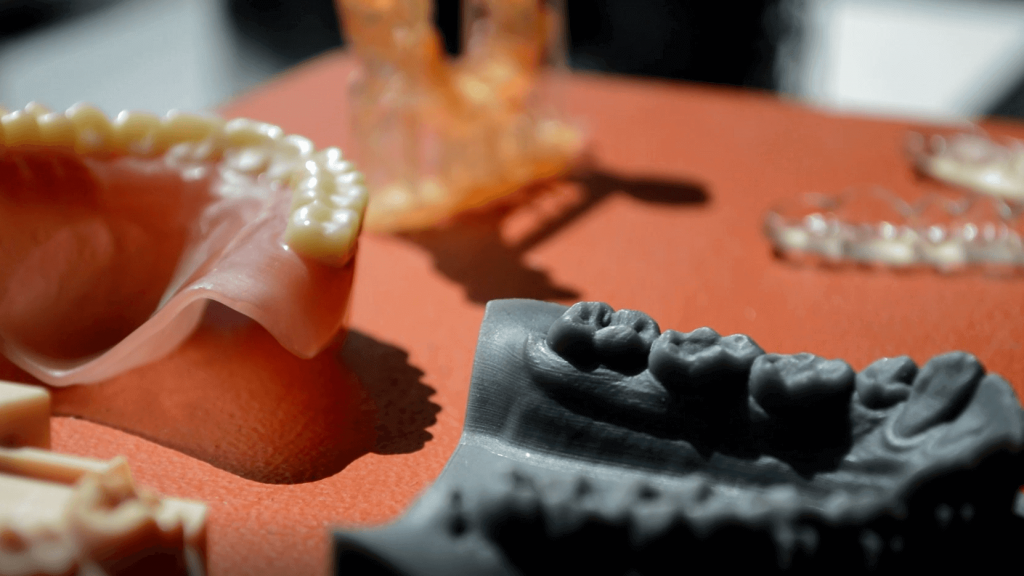 Q: Can you talk about the increase of Formlabs customers coming from the medical and dental industry?
We started with the product designers. Our largest target group is obviously engineers, product designers that were not looking for medical applications. Nevertheless, throughout time, we had received a tremendous amount of requests coming from jewelers, but also dentists, hospitals asking for end-production solutions of functional resins which can be used in a medical environment and in the patient or at the patient. We had been looking at that for a couple of years before we really said we were going to commit to the dental market and bring out our first functional resin the Dental SG, for surgical guides.
We hadn't expected such a huge demand on that. We launched it up and one of the resins we sold. Today, after already our third resin in a short period of time, about a year, we are getting to a level where we consider medical applications or dentistry, I would say dental customization, digital customization and fabrication as one of our biggest target groups. The majority, speaking about percentage, I would says sometimes it fluctuates. Dentists are separate in terms of the market, 30 to 40 percent and it's getting higher.
Q: What does it mean to you to see that this machine is not just helping people create cool things, but it's actually helping save lives and driving the medical industry forward.
We're proud. We have goosebumps every time we see such a great story. There are thousands of such great stories out there. Unfortunately, we cannot cover them all this year, but maybe we can focus on it in the years to come. It's a tool. A 3D printer is a tool. It can take life, but it can also give life. We are very clear about that. We are very aware of this fact We really want to drive it in the right direction. But, again, there is so much in between that is interesting as well. If you go on Kickstarter and browse through hardware campaigns, you would be surprised how many Form 2s you would see actually in the videos.
How many Forms 2s or Form 1s or even Form 1+s are being used in early-stage startups creating great, phenomenal products which are revolutionizing. The people are innovating. The people are living a life with wearable technology and all of these interesting gadgets which are coming out. They're probably 80 percent of all hardware Kickstarter projects are using 3D printers in their early stage. That's great.
Q: Getting into the Form Wash and Form Cure, can you talk about how that came about and the development process behind that?
Yes. The product which would be there from day one, actually. It took its time. Again, it was important for us to take our time to come up with the final product here. Because we started with a very simple product line in terms of resins. We brought in our portfolio further and further, going into functionality. To find the perfect wavelength, to cure the right material, also looking forward, we're going to announce and release in the future, it needs some calibration calculations and considerations. It took us some time, but it is part of the process itself.
Again, when we spoke about ecosystem, it's not a way where the customer doesn't need to interact with the resin or with the material after the part has been printed. A dentist or a jeweler or a designer or an engineer can just work with the machines and the file. We have WiFi. They can track the print online. When it's finished, it goes into the curing chamber. It's a washing chamber, then the curing chamber. At the end of the day, he has a final product in his hand without really interfering with his post-process method. It's a very simple way to do that and it's very clean method to do that.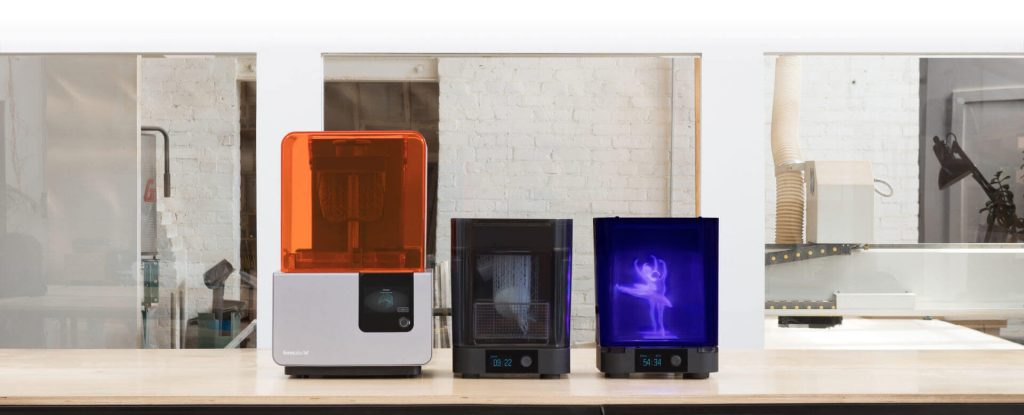 Q: From your personal experience, what's the most interesting use study or thing that you've seen a customer do with the Form 2 that's really caught your attention?
It's one of the favorite questions of every interviewer. Basically, additive manufacturing is crazy, right? It's a rollercoaster industry. You see a lot of crazy stuff every week. It's ranged from rocket maker, sex toy makers, to spaceships and cars and organs. So we do deal a lot with very funny stuff. I think the craziest thing I have ever seen was actually very interesting, it was a sex toy. Like chess, where the figures were, well, you can imagine what they were. I think so far, living in this industry for five years, that was the craziest thing I have ever seen.
Q: Let's go into the Berlin office. Can you talk about how you've expanded in the EMEA market and how you've noticed, not only with applications, but geographically how Formlabs has spread over the years?
Sure. Formlabs Berlin started very small. There was a room with a blinking light in a co-working space with three people. That was one and a half years ago. Today, we are three floors, as you have seen. Our HQ here in the middle of the heart of Berlin. Around 60 people are working here full-time and constantly every week, they're adding more. The development has not been easy. As I told you before, Berlin is a startup and service city. To find the right human skill sets and the right potentials to understand not only how to sell well, but how to sell right and how to sell hardware which produces output, so digital publication solutions.
That took a while, but I am very confident about my core team here in the HQ. This is a very solid base where we can expand into different directions, while also welcoming entirely new products coming along our path. It's going to be a very exciting year for us and you will see in the next couple of months what we're going to present and showcase. It all starts with the team. If you don't have the right team, even with a great product, you will sell shit here and probably in other regions as well.
Q: As far as the overall goal, where do you see the direction of Formlabs going and in the near future and distant future, what is the overall aim would you say of the company?
Great question. Simply put, I think we are on a very lucky to have such a great team, which is also very driven to go in the direction of leading the digital fabrication industry.
That team creates great solutions for it. This is not a team of barely makers sitting in a cellar and working on machines and then going out and hopefully it will work or hopefully not. It's a very outgoing community we have here at Formlabs. It's a very young, driven company in the team spirit we have. While we go into the industry, while we go into industrial sectors and to digital fabrication, manufacturing, those print farms, we think it's more called print factory, that fits better.
The trend is going that we really want to lead the digital fabrication industry and to set up standards which are not existing right now. As you have said, there's a lot out there in the industry. But it's very few players in this market that follow the line from the beginning to the end and are so adaptive and receptive to the customer feedback. This is what we are doing, what we have been doing, and what we are going to continue doing.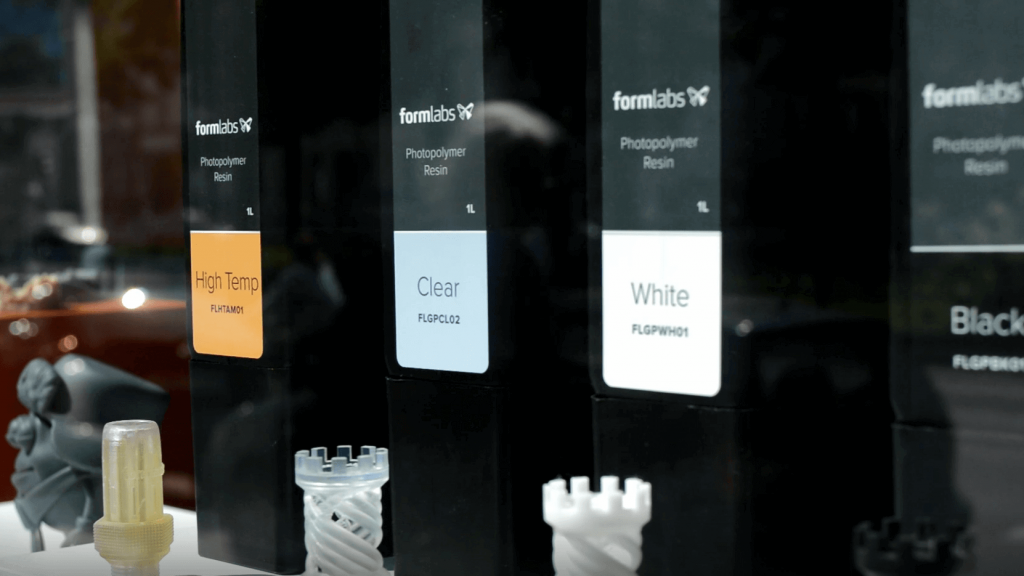 Q: Outside of the printer, speaking of business, how have you seen the business grown from the Form 1 and now with the Form 2, your audience base on a global level?
We're expanding. We're expanding in human resources. We're selling thousands and thousands of printers across the globe. We're discovering new regions, this is for sure. Here in Europe, we have a very good partner network, which supports very far countries, I would say. But we're still discovering new areas which will bring not only additional salesforce, but they also bring additional feedback. Feedback which goes into product development. India, for example, is a very interesting market for jewelry. While Switzerland, obviously for watch making.
Those are, again, different industries which are very traditional, but where additive manufacturing can really transform them, not disrupt. That is a key word of yesterday. I think transforming is a better word for what additive manufacturing is doing. It's transforming the way traditional industries are working and how they innovate. We're looking in this country, so we're not just going there to sell machines. We're really going there to discover how we can make the customers of such traditional industries, and also I would say newer industries, more successful in what they are doing.
Q: What's the impression that you would want to leave on someone if they visited this office and didn't know much about additive manufacturing? What is the one thing you'd want them to take away from Formlabs?
Well, if the person is good, they should apply here. First of all, I think we're leaving a good impression. Besides that, I think everyone who is stepping into additive manufacturing should accept a learning curve. It takes time. It doesn't matter how easy the process, how easy the product or solution is. They really need to expect that they need some time here, rather than here, to understand how they want to come up with an output which really suits their problem or their challenge. The learning curve is very steep.
It doesn't take years or months, but they should really calm down, take their time, and really understand how the technology is working and what they really expect from it. We're here and able to support them with that.
License: The text of "Formlabs Michael Sorkin Talks New Products, Global Expansion, And 3D Printed Sex Toys" by All3DP is licensed under a Creative Commons Attribution 4.0 International License.
Subscribe to updates from All3DP
You are subscribed to updates from All3DP
Subscribe
You can't subscribe to updates from All3DP. Learn more…