Formlabs launches a new automated washing and post-curing system — called Form Wash and Form Cure — for seamless end-to-end SLA 3D printing.
Don't Miss: Formlabs Form 2 Review: Great Resin 3D Printer
Leading 3D printer manufacturer Formlabs has announced two additions to their stereolithography (SLA) ecosystem, Form Wash and Form Cure.
Working in tandem with the Form 2, they represent a complete system for automated washing and post-curing SLA printed objects. Most importantly, they ensure Formlabs materials are printed to their maximum mechanical properties.
According to Dávid Lakatos, Chief Product Officer at Formlabs:
"Anyone who's used a 3D printer knows the dirty secret of the process; a lot happens in between hitting 'print' and holding a final product. We know our users' time is better spent designing and creating, so we developed Form Wash and Form Cure to bridge that missing gap; making it easier than ever to go from finished print to ready-to-use part."
Formlabs will be showcasing the new system for the first time at the RAPID + TCT conference between 8-11 May in Pittsburgh, USA. See it in action in the video below:
Details of New Form Wash and Form Cure from Formlabs
With Form Wash and Form Cure, Formlabs promises a streamlined 3D printing process for producing more consistent results with less time and effort.
The Form Wash is an automatic cleaning unit where users can place the Form 2's build platform directly into Form Wash and set a timer. An impeller inside the unit then "agitates" the printed object in isopropyl alcohol (IPA). Once complete, it raises the basket or platform and the clean part is ready for post-curing.
Form Wash also includes a storage area to keep finishing tools tidy, and a hydrometer to notify you when it's time to swap out the IPA.
Elsewhere, Form Cure enhances the post-curing stage of SLA 3D printing by controlling light and temperature within a bespoke chamber. For optimal conditions, the Form Cure pairs 405 nm light with a heating system and a rotating platform.
Formlabs says that post-curing using the Form Cure will dramatically improve the performance of all Formlabs materials; standard resins increase in strength, engineering resins reach peak performance, and castable resins burn out more cleanly.
Form Wash and Form Cure are both available now for preorder, with prices at €593.81 and €831.81 respectively. Shipping begins in September 2017. For more details, visit the product page here.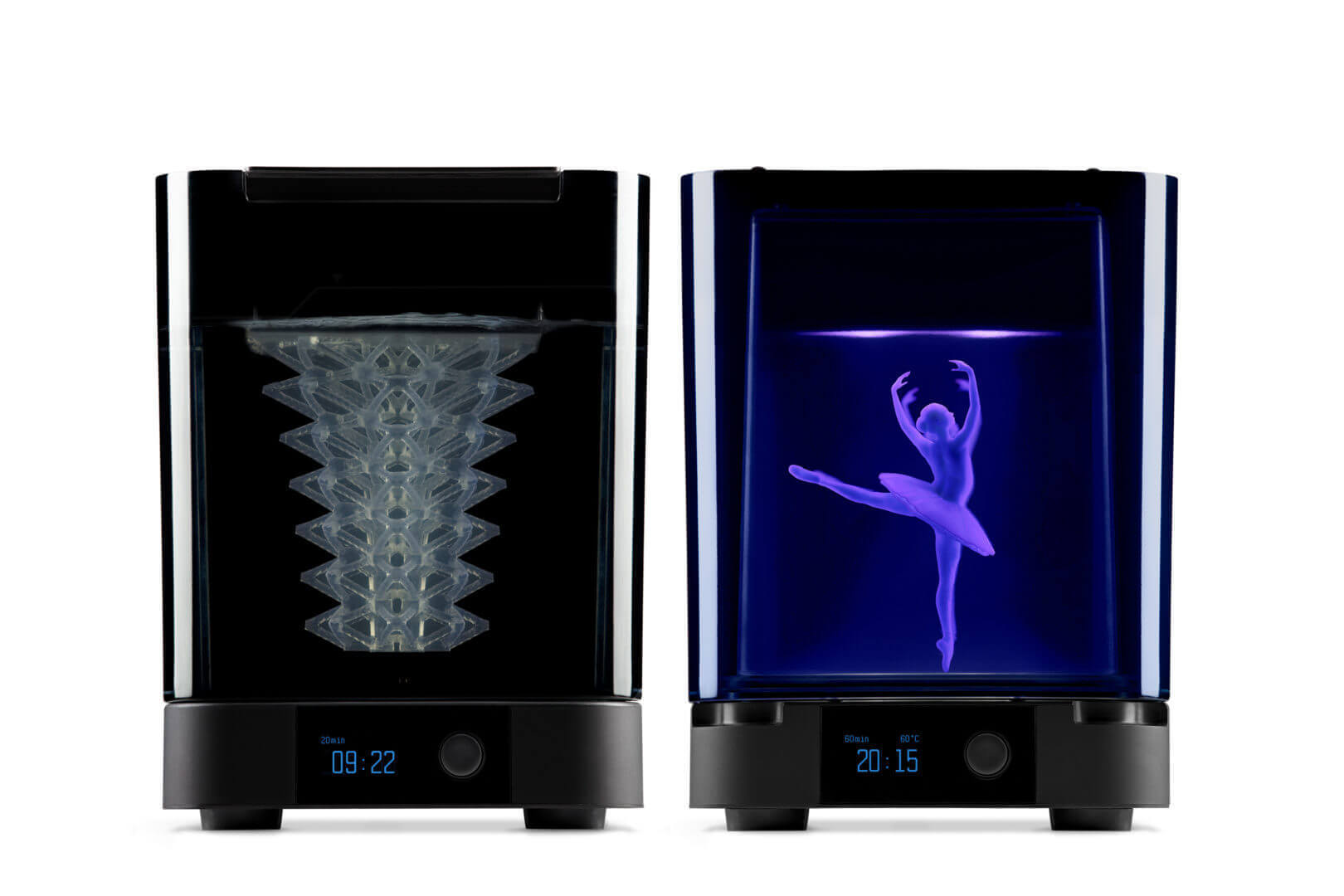 License: The text of "New Form Wash and Form Cure from FormLabs" by All3DP is licensed under a Creative Commons Attribution 4.0 International License.
Subscribe to updates from All3DP
You are subscribed to updates from All3DP
Subscribe
You can't subscribe to updates from All3DP. Learn more…