All3DP visits BigRep in Berlin to check out the new BigRep Studio 3D printer (and also play with some gigantic fidget spinners). 
Exclusive Interview: All3DP Visits Josef Prusa at the New Prusa Research Facility
Exclusive Interview: Formlabs Michael Sorkin Talks New Products, Global Expansion, And 3D Printed Sex Toys
If you subscribe to the age-old expression that "bigger is better", you'd probably be quite fond of the Berlin-based 3D printer manufacturer BigRep. For those that don't know, the company creates massive open platform FDM machines that you can literally walk through.
With the first iteration released back in 2014, the BigRep ONE has continued to make large-scale 3D printing more affordable and accessible to a wide range of businesses and manufacturers. Whether it's complex furniture models or a fully 3D printed super-sized fidget spinner, this massive machine is up for almost any task.
Now, the startup is prepared to release their latest 3D printer, the BigRep Studio. This machine will offer increased precision within a more compact size, aimed at customers that just can't fit or afford the BigRep ONE in their workspace. The company is also making strides on the financial side of things, completing an impressive Series B financing round that has been active over the last few months.
All3DP recently paid a visit to BigRep to check out these large-scale machines and see what they were capable of in person. We sat down with Michel David and Johann Ebermann, BigRep's two 3D printing specialists, to chat about the company's success, the new BigRep Studio 3D printer, and more.
BigRep Studio: A Smaller Printer With Colossal Goals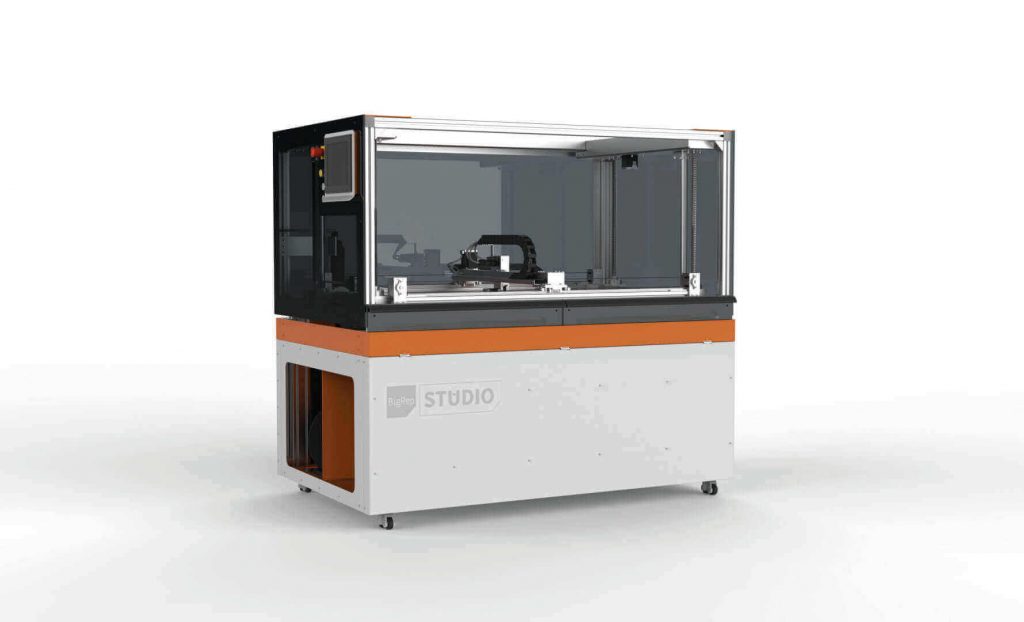 The latest printer that BigRep has been cooking up is the BigRep Studio, a industrial-grade machine that is half the size of their flagship model. Although a print volume of 500 x 1000 x 500mm is nothing to scoff at, the question still remains, why did BigRep decide to go smaller when the company is best known for its gargantuan printing capabilities?
Well, according to David and Ebermann, the company wanted to focus more on speed and accuracy this time around. The compact size of the printer also plays a critical role in the design, making it much easier to setup and satisfy the specific needs of their customers. The Studio is also much less costly than the BigRep ONE (priced at around $40,000), retailing at just around €30,000.
"It is smaller in size but it is also smaller in price, and it will retail for roughly half the price which makes it very cost effective for the size and performance," David explains. "After a few years of development, this is our next product. We all hope it will be a promising product; kind of like the BigRep One but a better version of it; a more robust and industrial-oriented machine."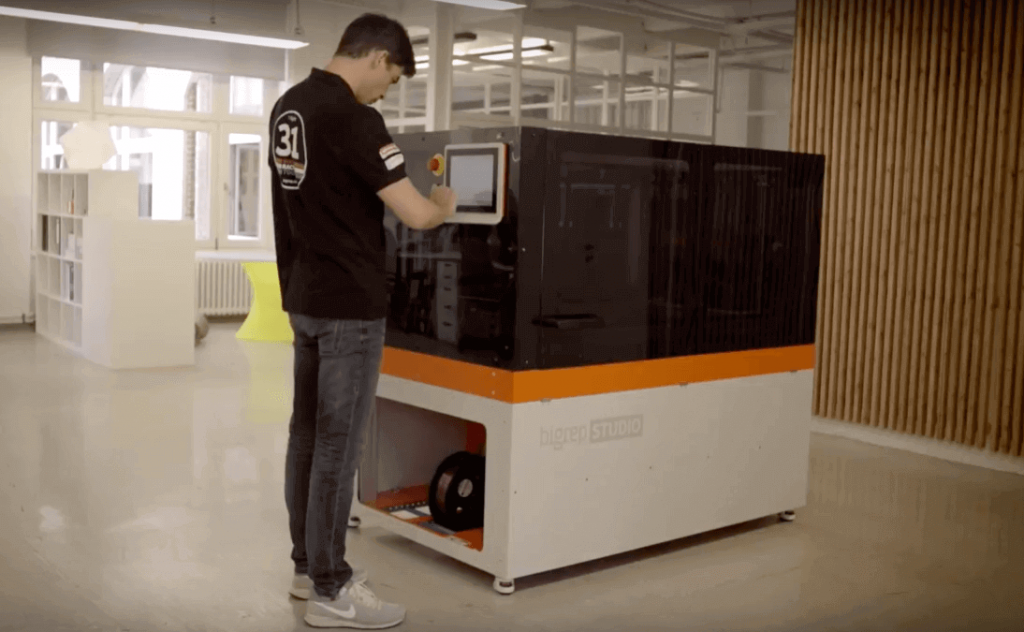 While the price and size on the newest machine may be reduced, the 3D printing capabilities are most certainly not. The Studio comes equipped with a 0.6 nozzle, which is optimized for both speed and precision, and can also print with flexible materials. This printer has a layer resolution of 100-400 microns, and offers dual extrusion printing from the all-metal hot-end.
Other advantages include a more intuitive and user-friendly interface, an enclosed printing chamber, and the ability to print more high-temperature materials. The BigRep Studio has a print speed of up to 140 mm/s at a layer height of 0.1mm.  Unique features like resuming prints after power failure and remote monitoring via webcam adds to the user-friendliness of the interface.
"It's completely enclosed which protects the prints on the long prints and still allows printing of fairly big prints. So it's not one cubic meter but it is a quarter of a cubic meter. The print volume of the Studio still allows to print 80 percent roughly of what we're generally printing on the BigRep One. It can fit more into the office environment," David adds.
The BigRep Studio was originally unveiled at the tail-end of last year, but the company is finally ready to start shipping out the first machines. By reducing the size and increasing the speed and precision, the company is hitting a sweet spot that the BigRep ONE just so happened to miss the mark with.
https://youtu.be/8Kpc8O6lq44
BigRep Gains Series B Financing From Körber Group
After our visit to BigRep had come to an end, we were pleased to learn that the Berlin startup had held an extremely promising Series B-financing round. The 3D printing manufacturer obtained an investment and a new strategic partner in Körber Group, an internationally based tech group.
According to René Gurka, the CEO of BigRep, the latest investment will help the company expand development and solutions, and will also help increase the company's international footprint and sales. The startup currently has offices in Berlin, New York, and Singapore, thus their attempted expansion of global reach is already setup for success. Aside from funding, Körber Group also has the means and expertise to help with industrial machine building.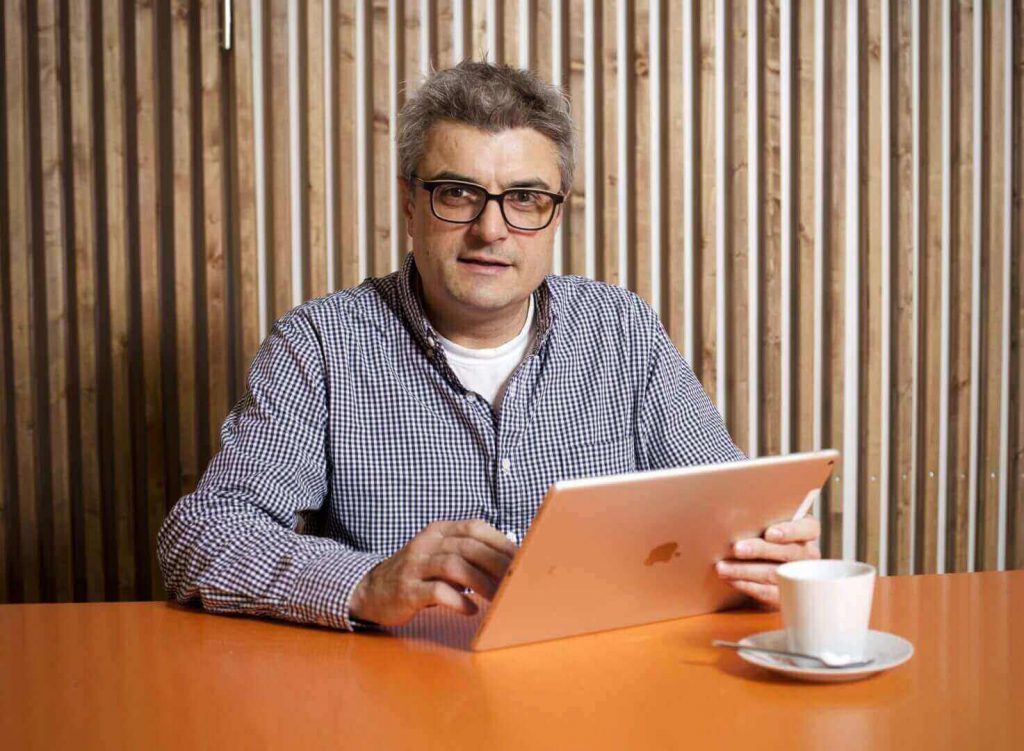 A few months prior to the investment announcement for Körber, BigRep also received financing from Klöckner & Co., a major distributor of steel and metal products and one of the leading steel service center companies worldwide. There seems to be a ] pattern in the venture capitalist firms that are getting involved with BigRep, both are industrial tech powerhouses that can assist the startup with more than just money.
In the eyes of David and Ebermann, the future goal of BigRep seems to be improving on what they're already succeed at, rather than a change in identity. With this new round of funding, the startup will be able to take what they do best, which is FDM 3D printing, and make it even better. With the 3D printing industry rapidly changing and advancing, the BigRep team acknowledges that there's no way to know what the future holds for the industry. Despite this, they seem determined to keep pioneering the industrial-scale FDM 3D printing market with their open platform and innovative new products.
"Two years ago we didn't know what was coming in the future. Now we have the Studio coming out. We also have a bigger printer which is planned for release, so it's like an ongoing process. But, we still want to be in this big form of FDM printing because we know it, we can do it. We are the only ones offering this kind of system, which is made in Germany and is a high-precision product. This is something we're good at and we will continue to stick to it," David explains.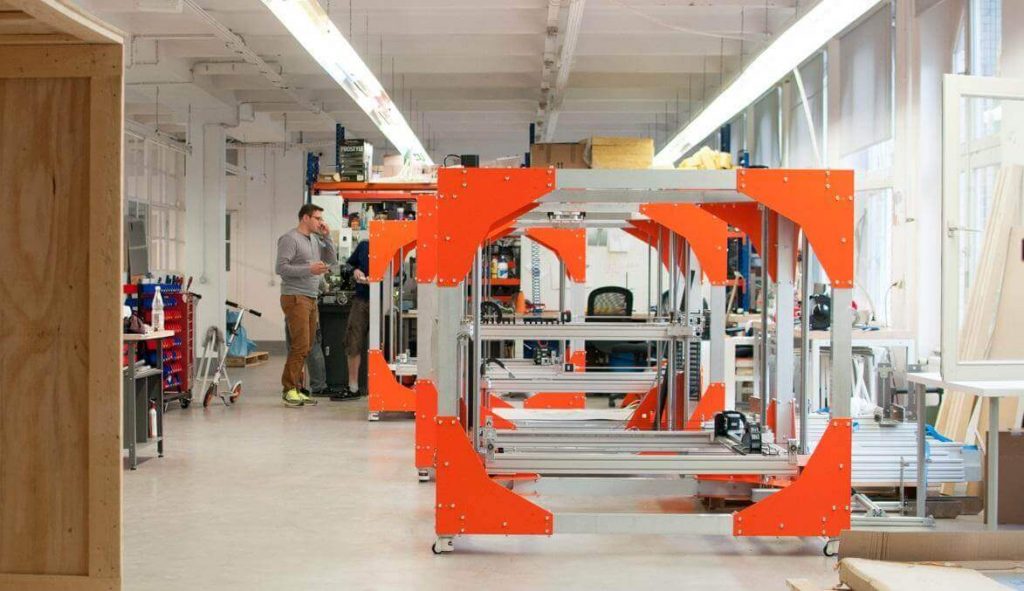 Although an immense amount of time and development has gone into the new Studio printer, the startup has made it a point to improve upon its earliest machines as well. By sticking to the open source route, BigRep is continuing to improve upon their flagship printer model, and is also constantly working to new materials for customers both old and new.
"We have customers running our first round of machines still, and they're still good to go for a long time into the future. It still prints big. They use our new materials; we've added things to the machine since then. We send them updates, sometimes hardware updates. Now we've designed a cover for the machine so every owner of a BigRep ONE can close their machine. This will contribute to stability. So development takes care of our customers and we try to keep this line where we produce quality product, which is the German way of doing things," David says.
"It's like an ongoing relationship," Ebermann adds.
BigRep: A Closer Look At The Mammoth FDM Printing Company
When touring the BigRep facility, there was an undeniable aura of excitement and resolve radiating on every floor. In the 3D printing showroom, which is where David and Ebermann usually dwell, a handful of BigRep ONE printers were extruding away onto the giant build plate. All around the office was 3D printed furniture pieces, different prototypes from past jobs, and even a gigantic fidget spinner that was made in collaboration with All3DP.
Learn More About Our Collaboration: BigRep Creates World's Biggest Fully 3D Printed Fidget Spinner
On the second floor, which is where the customer service and product development takes place, we got to see the BigRep Studio 3D printer in all of its glory. After taking in the impressively large facility and playing around with the fully 3D printed fidget spinner, the duo of 3D printing experts discussed their own personal thoughts on their work and the overall industry.
"3D printing was very experimental a few years back; now it's almost ready for the industry to take on and we want to be the one closing that gap by either installing complete system within the industry or with partnering companies," says Michel David, the senior 3D printing specialist at BigRep.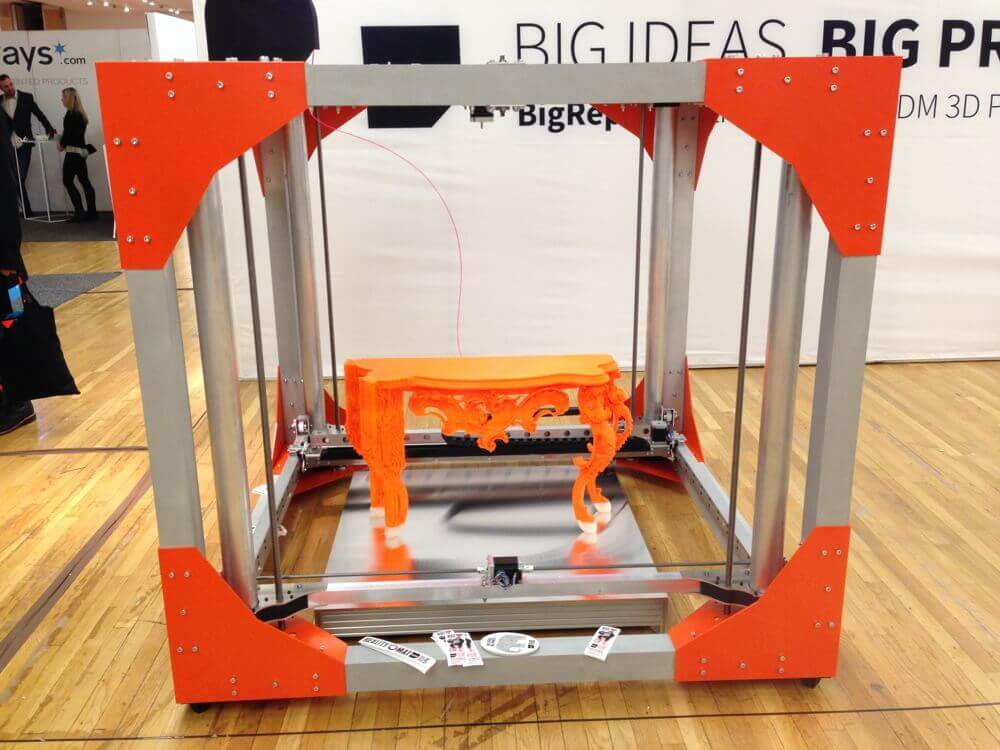 When asking about the most memorable projects they worked with clients on, the German engineering side seemed to gleefully bloom from the duo's minds. David explained his strange attachment to a client that manufacturers propellers, boasting about their ability to integrate 3D printing into their traditional manufacturing process. For Ebermann, the most important aspects for collaborating with clients is the need for good design and high standard expectations.
"For me, it's basically furniture companies and the automotive industry. Because I'm German, obviously I love cars. So, for example, with car manufacturers or suppliers, they have high standards and it's constantly challenging us to really get the best out of the printer to fit their needs. So this is really interesting from my point of view. And furniture is hands-on. We are both designers so we love good design, and we see people who are really using the technology effectively," Ebermann concludes.

License: The text of "Inside BigRep: Bringing in Big Bucks, Building Smaller Printers" by All3DP is licensed under a Creative Commons Attribution 4.0 International License.
Subscribe to updates from All3DP
You are subscribed to updates from All3DP
Subscribe
You can't subscribe to updates from All3DP. Learn more…