All3DP collaborates with BigRep GmbH to create the world's biggest fidget spinner that is fully 3D printed (yes, even the bearing!) 
Unless you've been living in a cave far away from society, chances are you've come across a fidget spinner at one time or another. Love them or hate them, this divisive toy is spreading like wildfire across the globe. Using this bustling trend, All3DP recently collaborated with the German 3D printing manufacturer BigRep to showcase their enormous 3D printing capabilities.
Known for their large-scale industrial FDM printers, we were curious to see whether or not their massive machines were capable of printing the world's biggest fidget spinner. But BigRep's 3D printing specialist Michel David came up with an even more ambitious idea. He wanted to create a gigantic fidget spinner that also includes 3D printed bearings.
Don't Miss: 34 Best 3D Printed Fidget Spinners (You Can DIY or Buy)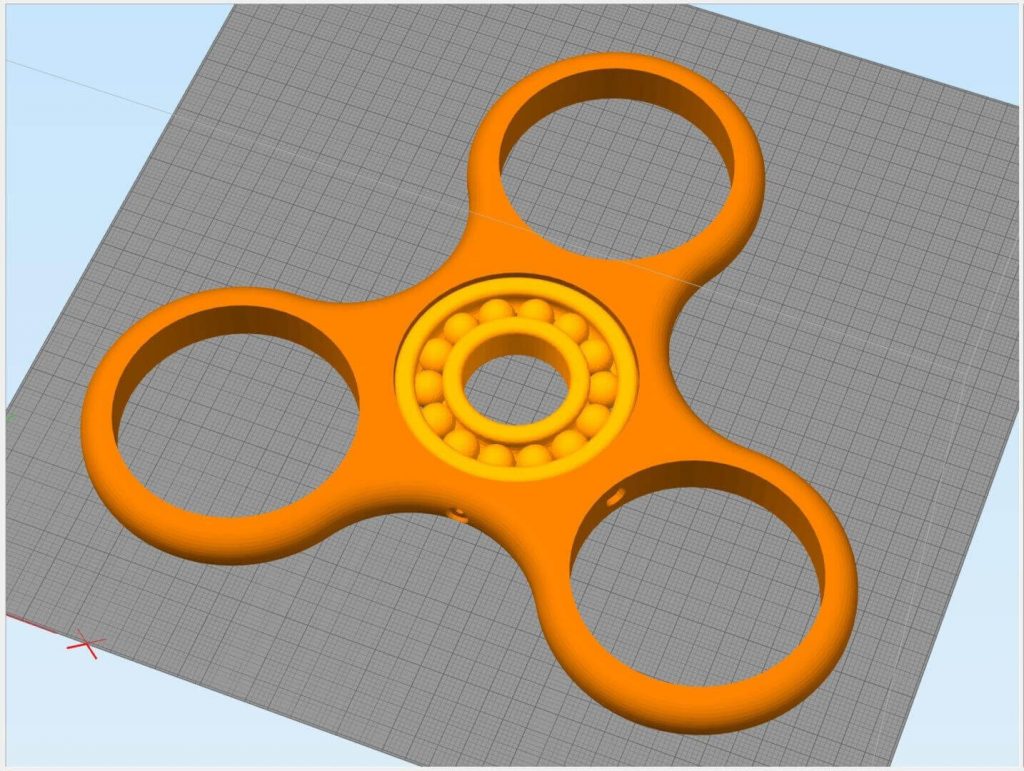 How BigRep Created The World's Biggest Fidget Spinner (That Is Fully 3D Printed)
All3DP recently paid a visit to BigRep's offices in Berlin to see the biggest fully 3D printed fidget spinner in action. David and his fellow 3D printing specialist Johann Ebermann broke down the process behind this project. The most impressive part isn't the size of the spinner itself, but is instead the fully 3D printed bearing.
"The fidget spinner has quite a bit of hype, that's the nice thing about them. The design is fairly simple, it took about 20 minutes to make. The bearing is downloadable from Thingiverse. I wanted to show that when scaling things up for a BigRep, they still work the same as any other FDM printer. It's the same principles, only bigger," says David. 
After resizing the bearings for their larger print bed, the specialists utilized the dual extrusion capabilities of the BigRep One 3D printer. Therefore, the bearings are produced in two different colors and finished in a single print. This means that the plastic bearing balls are directly integrated within the housing.
"I think this project shows that it's so easy and fast to produce something that's just an idea in your head. It was an idea to 3D print the biggest fidget spinner, it took no time to model it, slice it, and just print. The step from idea to an actual product is just two or three days," adds Ebermann.
An Inside Look At The Biggest Fully 3D Printed Fidget Spinner
The fidget spinner's body took about 30 hours to print, while the bearing took just under 20 hours. The print settings for the spinner includes .6mm layer height and a 12% infill ratio. The result is a colossal fidget spinner with a nice surface quality and surprisingly consistent spin.
Although the entire project is almost fully 3D printed, there are also some screws in place to keep the heavy bearing from slipping out. Still, the 3D printed bearings set this project apart from the rest. Beyond creating the biggest fidget spinner that is fully 3D printed, BigRep also showcases a simple and effective case study on the functionality of this technology.
After completing the assembly, the BigRep team hit the streets of Berlin to show-off their larger than life fidget spinner. Watch their adventures below, and stay tuned for more awesome ideas from BigRep in the near future!
License: The text of "BigRep Creates World's Biggest Fully 3D Printed Fidget Spinner" by All3DP is licensed under a Creative Commons Attribution 4.0 International License.
Subscribe to updates from All3DP
You are subscribed to updates from All3DP
Subscribe
You can't subscribe to updates from All3DP. Learn more…