Which are the most wanted 3D printers in 2016? That's the question 3D Hubs asked its members, some of the most dedicated 3D printer users in the world.
3D Hubs is the world's largest network of 3D printer owners, with over 25,000 3D printers in 150 countries offering printing services to businesses and customers.
Researching their purchasing intentions for 2016, 3D Hubs just recently asked its members which 3D printers they are likely to buy next.
The printer that got almost twice as many votes as its nearest rival is the Form 2, the SLA printer that was released in September 2015. Its predecessor, Form 1+, is still among the top 10, with a little more of 10% of the votes of the Form 2.
Surprisingly, two Ultimaker 2 models (the standard and the extended) take positions 2 and 3. The Ultimaker 2 usually doesn't rank among the top 20 3D printers as far as user satisfaction with printing quality is concerned, but it's placed very high here.
(Read the ALL3DP verdicts on both the standard and extended)
Elsewhere, the Zortrax M200 sits at position 4. It's one of the most popular 3D printers among the 3D Hubs users because of its high printing quality and reliability.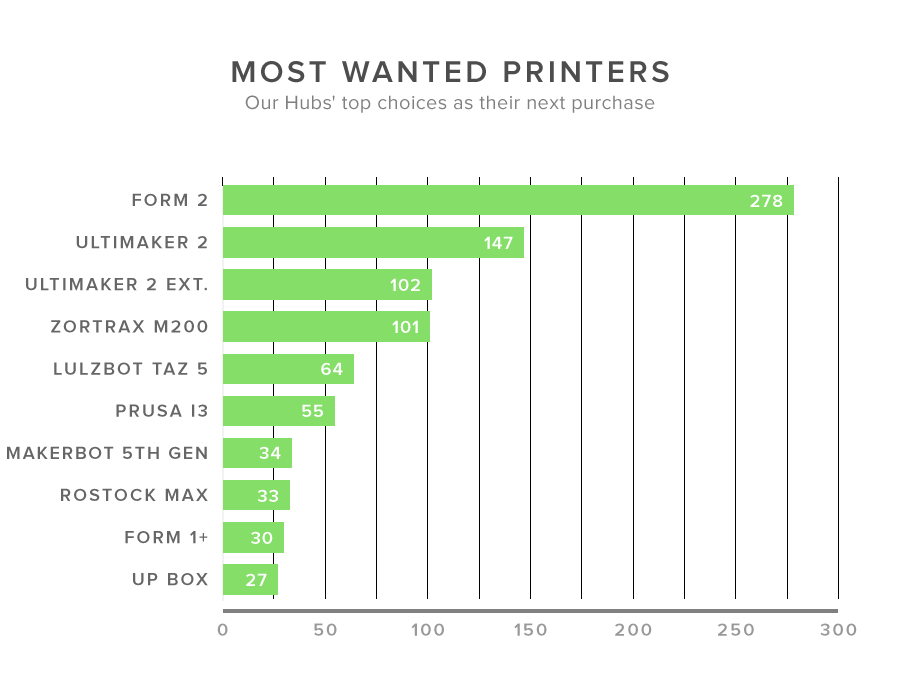 3D Printer Manufacturer Loyalty
3D Hubs also asked their members how likely current 3D printer owners were to buy again from their printer's manufacturer.
Again, Formlabs took the crown: 54.3% of Form 1+ owners would buy another Formlabs printer (in this case the Form 2).
The most loyal FDM printer owners, meanwhile, are the Lulzbot users: 48.8% of them would get another Lulzbot printer.
Interesting to note is the #10 position for Ultimaker: Only 32.6% of current Ultimaker owners plan to buy an Ultimaker 2 model. On the other hand, 249 3D Hubs users said they would get an Ultimaker 2 — that means that a considerable number of owners of other 3D printers are going to jump ship and go with an Ultimaker.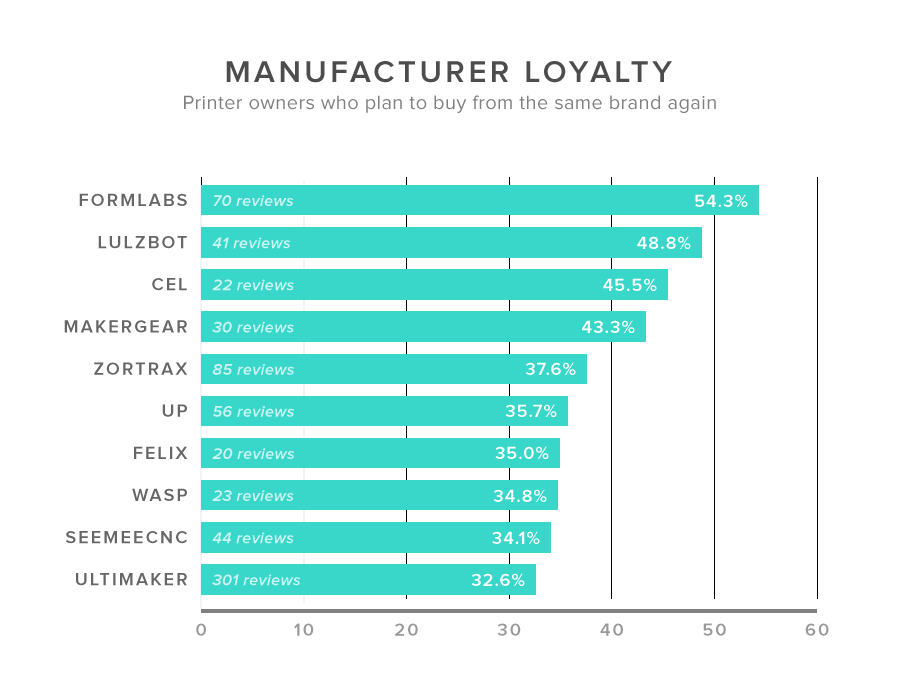 So what do you think of these results? Which one of these Most Wanted 3D printers are you planning to buy in 2016, if any?
License: The text of "3D Printers That Makers Want in 2016" by All3DP is licensed under a Creative Commons Attribution 4.0 International License.
Subscribe to updates from All3DP
You are subscribed to updates from All3DP
Subscribe
You can't subscribe to updates from All3DP. Learn more…