Formlabs use the stereolithography (SLA) approach to create high-resolution physical objects from digital designs. The company was founded in 2012 by a team of engineers and designers from the MIT Media Lab and Center for Bits and Atoms. Then they made Kickstarter history: They launched their first printer with a record-breaking $2.8 million campaign. Today the company has grown to over 100 employees. They expanded sales and operations from the US into the EU, Australia and Asia, and raised nearly $20 million in venture capital.
2. Our First Impression
All3DP's Senior Editor Bulent Yusuf has seen the printer at Euromold. Without having reviewed the Form 2 properly, the specifications and the first impression alone are tempting.
The measurements of the printer are much bigger than a Form 1+, so get some room on your desk for it. It also comes with some interesting redesign features (i.e. the touchscreen in the front).  Also, the software update features (Wi-fi prints, 1-click-print, notifications, company dashboard) are very welcome additions to the desktop manufacturing machine.
Here is an image from the launch press conference.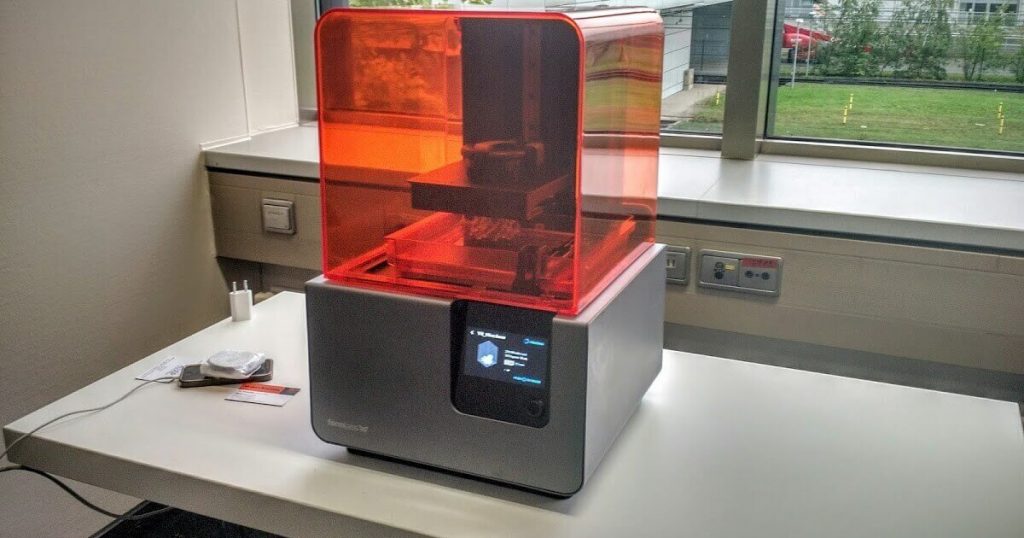 When the printer has completed a job, it asks the user if the build turned out successful – this is completely optional to answer. According to Formlabs, they want to get more information on user behaviour to improve their systems.
The Form 1+ was already known for its accurate build detail down to 25 microns. The resolution hasn't changed, but the speed should improve with the new improved laser system and the wiper arm.
The drawback of any SLA printer is the costly and difficult replacement of resin and resin tanks. Formlabs introduces a new cartridge system, which could help a lot with resin change and problems with running out of material. You can buy these cartridges at Formlabs directly or refill them with your own resin type.
One drawback: The price tag is quite high. The Form 2 retails for now for the same price of €3299 /$3499. The price of the Form 1+ gets lowered to €2799 / $2799. The 1-liter resin cartridges have a price range from €135 / $149 for standard resin to €279 / $299 for castable resin (prices from Formlabs website).
For sure, the new Form 2 meets tough competitors. First, there's competition from SLS printers like the new Sharebot SnowWhite, which is open for pre-orders at the same day. Also, if other printers like the Moonray and cheaper SLA printers enter the market, it will become extremely competitive.
All3DP will keep you updated.