In video games, TV and movies, swords are the bread and butter equipment for every hero. But have you ever noticed the variety of blades your heroes are wielding? Here we have assembled the 10 most important 3D printed swords from video games, TV and movies.
Best: You can 3D print all of them for free. If you don't own a 3D printer, just send the files to a 3D printing service.
If you feel we're missing some epic blades, please tell us in the comments.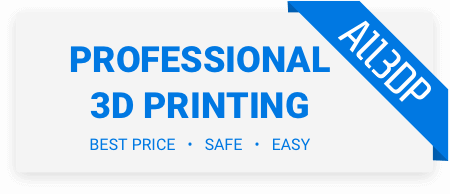 1. Master Sword from "The Legend of Zelda"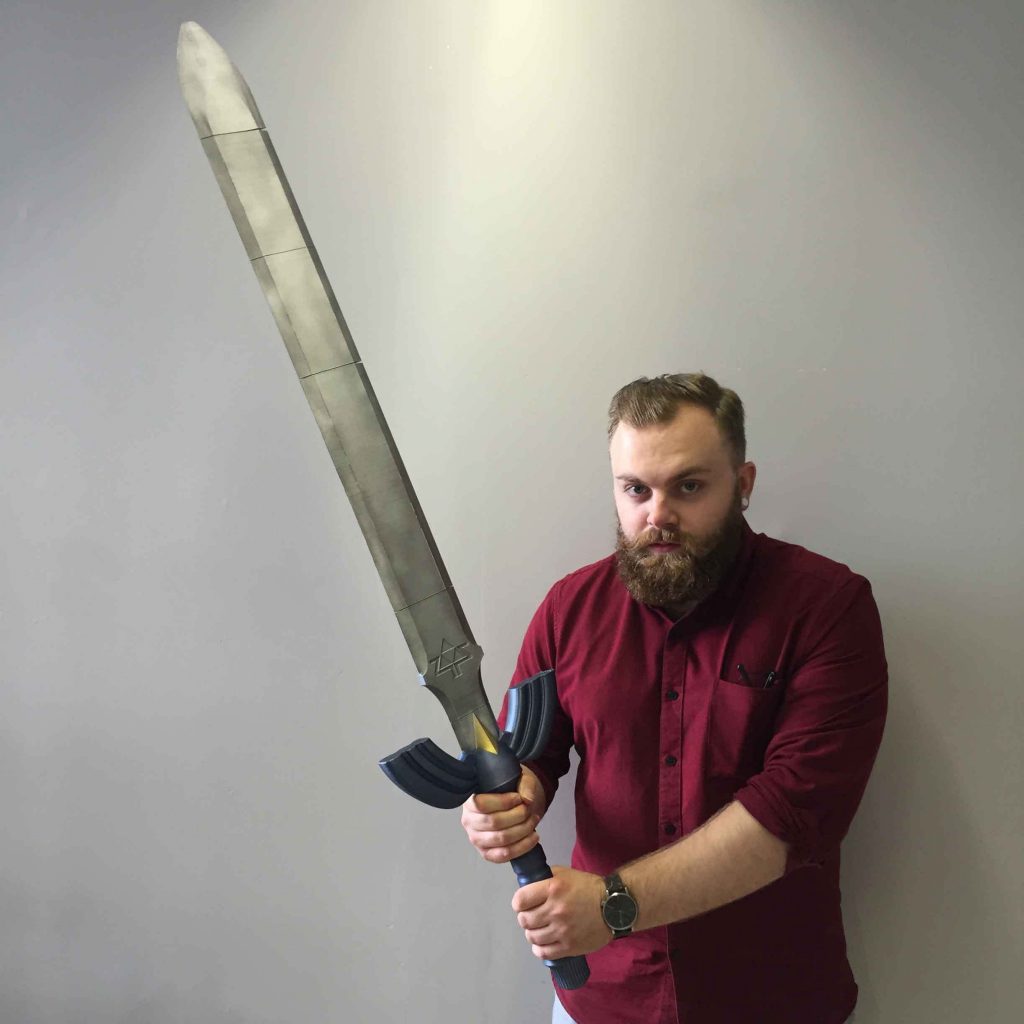 What is it? It's a 1.2 meter replica of the iconic Master Sword, as used in every "The Legend of Zelda" game. The sword was modeled after the "Ocarina Of Time" Master Sword by Lloyd Roberts, 3D designer 3D design tutor for iMakr. He also provided a lovely sheath to go with it.
Can I make it myself?  You can, but you need some expertise. Just download the files from MyMiniFactory. Remember: It is dangerous to go alone.
Who made it? Lloyd Roberts
Sharpness factor? High, especially if you're into Zelda Cosplay.
2. Sword from "Minecraft"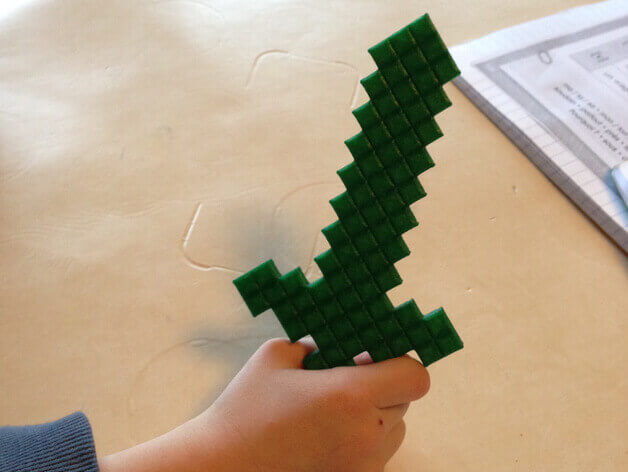 What is it? You get this sword in Minecraft, if you combine two units of wood, stone, iron, gold or diamond with a stick. Here, you print the epic weapon with the filament of your choice.
Can I make it myself? Yes. Files are right here. It's an easy print, perfect for beginners.
Who made it? Blu Max
Sharpness factor? Low, as it needs to be strongly anti-aliased before use.
3. Sting from "The Lord Of The Rings"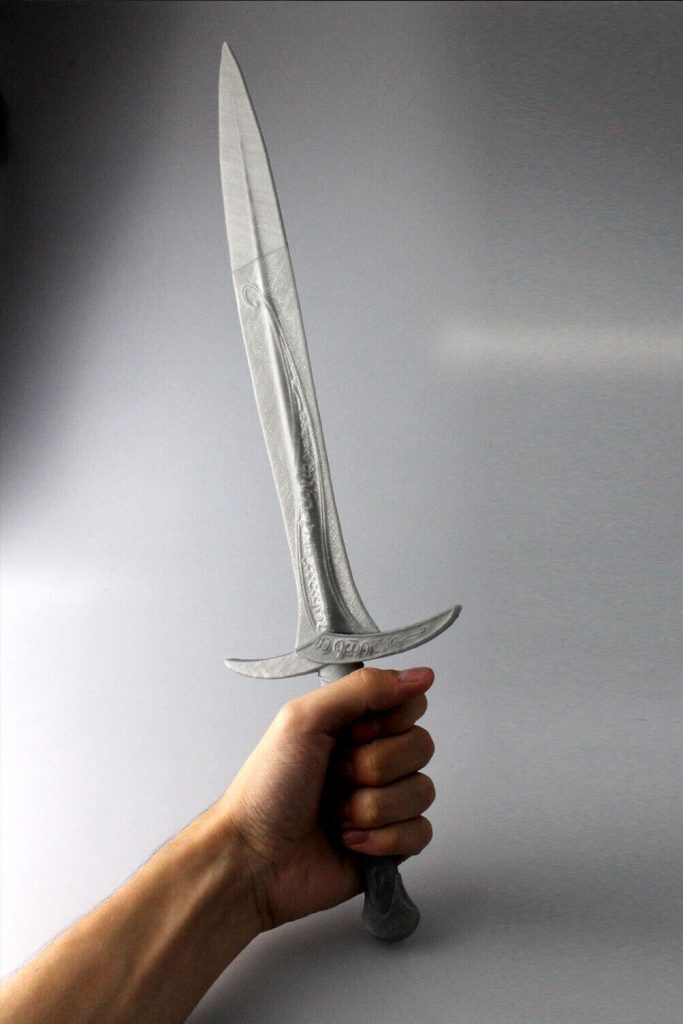 What is it? The blade was found by Bilbo in The Hobbit in a Troll-hoard. It's an Elvish knife or dagger made in Gondolin in the First Age. According to the lore, it glows blue, when orcs or goblins are present. Following the end of the War of the Ring, Frodo gave Sting to Sam.
Can I make it myself?  Yes, if you go to MyMiniFactory and download the files. The print is not an easy task, though.
Who made it? Ricardo Alves
Sharpness factor? High. It's just a beautiful 3D printed blade.
4. Buster Sword from "Final Fantasy VII"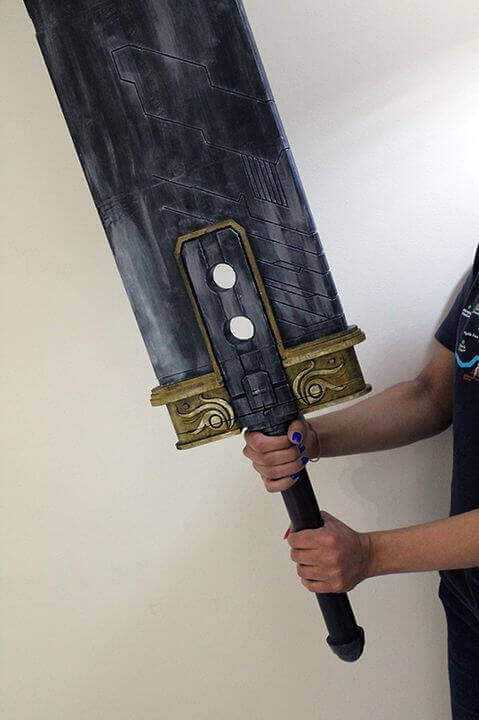 What is it? The iconic "Buster Sword" made its first appearance in "Final Fantasy VII". Since then, it's shown up in several other entries in the series, plus the Kingdom Hearts franchise. It's a signature artifact in video game history.
Can I make it myself?  Yes, but it's a time-consuming print job: The Buster Sword is 6 feet long, and the blade approximately 1 foot wide. You find more information in this article.
Sharpness factor? Ultrahigh, especially since the re-release of Final Fantasy VII on iOS. It's heavy, though!
5. Sith Sword from "Star Wars"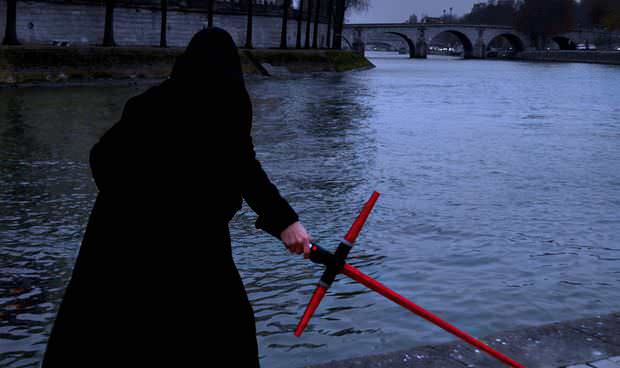 What is it? LeFabShop published this 3D printed sword in December 2014: "A dozen of 3D printable lightsabers being already available for download on internet, we decided to make one that would be completely customizable. The modular system we invented makes hundreds of configurations possible. From Yoda's lightsaber to Darth Maul's".
Can I make it myself?  Yes, it's not too complicated. Download the files and start printing!
Who made it? le FabShop
Sharpness factor? High. In the 3D printing lore, this one is considered a classic.
6. The Blades of Chaos from "God of War"
What is it? These Blades of Chaos were forged in the foulest depths of Hades. Once attached the blades remained so, chained and seared to the flesh, a part of the bearer's body. A permanent reminder of Kratos' pledge. (according to the God of War Wiki)
Can I make it myself?  Yep. It's a four-part print, so you should bring some experience or get help from 3D printing services. The files are here.
Who made it? saban karacaoglan
Sharpness factor? Medium. The Sword doesn't exactly look like the original, so think of it as a re-interpretation than an actual copy.
7. Ebony Sword from "Skyrim"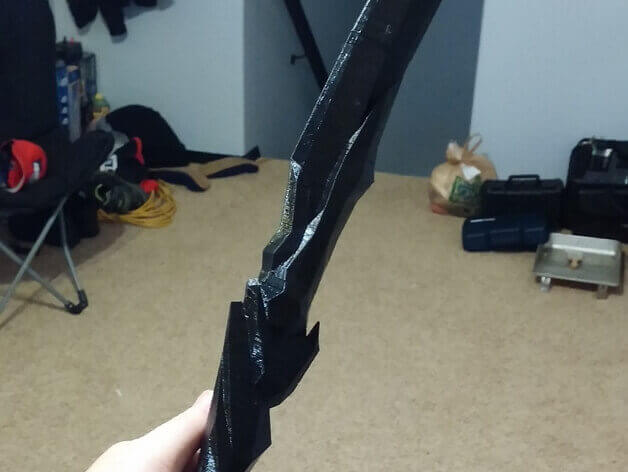 What is it? There no shortage on blades in Skyrim. This one is a real beauty, as the entire weapon is made out of ebony. Unenchanted ones appear throughout the game at level 36, enchanted swords at level 37.
Can I make it myself?  Yep. You might consider printing it with wood-fill filament and painting it. Files are here.
Who made it? Victor Green
Sharpness factor? Medium. The outline of the 3D printed replica is excellent. In the game, the right side of the blade has complex designs of lines and swirls – the print does not provide these. Nevertheless, an excellent piece of work.
8. Frostmourne from "World of Warcraft"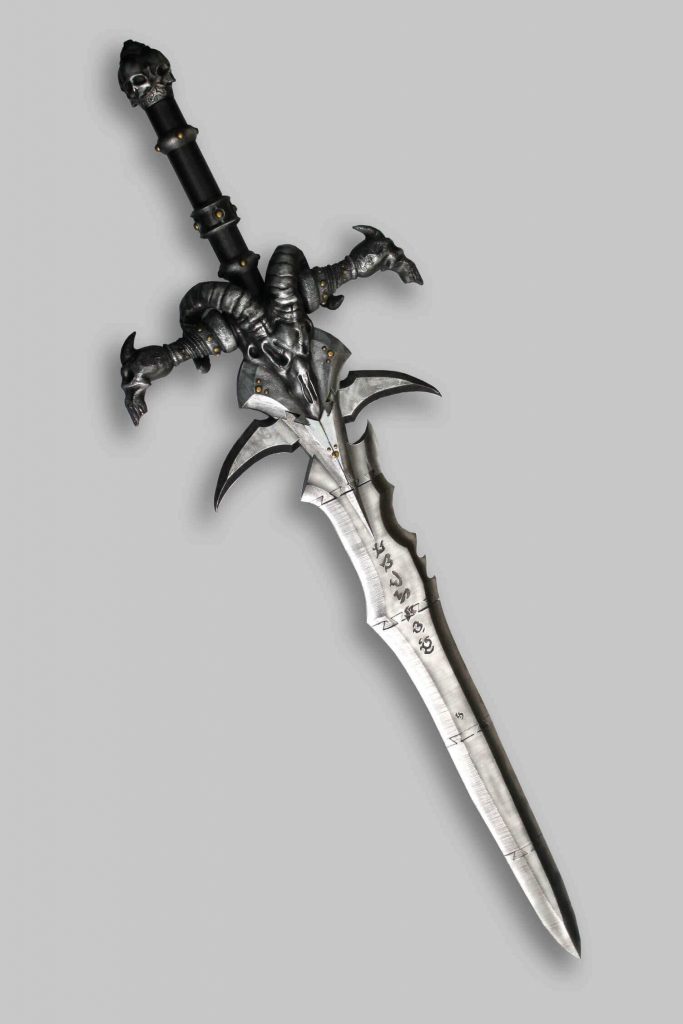 What is it? What a big, mean, beautiful blade! When equipped, the wielder of Frostmourne will have no soul, but the sword will turn the player into a merciless killing machine.
Can I make it myself?  Yep. The files are over at MyMiniFactory. 
Who made it? Kirby Downey
Sharpness factor? High – it's a very detailed print.
9. Sword from "Wonder Woman"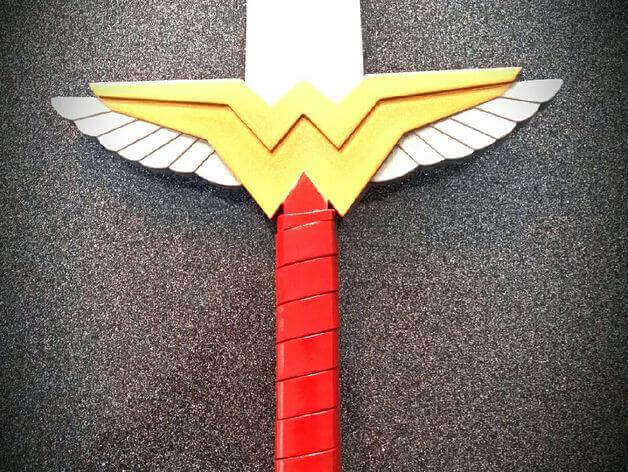 What is it? A lady's blade: Light, fast, agile, precise. This magical blade was made by Hephaistos himself. Sharp enough to cut the electrons from an atom.
Can I make it myself?  Yes, it's a three-part print. All you need is some epoxy to glue it together. 
Who made it? guelle sylvain
Sharpness factor? High, if your girlfriend's in Cosplay.
10. Swords and Shields from "Lego" Games and Movies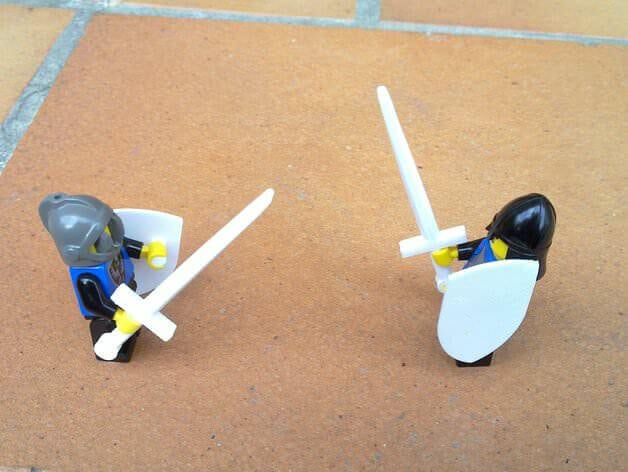 What is it? Very cool sword and shield combination for your home printer. The swords are way longer than the ones from official Lego sets.
Can I make it myself?  Oh yes! The files are here. 
Who made it? unclouded
Sharpness factor? Maximum. This 10-minute print will cast a smile on your childs lips- that's priceless.
Disclaimer:
All3DP GmbH makes 3D printing available to everyone.
If you choose to buy an item through one of All3DP's articles, we do not charge any fee or additional price on top of our partners fulfillment price. We are paid on a commission, which means that we receive a small percentage from our partners.
Also, we are not selling the models. By comparing the prices of our 3D printing services, we simply are pointing you to the lowest 3D printing price available. If you would like to know more, please visit our Terms of Service.
Also, the editorial team of All3DP only conveys models that are under Creative Commons 4.0 Licence. All3DP will never convey STL files which are marked with the non-commercial use licence (CC NC). Also, according to CC BY, we give attribution where needed. If you are the designer of a model and want to be removed from All3DP's price comparison service, please send a mail to [email protected].
License: The text of "10 Epic 3D Printed Swords from Video Games and Movies" by All3DP is licensed under a Creative Commons Attribution 4.0 International License.
Subscribe to updates from All3DP
You are subscribed to updates from All3DP
Subscribe
You can't subscribe to updates from All3DP. Learn more…