Before we get into the detailed comparison, here are some key points to be considered regarding the two types of 3D printer.
Fused Deposition Modeling (FDM)
Pros:

Filaments are cheaper.
At this stage, FDM has a bigger community, with easier access to files and resources.
Learning and getting feedback from the community is easy.
Printing is simple, with fewer steps.
Cons:

Details are not as sharp.
It's harder to find optimal angles for anything with higher details, especially miniatures.
Depending on the size, the item profile needs to be adjusted, and settings could get become complicated.
Stereolithography (SLA)
Pros:

Details are sharper, which is great for smaller items and miniatures.
Fewer settings are required to achieve better results.
Fewer support structures are needed.
Printing multiple objects is faster.

Cons:

The process is much more expensive in every regard, from the printer and material to maintenance.
Uncured resin is harmful to the skin.
Post-printing procedures are complicated.
The Verdict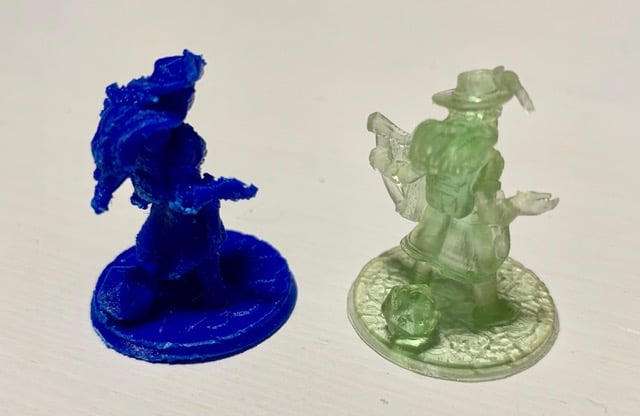 Overall, the miniature created through SLA has sharper details. Even the numbers on the minuscule d20 are visible. In comparison, the FDM-produced miniature has coarser edges. This could caused by a number of things: file setup, the amount of supports required, the size of the nozzle, and the performance of the printer, just to name a few.
Without getting into too many technical details, FDM printers struggle with fine details, hence SLA printers could be a better choice for creating miniatures. That said, FDM printing has become more precise over the years. They are also more affordable, more accessible, and easier to learn, making them the popular choice among hobbyists.
In the end, making D&D pieces is all about having fun, so we can't say one type of printer is better than the other. It all comes down to what suits your needs best. Also keep in mind that a lot of imperfections can be saved by a good paint job, even if the miniatures came out a bit rough.
If you're interested in the technical details of FDM and SLA printers, refer to our article comparing the two technologies.