Surfing gets a technological upgrade with 3D printed surfboards by Australian startup Disrupt. Which other sports are ripe for disruption?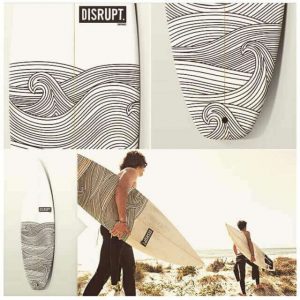 The gang behind Disrupt are creative, smart, and experiencing a surge of popularity. When CEO Gary Elphick noticed that the priciest surfboards suffered from generic design, he described his feelings to Surfd of feeling like "sheep buying what the media told us".
Sports aren't important just for physical health; they're mental and emotional outlets. It brightens your day. It makes you feel all warm and fuzzy. Who wants overpriced gear that looks the same?
That's when Disrupt Surfing was born. Personally designed, 3D printed surfboards with a slew of add-ons — personal art, an iPad, performance tracking sensors, conductive charging. "You name it we can do it" is Elphick's enthusiastic mantra.
Disrupt is currently set up in markets in Australia, China and Thailand, and is planning expansion into Europe. Though they were only founded in 2014, there is little doubt that Disrupt will soon be hitting shores worldwide.
Upgraded Sports with 3D Printing
The Disrupt brand is very carefully crafted. They know their audience and are working to make their company successful. This includes branching out into other sports markets. Currently, 3D printing in sports is increasingly popular — and expensive. While weekend hobbyists likely don't own 3D printed rackets or paddles, big-time athletes have been taking advantage of the new technology for years.
The 2012 Summer Olympics in London saw the use of 3D printed helmets and bike parts designed to tackle specific terrain. 2012 gave us the first 3D printed race-car. Earlier this year, the University of Bath saw the successful design and print of usable Lacrosse stick heads from a student. Customizable sportswear is definitely the gear of the future and it's bringing some unthinkable surprises.
1) Running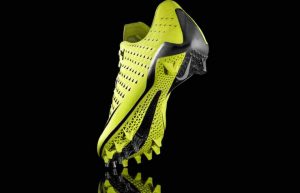 Almost any outdoor sport relies on good shoes. They give you that edge to move faster and turn quicker. They can protect (or undermine) your knees, ankles and legs. A 3D Printed shoe is the perfectly sized shoe.
Almost no two feet are identical. Feet can be slim, wide, uneven, maybe there's a sixth toe. 3D Printed shoes address that problem, and mean you won't ever be trapped choosing "the lesser of two evils" when the sizes just aren't right.
Secondly, the insole. Orthotics are a huge industry and can make shoes safer and more comfortable. A 3D Printed shoe could disperse weight properly and work magic most of us never even thought possible.
And don't forget, 3D printers can create Football cleats just as quickly as running shoes! The World Cup will look very different when every player has personalized cleats.
2) Gaming
If traditional sports are getting upgrades via new technology, eSports simply has to be on this list. Gamers rely on cutting edge keyboards, mice and trackpads.
These tools are gripped for hours on end; for this reason, customized equipment is already highly popular, and even relatively common. A mouse designed from scratch to fit your grip and hand, with bespoke buttons? Yes, please.
3) Cycling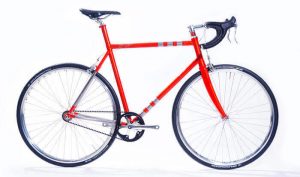 Bikes tend to come in roughly three sizes: adult, smaller adult, and kid. If you race or are serious about your bike, having one carefully molded to fit your weight, style and preferences would mean more comfort, better speed and less wasted energy.
Moreover, as the technology develops and the prices drop, imagine if even ordinary cyclists could afford one, and a helmet to match.
4) Yoga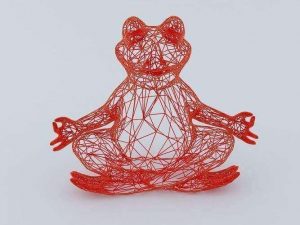 Over the past decade, yoga has transformed. It's a household word. It's in every gym. Not to mention, it's a $27 billion industry. People can get very serious about their practice and equipment.
Much like the Disrupt surfboards, a specially designed and printed yoga mat means not only a perfectly textured mat with a relaxing picture of a peaceful butterfly, it could mean better form. And by connecting a yoga mat to sensor-technology, we can see where our weight goes. We can see our form and get real feedback.
Not to mention, the company that brings 3D Printed yoga pants to market will make a fortune.
5) Lacrosse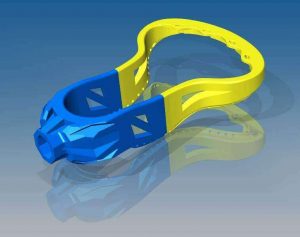 As mentioned earlier, a student at the University of Bath already took on this project and proved how practical 3D Printing can be. Sports like lacrosse, tennis, cricket, or golf all use bats and rackets that would benefit from being personalized. If you played baseball, wouldn't you want a bat designed specifically for your swing?
SO, there you have it. With companies and startups like Disrupt popping up every day, it seems the age of fully personalized, reasonably-prized sports gear is finally dawning. Whatever your sport-of-choice is, imagine what you could do with personalized equipment.
Image credits: All images copyright their respective owners.
License: The text of "3D Printed Surfboards and Other Disrupted Sports" by All3DP is licensed under a Creative Commons Attribution 4.0 International License.
Subscribe to updates from All3DP
You are subscribed to updates from All3DP
Subscribe
You can't subscribe to updates from All3DP. Learn more…