Whether you're an athlete or your feet need orthopedic correction: 3D printed insoles promise a better fit, less cost and faster production times. Here are 3 interesting approaches to your 3D printed insoles. 
The most significant and unique advantage of 3D printing is the ability to create personalized objects. Before the industrial revolution, clothes we made to fit by a tailor. In the future everything can be made to fit, from the feet up.
Here are three interesting 3D printed insoles projects.
1. 3D Printed Insoles: BASE by Wiivv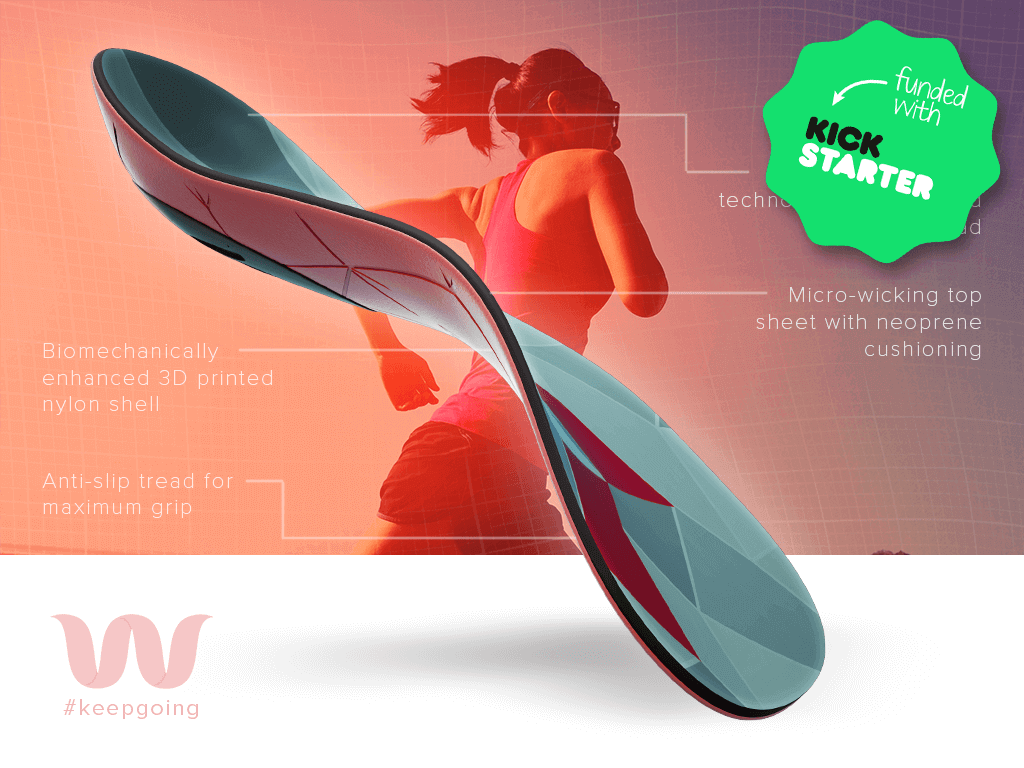 This Kickstarter project reached its goal in just a few days. BASE by Wiivv promises a "a made-for-you, body-perfect, 3D printed insole with custom design and foot digitization captured via smartphone."
To customize your pair of insoles and get measured, you need 10 minutes and a smartphone. You download an app, take some 2D images to capture the contours of your feet. These images are then verified by an expert. After that, the files are transferred to an customization engine, which produces a 3D-printable file of your 3D printed insoles. This unique file is then sent to enterprise-grade 3D printer that use SLS technology (a system of powerful and precise lasers) to build a durable and flexible shell. Finally, skilled workers use their crafting knowledge to deftly apply a beautifully designed top layer along with features to further improve comfort, like silicon treads and cushions.
The files are then sent to an enterprise-grade 3D printer that use SLS technology to build a durable and flexible shell. Finally, a top layer is added manually;  along with features to further improve comfort, like silicon treads and cushions.
2. 3D Printed Insoles from SOLS

The process of preparing the insole shape is similar to what orthopedics and sole experts have been doing for the past decades – except through 3D printing it gets faster and less costly. People step onto an imprinting cast; then experts create a 3D model of their feet.  Now you can also get your feet 3D scanned and use digital sensors to evaluate the exact position where your exert the most pressure and thus need more support.
That's exactly what SOLS are doing. SOLS has successful developing tools that would bring them closer to their potential customers lately. One of the most prominent examples of this is the release of an iPhone app that lets users scan their feet by taking only three photos of it. They can then order their custom insoles from SOLS and receive them at their doorstep within ten days.
Mid-2015 the company was on its height of investors awareness. Over time, they raised some $19.25 million to date in funding from investors.
However, SOLS has been struggling lately. They laid off 20% of their personnel just before they announced the availability of a new product in the market. No one outside the company can know for sure what this major lay off signifies – but it sure isn't a way to gain trust with investors.
3. 3D Printed Insoles: DIY by Gyrobot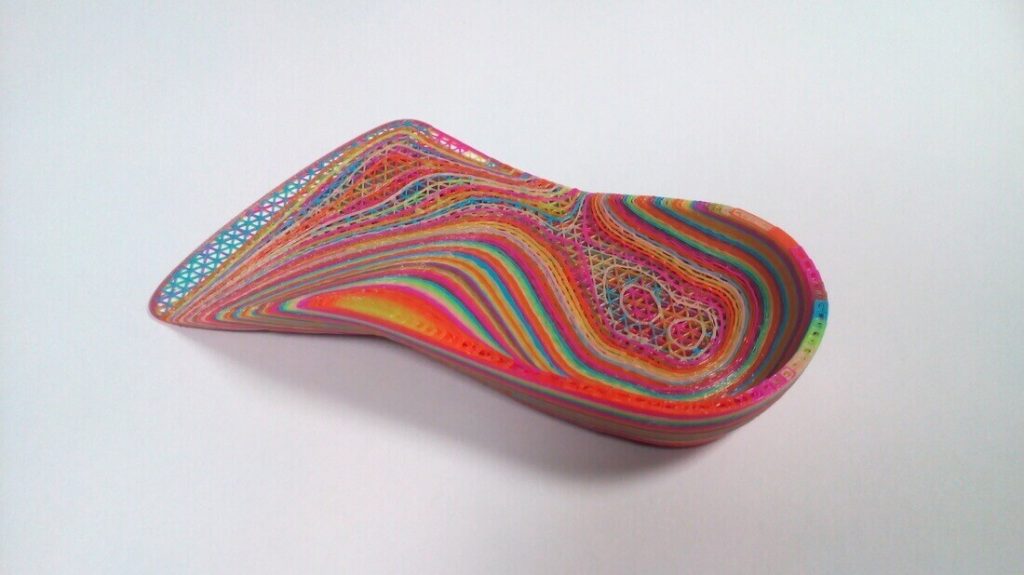 Through home 3D printing even average people, that simply want to stand and walk comfortably in their shoes (even if they don't have a medical condition or athletic aspirations) can make their own custom insoles based on their own metrics and maybe even some trial and error.
UK-based Gyrobot is providing the tools and guidelines for a more DIY approach for those that want to create flexible and comfortable insoles.
The material must be some rubbery (Gyrobot suggests using the popular Recreus TPU filament) and an extruder capable of handling this kind of material. The advantages of these insoles are the increased air ventilation thanks to the meshed filling, the very low weight and the colorful results (especially nice for children's shoes). Gyrobot also suggests trying with Arnitel ECO Material which is even friendlier to the foot's skin than standard PLA plastics. It may take some practice and minimal investments but, who knows, it may just become your next million dollar business.
License: The text of "3D Printed Insoles: Personalized Insoles for Superior Comfort" by All3DP is licensed under a Creative Commons Attribution 4.0 International License.
Subscribe to updates from All3DP
You are subscribed to updates from All3DP
Subscribe
You can't subscribe to updates from All3DP. Learn more…