T3D is launching their smartphone 3D printer on Kickstarter. Will it be worth the hype or just another disappointing crowdfunding campaign?
Back in 2015, researchers Taiwan Tech built a compact 3D printer that uses light from a smartphone to cure resin material. The concept was showcased just a few months after the OLO 3D printer (now renamed ONO) first surfaced on Kickstarter.
However, the excitement that was initially generated from Solido3D's crowdfunding campaign soon turned into frustration and disappointment. Originally scheduled to ship in March 2017, Kickstarter backers are still waiting for their ONO 3D printer to arrive. That doesn't mean it's not coming eventually, but needless to say, the ongoing debacle has left a sour taste in the mouth of many Kickstarter backers.
But now, those wishing to transform their smartphone into a 3D printing machine now have another horse in the race. On September 19, the Taiwanese startup T3D plans to release their own mobile 3D printing solution. The company is founded by Taiwan Tech, using the technology they first unveiled nearly two years ago.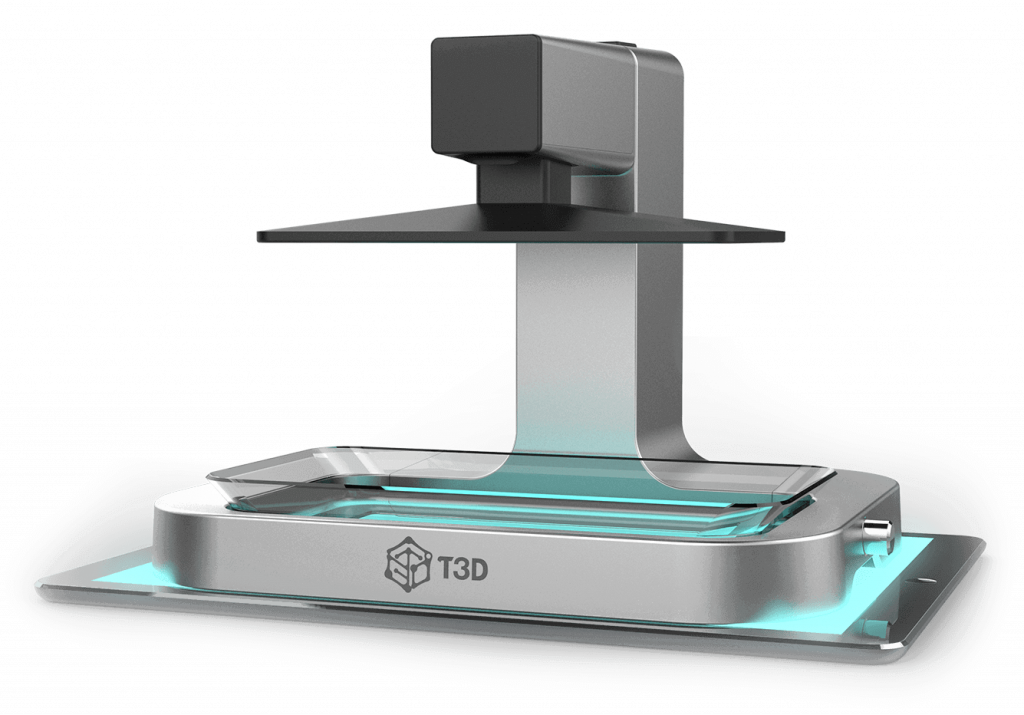 T3D Smartphone 3D Printer: How Is It Different?
So, what makes the T3D different from the ONO 3D printer? Well first, let's start with the similarities. Both machines claim to use the light from a smartphone or tablet to cure light-polymerized resin. At first glance, it might seem like the two printers propose the same functionality, but the T3D version separates itself in a handful ways.
For starters, the Taiwanese company is partnered up with the local 3D printing titan XYZprinting, a company known for producing a vast range of affordable 3D printers. In fact, they recently garnered the attention of the 3D printing community with the new full-color desktop 3D printer. Obviously, the fact that T3D will be working alongside an established industry player adds to their credibility.
As for the actual 3D printer, the T3D model has some stark distinctions from the ONO. The smartphone 3D printer has no cover or orange shield, something typically used with SLA and DLP technology to prevent ambient light from seeping in and ruining prints. The details are still sparse, so we don't know exactly how the T3D printer is able to work without this protective measure, but it's an intriguing feature nonetheless.
Even more impressively, the company will offer a multicolor kit for more creative freedom. A compatible smartphone app will also let users import and print multiple models simultaneously. According to the T3D website, their mobile 3D printing solution features 100 micron layer thickness, a 16 x 7.6 x 8.5 build volume, and 20 second per layer print speed.
The proprietary app would give users access more than 5,800 3D models via cloud platform. The T3D also boasts a flexible 360 degree 3D scanning module, and is open source. Rumor has it that the early bird cost for the printer will cost $169, and retail for about $299. The Kickstarter campaign will aim to raise $85,000, while printers will reportedly be shipped by December of this year.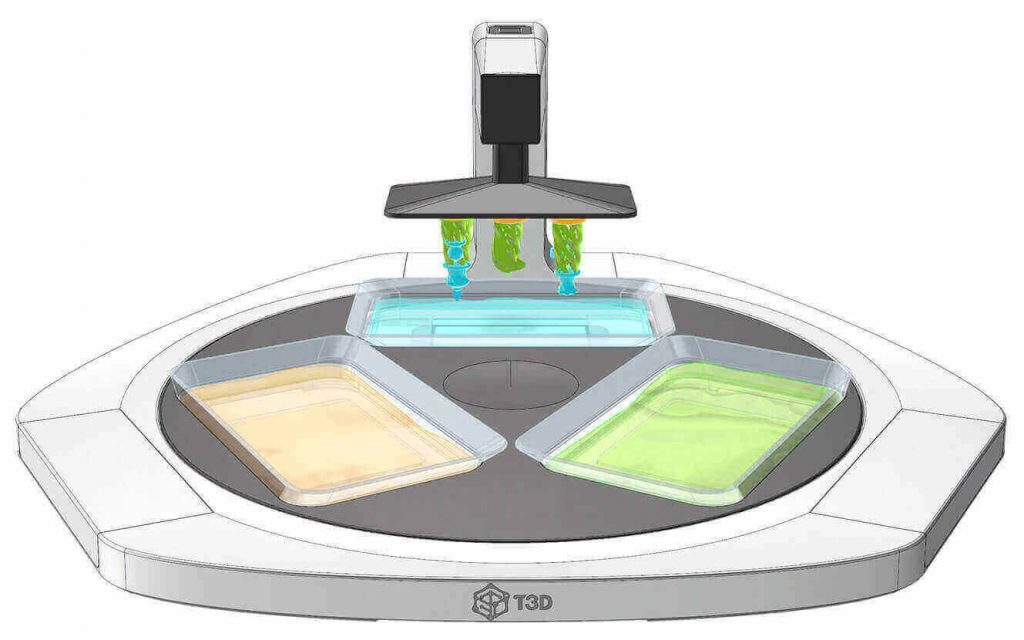 Final Verdict: Will the T3D Smartphone 3D Printer Succeed?
All in all, we're not exactly willing to give an endorsement to a printer that hasn't been released yet, let alone one that is starting off on Kickstarter. With the ONO, eager backers still await their highly anticipated printer, but all they've received thus far is more production delays.
While there's no telling how safe a bet the T3D will be, there are a few positive factors at play. With backing from XYZprinting and a few years of development under their belt, the T3D team could be better prepared to handle production. There are obviously a few questions about how this printer will perform. We hope those will be answered in the upcoming crowdfunding campaign.
As with any Kickstarter project, there's a known risk when you decide to become a backer. Despite the uncertainty, the T3D smartphone 3D printer is a campaign we will keep a close eye on. However, whether it will be a legitimate product or not, remains to be seen.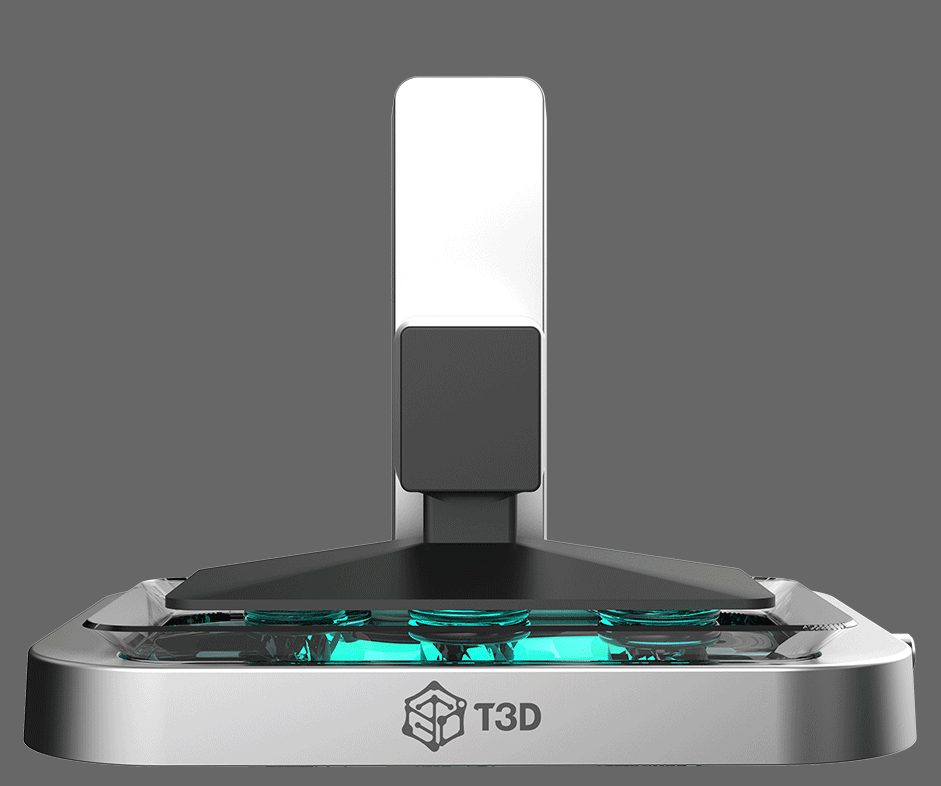 Source: Electronics360/T3D
License: The text of "T3D Smartphone 3D Printer: The Real Deal Or Another ONO?" by All3DP is licensed under a Creative Commons Attribution 4.0 International License.
Subscribe to updates from All3DP
You are subscribed to updates from All3DP
Subscribe
You can't subscribe to updates from All3DP. Learn more…