A research team of TU Delft produced a 3D full-sized mannequin of Olympic silver medalist Tom Dumoulin's to test a series of new cycling skinsuits.
The scientists used photogrammetry. They placed and programmed 150 DSLR cameras in a room to simultaneously capture the image of Dumoulin sitting still on his bicycle.
It took 50 hours to build the mannequin using a low-cost 3D printing method. The cyclist's replica was built in eight separate parts. These were later attached through pin-and-hole joints. The printing process involved using two Ultimaker 3D printers on their head, so they could print up to two meters high.
The printer "uses plastic wire, which is extruded like a glue gun and then it's being drawn on the flat surface below, at a tenth of a millimeter or less, and in that way layer by layer you draw this kind of plastic curves," explained Dr. Jouke Verlinden, of TU Delft's Faculty of Industrial Design Engineering in an interview with Reuters.
Improved aerodynamics with 3D printing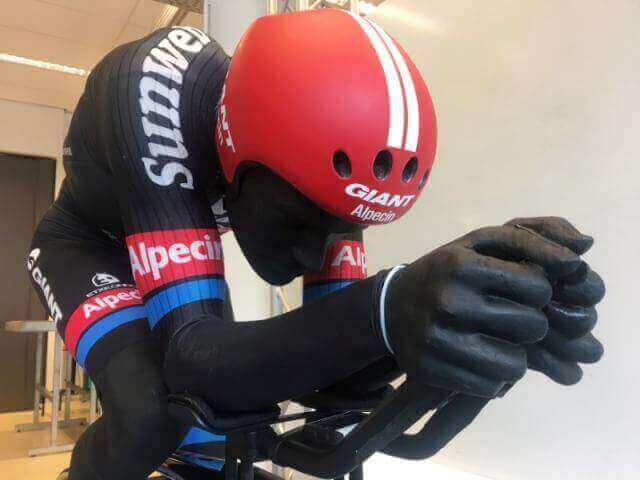 The tested suit was made for Dumoulin's participation in this summer's Tour de France and Olympic Games in Rio. He had to withdraw from the Tour at stage 19 due to an injury, yet he finished second at the Olympics in the time trial behind Fabian Cancellara. This showed aerodynamics is essential in achieving high performance.
Assistant aerospace professor at TU Delft Andrea Sciacchitano told Reuters: "One may think that in order to go faster the surface must be very smooth. This is, in fact, not always the case." He added that roughness helps the cyclist gain more speed as it energizes the flow close to the suit surface. So it allows the flow to close on the back and therefore to reduce the aerodynamic drag.
The researchers intend to use the 3D mannequin to test other aerodynamics aspects. They also hope to apply the particle image velocimetry (PIV) technique they developed, crucial in the wind tunnel tests, to test other suits worn by speed skaters and swimmers.
(Source: Reuters/Jim Drury/ featured image: Agberto Guimaraes)
License: The text of "Speeding with a 3D Printed Full-Scale Mannequin" by All3DP is licensed under a Creative Commons Attribution 4.0 International License.
Subscribe to updates from All3DP
You are subscribed to updates from All3DP
Subscribe
You can't subscribe to updates from All3DP. Learn more…