Shapeways' European Community Manager is one of the first to receive a 3D Printed Shaver from Philips. Let's unbox it and check it out!
Readers may remember the 3D Printed Shaver campaign from Philips, developed in collaboration with Shapeways.
Now, the shavers are in circulation and ready for testing, including a special show from at least one lucky Shapeways employee. The 3D printed shaver has received a lot of hype, but how does it stack up in actual use?
The first glimpse of the shaver comes from a blog post by Shapeways' European Community Manager, Ruud van den Muijzenberg, which includes a fabulously satisfying unboxing video. The small and unassuming box is tightly packed with smaller boxes, containing the shaver and its attachments.
As the box reads, a total of seventeen people were involved in the printing process, from start to finish. During processing, the little shaver traveled 340 km, riding all over Netherlands and even making a stop in Belgium.
But the crisp 3D printed shell and clear text all make the unboxing totally worth it. Too bad they're only available in the Netherlands.
3D Printed Shaver is Perfect for "Naked Buttface"
Ruud seems to take his beard very seriously and shows little desire to shave it all off. However, when approached at a special Philips 125th anniversary bash, he couldn't refuse the chance to show how the new 3D printed shaver works.
Without a mirror, Ruud has some initial issues and turns to a smartphone camera switched to selfie mode to act as a stand-in mirror. The shave then goes on without a hitch.
Though he lamented having to shave his beard, saying specifically he would get "naked buttface" once his beard is gone, the shaver does its job perfectly.
It's pretty easy to get excited about a 3D printed shaver. It's one of the first products from a major company that features 3D printing for mass production.
Moreover, the shavers are customized, which adds a whole new level to the already unusual process. The fact the shavers look and work great, and seem to have been manufactured without too many hiccups, should make other companies more confident about 3D printing applications.
Will Philips be rolling out more 3D printed shavers? What other household appliances would you like to see 3D printed next? Let us know in the comments.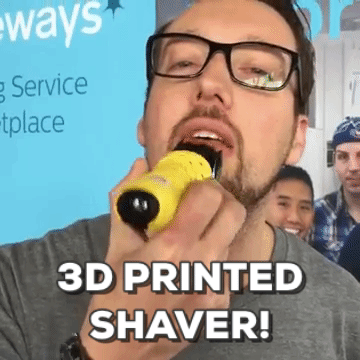 License: The text of "Shapeways Tests 3D Printed Shaver from Philips" by All3DP is licensed under a Creative Commons Attribution 4.0 International License.
Subscribe to updates from All3DP
You are subscribed to updates from All3DP
Subscribe
You can't subscribe to updates from All3DP. Learn more…