In Dubai, an innovative new geopolymer cement mixture created by startup Renca could be the catalyst for future 3D printed buildings.
After skyscraper-building machines earlier this month, the city of Dubai is at center of further innovation in 3D printed buildings.
Renca is a startup venture between Russian concrete specialist Andrey Dudnikov and Italian Geo- and Mineralogist Alex Reggiani. Together they create an eco-cement for 3D printing that is better for the environment than traditional Portland cement.
The pair met at a geopolymer conference, and have collaborated with companies such as Apis Cor (creator of the cheap 3d printed house).
Renca is a part of the Dubai Future Accelerators program. In it, Dubai Municipality — one of twelve government sectors involved — challenges entrants to develop solutions to some of the city's futuristic targets. These include a 50% increase in buildings' green efficiency and 25% adoption of 3D printing in construction. "Green" cement certainly fits into both of these criteria.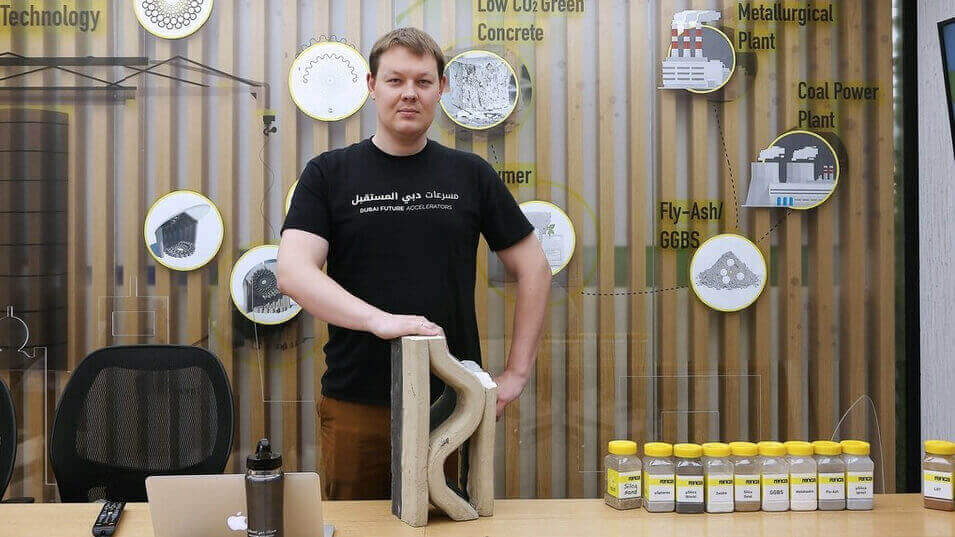 Using Geopolymer Cement for 3D Printing
Renca's material uses the waste by-products of the coal, iron and steel making industries as its base elements. Because of this, the environmental benefits are threefold. These are that it makes use of industrial waste, reduces raw material extraction and therefore sees up to 90 per cent savings in CO2 emissions.
The resulting product, Geocement (geopolymer cement) also has greater thermal insulation than regular concrete. A bonus in addition to the cost-savings the material can give.
Dudikov explains the benefits as such:
"For 3D printers you have to adjust the properties of concrete. It should be fluid enough for the 3D printer and it should set very quickly. When the first layer is in place, the second layer will come straight after. To achieve this with normal concrete you have to add a lot of additives, so it becomes expensive. With geopolymer concrete, you can adjust the properties of the cement with the amount of raw materials you add. It's easy to regulate, achieves fast settings and it is easy to use in these temperatures."
As things stand, Renca does not have a plant lined up to produce Geocement. The next step for the company is to secure local investors.
But we doubt this will be difficult. "It's a huge market and people are interested in implementing the technologies. They really move fast here. We want to take part in this and our technology can provide a lot of benefits." Dudnikov says.
Source: The National
License: The text of "Startup Renca Creates Eco-Cement Fit for 3D Printing" by All3DP is licensed under a Creative Commons Attribution 4.0 International License.
Subscribe to updates from All3DP
You are subscribed to updates from All3DP
Subscribe
You can't subscribe to updates from All3DP. Learn more…