Construction company Apis Cor shows us the future of residential housing; a building 3D printed in just 24 hours at a cost of $10,154 dollars. 
Don't Miss:
Another day, another 3D printed house. They've become so common, it's difficult to work up the enthusiasm. But this new project in Russia has some points of distinction by ticking several boxes; built in single day, it cost just over $10,000, and it's stylish enough to actually live in it.
Located in the town of Stupino, 60 miles south of Moscow, this 38 square meter (400 square feet) home is from 3D printing construction company Apis Cor. And they did it with a unique 3D printer of their own design, suspended on a crane, which is fully mobile.
All of the structure's main components — the self-bearing walls, partitions, and building envelope — are fabricated on site with concrete. This mobility dramatically cuts back on the need for transportation and assembly, and pure 3D printing time amounted to 24 hours.
The heating insulation is also added on site, made from a combination of solid elements and liquid polyurethane. The exterior is finished in a white decorative plaster, and then overlaid in yellow paint. Meanwhile, the interior has a contemporary style with wooden flooring, furnished with appliances from project partner Samsung.
The result is a residential home, in the shape of a rotor, which looks very sophisticated. And this 3D printed house cost just $10,134 to create. Here's the "making of" story in the video below:
Apis Cor Set Itself Some Construction Challenges
The construction took place in December 2016 at a test facility, where Apis Cor collaborated with PIK, a Russian public developer.
According to Apis Cor, the unusual design of the single-story house is deliberate. It was chosen to demonstrate both the flexibility of their equipment and diversity of available forms. From the blurb on their website:
"The house can be of any shape, including the familiar square shape, because the additive technology has no restrictions on design of new buildings, except for the laws of physics. It means it's time to talk about the new fantastic potential of architectural solutions."
Moreover, as an additional challenge, winter conditions added further complexity. Because while the 3D printer is able to operate in temperatures at minus 35°C, the concrete mixture is only usable at temperatures above 5° C. The problem was solved by erecting a tent around it to regulate the temperature.
Apis Cor claims that this residential building can last up to 175 years. And that in the future, both construction and insulation can be completed in tandem using dual extrusion.
What do you think? Would you like to live in a 3d printed house like this? Let us know in the comments.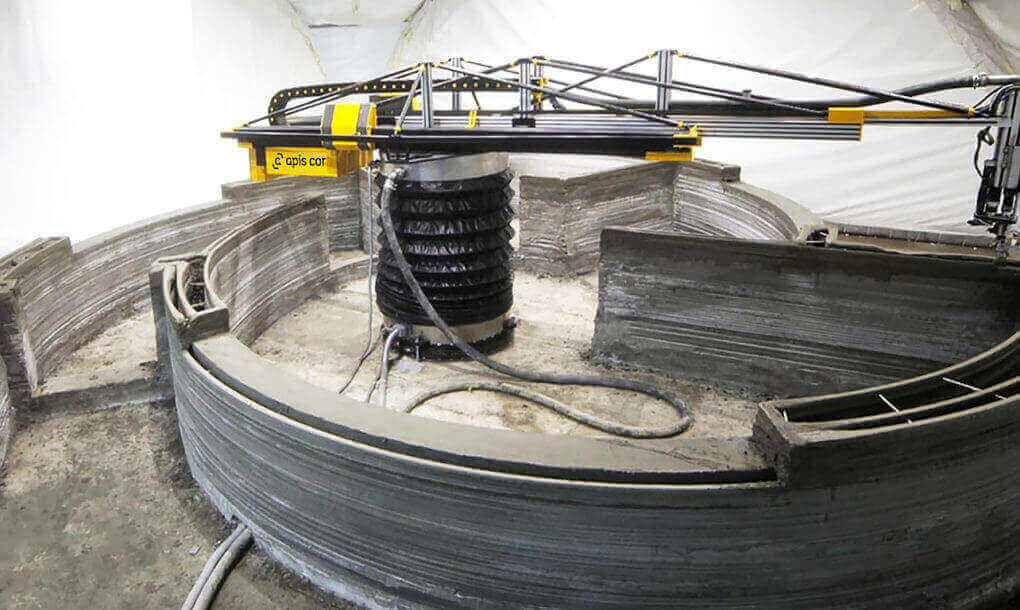 License: The text of "Apis Cor 3D Prints a Small House in 24 Hours for $10,000" by All3DP is licensed under a Creative Commons Attribution 4.0 International License.
Subscribe to updates from All3DP
You are subscribed to updates from All3DP
Subscribe
You can't subscribe to updates from All3DP. Learn more…