NASA successfully test-fired a 3D printed prototype rocket engine igniter made from two different metal alloys that are fused together.
3D printing innovation is taking root all across the world, but few entities have pushed the technology forward quite like NASA. Whether they're deploying 3D printed satellites to reusing plastic to manufacture components on the International Space Station, the space agency is always on the forefront of some new technological breakthrough.
The latest project is a 3D printed prototype rocket engine igniter made from two different metallic alloys in one structure. The part was successfully test-fired at NASA's Marshall Space Flight Center in Huntsville, Alabama. According to NASA, this is the first time they managed to fuse two different types of metal together using 3D printing.
The two metals used to construct the rocket engine part, copper alloy and Inconel (pictured below), are able to mix and interlock to form a strong bond. Due to this, the component is unlikely to crack under high levels of stress and temperature gradients that typically transpire during space travel.

NASA Develops Hybrid Metal 3D Printing Process for Rocket Project
To manufacture this part, NASA engineers used a hybrid 3D printing process called "automated blown powder laser deposition". The method allowed them to print the component out of both copper alloy and Inconel in a single piece. Usually, such a print would have to be done in four parts and later welded together with a brazing technique. This traditional method is both more costly and considerably time-consuming.
"It is a technological achievement to 3D print and test rocket components made with two different alloys. This process could reduce future rocket engine costs by up to a third and manufacturing time by 50%," says Preston Jones, director of the Engineering Directorate at Marshall.
The NASA engineering team successfully tested the parts by running low-pressure hot-fire cycles over 30 times, demonstrating both functionality and longevity. The 3D printed prototype was then "cut up" and observed under a microscope to study the so-called "bi-metallic interface" between the two alloys. The research, conducted by the University of Alabama, showed that the metals had inter-diffused into a homogenous state with a strong bond.
The "automated blown powder laser deposition" printing system was created by the global metal cutting pioneer DMG MORI, combining 3D printing and CNC milling into one machine. The igniter is only 10 inches tall and 7 inches wide, but the test piece will pave the way for larger components in the future.
"We're encouraged about what this new advanced manufacturing technology could do for the Space Launch System programme in the future. In next generation rocket engines, we aspire to create larger, more complex flight components through 3-D printing techniques," says Steve Wofford, manager for the SLS liquid engines office at Marshall.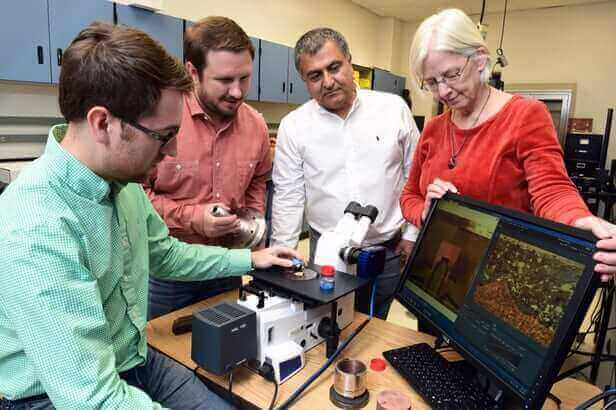 Source: International Business Times
License: The text of "NASA Engineers Test-Fires 3D Printed Rocket Engine Part" by All3DP is licensed under a Creative Commons Attribution 4.0 International License.
Subscribe to updates from All3DP
You are subscribed to updates from All3DP
Subscribe
You can't subscribe to updates from All3DP. Learn more…