At a sprawling campus on the outskirts of Barcelona, HP showed ALL3DP the future of commercial 3D printing with Multi Jet Fusion technology.
Related: HP Launches Jet Fusion 3D Printers at Rapid 2016
Multi Jet Fusion is a new technique for industrial 3D printing, and it's carrying some mighty expectations. First announced in 2014, HP executives have repeatedly promised that it can speed up production time by a factor of 10, and reduce production costs by half, whilst offering unparalleled quality of parts. The press has dutifully reported these claims… but without available hardware to verify them.
After several years of development and testing, HP announced today the first Jet Fusion machines will be launched in the second half of 2016. Earlier this month, ALL3DP was among a select group of journalists and analysts to be given an extensive briefing on MJF technology, together with a tour of their dedicated 3D printing lab on the HP campus in Barcelona.
What we saw was impressive. Simply put, MJF has the potential to massively disrupt the status quo for industrial 3D printing. In a landscape where additive manufacturing technologies are considered too costly or slow (or both) to be useful for wider adoption, this is a paradigm shift that makes 3D printing a viable alternative to injection molding in mass manufacturing.
At the heart of the HP strategy is economics. Today, the 3D printing market is worth between $5 and $6 billion dollars. That's a big sum, but it pales in comparison to injection molding, where the market is worth $12 trillion dollars. Focusing on the commercial sector, HP wants to blow the doors on 3D printing production and protoyping by addressing the problems of quality and cost.
For example, we were shown confidential statistical charts on the "inflection point" between MJF 3D printing versus traditional injection molding. Depending on the size and quantity of the item being produced — for example a small cog — it's possible to tap into production runs where the curve from digital to analog is significantly more cost-effective. With our cog example, up to 60,000 individually fabricated components are cheaper than injection molding.
How does Multi Jet Fusion Work?
To make this innovation possible, HP has leveraged over three decades of experience in 2D inkjet printing. A Jet Fusion 3D printer uses HP Thermal Inkjet arrays in a "proprietary synchronous architecture". Each array, with a high number of nozzles per inch, is capable of printing over 30 million drops per second across each inch of the build space.
The fabrication process begins by laying down a thin layer of material in the build space. Next, a carriage containing the HP Thermal Inkjet array passes from right-to-left, depositing chemical agents across the full working area. These chemical agents are actually two; one is a fusing agent, to create a solid layer from the material, and the other is a detailing agent, to determine the physical outline of the layer being created. Finally, energy is applied to catalyze the fusing agent, and the powder imbued with the detailing agent remains inert.
Next a new layer of material is deposited, and the process continues, layer by layer, until a complete object is formed. At each layer, the carriages change direction for optimal productive efficiency. The available build volume is 406 x 305 x 406 mm (16 x 12 x 16 in).

Now, if you're still with us so far, there are several major advantages to this new technique. First, each layer is created whole, simultaneously addressing over 340 million voxels per second, as opposed to sintering or depositing fused material one voxel at a time. Not only is this significantly more efficient, but the array has complete control over the voxel composition of each layer.
Secondly, the material that isn't fused to fabricate an object can be completely recycled and reused, so there's zero production waste. And it's non-toxic, so workers won't need to wear a face mask when operating the unit or post-processing the printed object.
Moreover, the boffins at HP are currently working on chemical agents that can provide different aesthetic or mechanical properties to a printed object, ranging from color to strength to electrical conductivity. At launch, the company is offering only one material in one color, black PA12 thermoplasic — but they assured us that more is in the pipeline.
We were handed several samples of items printed with MJF tech, including shapes with complex geometry, flexible material, and interlinked chain-mail. Each was robust and well constructed; much more so than an object made with selective laser sintering (SLS) or fused deposition modeling (FDM).

Jet Fusion 3D Printer Range, Cost, and other Surprises
Much of the technology underpinning Multi Jet Fusion had been outlined previously in a technical white paper, but there were some surprises in store for the assembled gathering at the HP campus in Barcelona.
We were all expecting to be shown a single unit, as per the marketing renderings of the Jet Fusion 3D Printer that have been in circulation for some time now. What we saw instead was a complete end-to-end solution, comprised of the 3D printer, a 3D processing station, and a modular 3D build unit that can be swapped between the two.
The idea here is that the objects can be processed — and the unused material recycled — within a self-contained ecosystem. Plus, in a production line scenario, it's possible to mix and match so that you can have (for example) three printers and two processing stations, so several 3D build units can be shuttled from one to the other for continuous production time.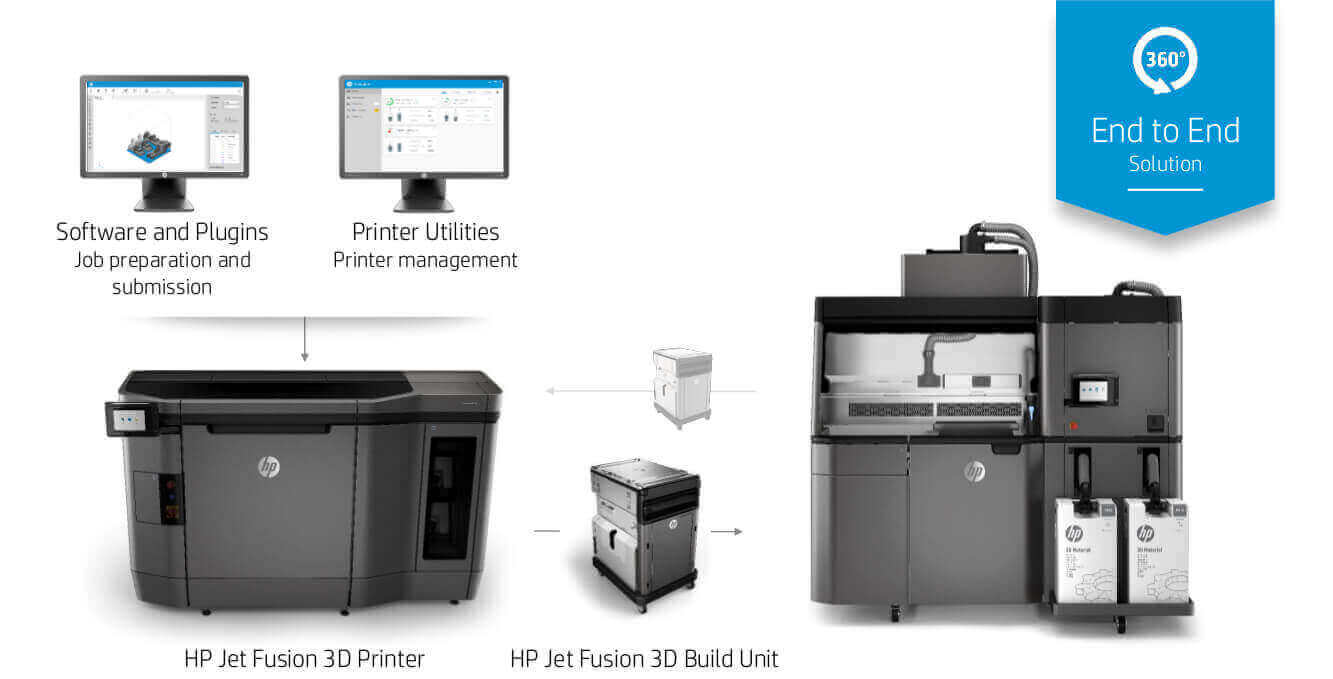 The next surprise was the price. There are two printing solutions on offer, the HP Jet Fusion 3D 3200 and the HP Jet Fusion 3D 4200. The former is aimed at rapid protoyping, and the latter for rapid prototyping and short-run manufacturing. At the entry level with a HP Jet Fusion 3D 3200, pricing starts at $130,000 dollars, moving up to $155,000 when buying a 3D processing station too.
Looking at the high volume 3D printing market, the HP Jet Fusion 3D 3200 is dramatically undercutting industrial 3D printers like the Fortus 350 and the Formiga P110, both of which hover in the region of $200,000 to $300,000 dollars. And neither FDM nor SLS machines have the cost, quality and efficiency advantages being promised by HP.
One other unexpected thing we learned; 66 parts inside each HP Jet Fusion 3D printer are fabricated using MJF technology. That's a powerful vote of confidence in the quality and reliability of the parts, and a neat throwback to the founding principle of the RepRap movement and self-replicating machinery.
HP representatives told us that, in the future, up to 50 percent custom plastic parts for the HP Jet Fusion 3D printers are expected to be printed and produced with Multi Jet Fusion technology versus traditional manufacturing methods. Talk about eating your own dog food!

Developing Multi Jet Fusion Collaboratively
Creating a working ecosystem for a new product line is the real challenge with Multi Jet Fusion; especially for a company making the leap from 2D to 3D printing.
With that in mind, HP have forged a range of partnerships; from end-use customers like Shapeways, Materialise and Jabil; manufacturing partners like Siemens; all the way to base material producers like BASF. We met with Shapeways CEO Peter Weijmarshausen during our visit, and we'll be sharing his thoughts on the Multi Jet Fusion technology in a future article.
The partnership with Shapeways and Materialise is the one that is perhaps most relevant to the consumer market. With a fleet of HP Jet Fusion printers added in their factory floor, there is now the prospect of ordering parts from professional 3D printing services that are significantly cheaper and better quality, with reduced delivery times.
Of course, there is the assumption that these services will pass their savings on to their customers; but for those players looking for a competitive edge in a growing market, there's no sensible reason why they wouldn't.
We were told how Shapeways employees regularly visited the lab to test and train on the prototype Jet Fusion 3D printers — several of the machines in very early stages of design had geeky Star Wars labels like Tatooine and Dagobah — and their feedback helped evolve the final design. The workstation on the 3D processing station, for example, was specifically widened to better accommodate day-to-day working practice when post-processing a printed object.
One more interesting nugget: HP is a founding member of the 3MF consortium — together with major brands like Microsoft, General Electric, Autodesk and Ultimaker — working to establish the open source specification for the next generation of 3D printing file format. Right from the get-go, the HP Jet Fusion 3D printers will be supporting the 3MF format, and they have the distinction of being the first commercially available 3D printers to do so.
Why is this important? Because the STL file format is nearly 30 years old, and it's failed to keep pace with the the hardware it's supporting. An STL file format, for example, doesn't contain color information, or metadata about authorship. That will change with 3MF.
Future Applications for Multi Jet Fusion Technology
Once we were briefed on the current status of Multi Jet Fusion technology, we were also given a glimpse at the road map for the future. Specifically, about new materials and new applications.
A wider color gamut is already high on the list of priorities for HP, but they also shared that they were at the early stages of 3D printing with ceramic materials. We were shown pictures of sample parts made from ceramic, but unfortunately they were too precious to be presented to us directly.

Other applications were about embedded information and embedded intelligence. In the case of information, an object can be "watermarked" at the voxel level, and imprinted with information like barcodes and digital signage that is only visible under infra-red light. This would be a huge boost for an individual or company looking to protect the intellectual property of their designs.
For embedded intelligence, there are scenarios where the material can convey monitoring signals. For example, if a link in a chain is experiencing duress or is significantly weakened, it can change color. A step further is embedded electronics like an LED or Bluetooth module, which can monitor the status of the chain link from moment to moment.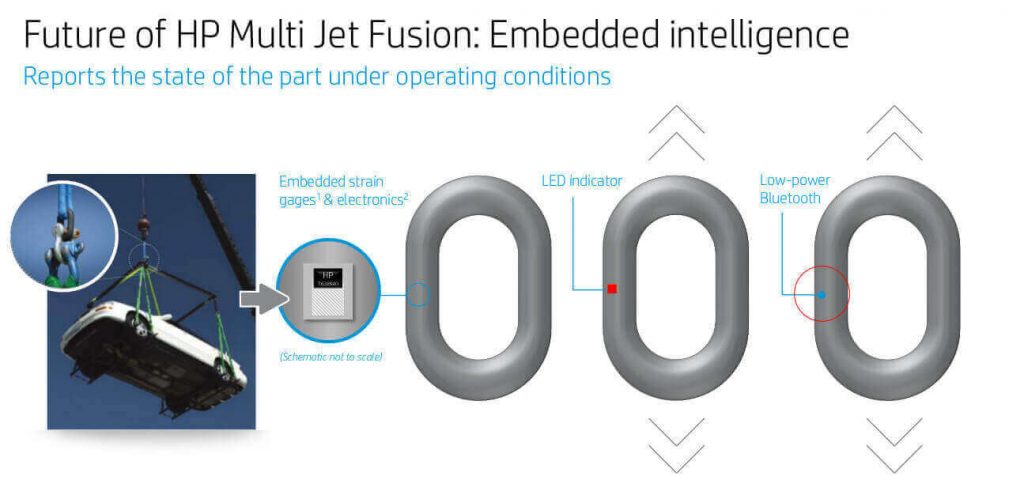 But perhaps most impressive of all is the prospect of manipulating the mechanical properties of an object at the voxel level, so within a single item made from a single material, you could conceivably mix and match the elasticity, strength, conductivity, and more depending on the requirements of the object being made. Imagine a pair of scissors printed as one piece, complete with blade and hinged handles, or a functional circuit board, no soldering or assembly required.
If it sounds like alchemy, the speculative science of transforming one element into another… that's exactly what it is.
Wrapping Up
So that's the end of our report on visiting the HP 3D printing lab in Barcelona. We liked what we saw, and whilst the impact of Multi Jet Fusion may not be immediately apparent from a consumer perspective, we're looking forward to seeing the cost of professional 3D printing services come down considerably in the not-too-distant future.
Will 3D printing ever compete with conventional injection molding for making large volumes of high-strength plastic parts? That's the important question; we think that with Multi Jet Fusion, HP has come the closest yet to slicing the Gordian knot of additive manufacturing.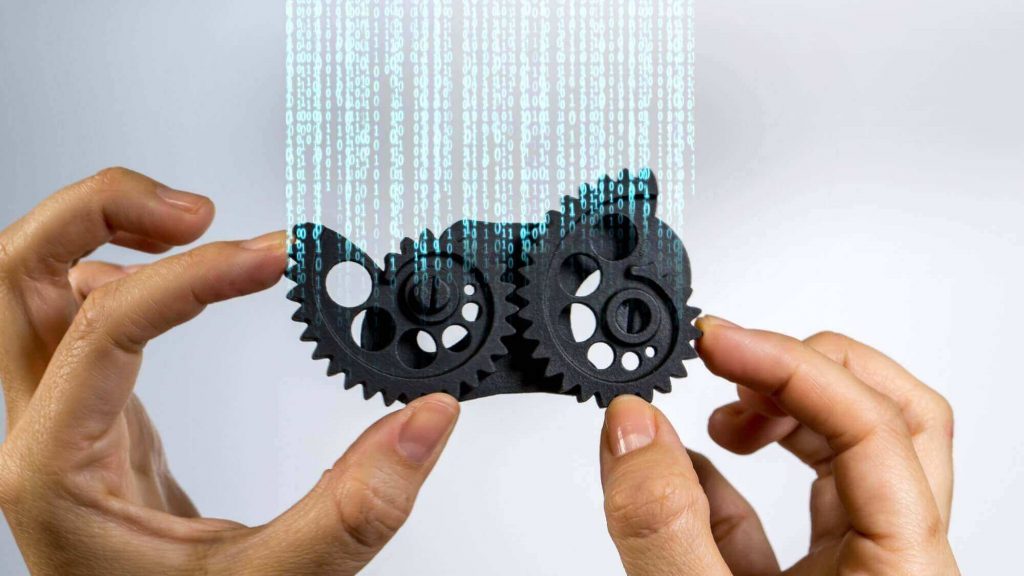 License: The text of "With Multi Jet Fusion, HP Challenges Injection Molding" by All3DP is licensed under a Creative Commons Attribution 4.0 International License.
Subscribe to updates from All3DP
You are subscribed to updates from All3DP
Subscribe
You can't subscribe to updates from All3DP. Learn more…