HP drops the curtain on their long-awaited Jet Fusion 3D printers at the RAPID additive manufacturing trade show in Orlando, Florida.
Related: With Multi Jet Fusion, HP Challenges Injection Molding
Rumors were circulating on the /r/3Dprinting thread on Reddit this past weekend: Is HP about to make a big announcement at the RAPID trade show in Orlando, Florida?
The source of the intrigue is an exhibitor map of the show, where HP is occupying two massive blocks of floor-space. RAPID is one of the biggest additive manufacturing events in the world, so naturally the noses of 3D printing industry watchers were twitching with curiosity.
It turns out their suspicions were right on the money. Unveiled today is the "HP Jet Fusion 3D Printing Solution", an end-to-end production ecosystem that promises superior quality physical parts up to 10 times faster and half the cost of current 3D printing systems.
With the ability to fabricate parts at the level of the individual voxel — a three-dimensional pixel — HP is hugely confident about their new platform, promising a simplified workflow and reduced cost for rapid prototyping, cost-effective economics for final parts manufacturing, and a framework of open materials and software innovation to lower barriers to entry.
Stephen Nigro, president of HP's 3D printing business, said in a press release:
"Our 3D printing platform is unique in its ability to address over 340 million voxels per second, versus one point at a time, giving our prototyping and manufacturing partners radically faster build speeds, functional parts and breakthrough economics. The new HP Jet Fusion 3D Printing Solution delivers a combination of speed, quality, and cost never seen in the industry. Businesses and manufacturers can completely rethink how they design and deliver solutions to their customers."
The initial range from HP is comprised of two new 3D printers, designed for rapid prototyping and production. These machines are the culmination of several years' intense research and development, working in close collaboration with industry partners like Shapeways, Materialise, Siemens and Proto Labs.
The HP Jet Fusion 3D 3200 Printer is intended for for prototyping, offering improved productivity and the capacity to grow usage at a lower cost per part.
The HP Jet Fusion 3D 4200 Printer is intended for prototyping and short-run manufacturing needs, with high productivity to meet same business day demands at the lowest cost per part.
An ecosystem of tools includes intuitive software (including support for the new 3MF file format), an innovative HP Jet Fusion 3D Processing Station with fast cooling, and high-quality materials.
Pricing starts at $130,000 for the HP Jet Fusion 3D 3200 Printer, and the full end-to-end solution (HP Jet Fusion 3D 3200 Printer and Processing Station) is available from $155,000. The interesting point here is that these prices are significantly lower than commercial Fused Deposition Modeling (FDM) and Selective Laser Sintering (SLS) 3D printers currently on the market.
HP is now taking orders at hp.com/go/3Dcontactus. Delivery of the HP Jet Fusion 3D 4200 Printer is expected in late 2016, with the HP Jet Fusion 3D 3200 Printer following in 2017.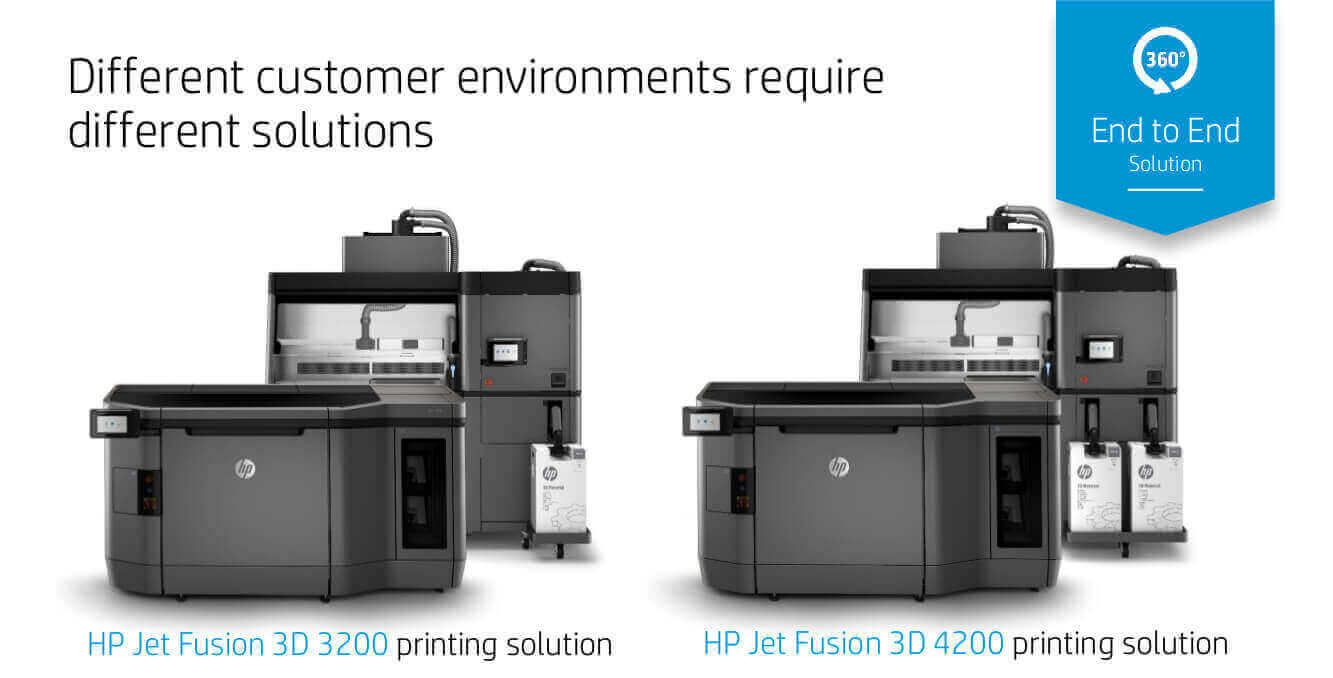 What do the Experts Say about Multi Jet Fusion?
So, Multi Jet Fusion technology is finally here, and at a competitive price tag to galvanize sales. What do the 3D printing industry experts have to say? ALL3DP reached out to them for their comments.
Pete Basiliere is Research Vice President of Imaging and Print at Gartner. He's impressed by the open source approach taken by HP, and sees it as a good strategy to encourage adoption:
"HP's Jet Fusion 3D printers have been designed for volume production of identical or custom items. They will be of interest to manufacturers wanting to use 3D printing not only for prototyping, but also for production tools and fixtures and some finished goods.

HP's decision to offer only one color will initially limit the 3D printers' adoption. Importantly, HP is taking an open-source approach to the powder used in its 3D printers — four alternative providers have been lined up — but not to the fusing and detail fluids. This tactic will spur material advances and possibly cut powder pricing over time while providing HP with annuity revenue from powder and fluid sales.

HP's Jet Fusion 3D printers are worth a hard look. I recommend buyers use HP's or their own TCO comparison tool to fairly evaluate the end-to-end cost of 3D printing to existing manufacturing processes. But given the potential risks inherent in any new technology product, extensively test the HP printer's productivity and mechanical performance with your parts before committing to its purchase."
Professor Phill Dickens of the Additive Manufacturing and 3D Printing Research Group at the University of Nottingham also welcomed the announcement, but is keen to learn more about the finer details:
"The new HP 3D Printing machine looks very exciting and appears to be really useful for manufacturing as well as prototyping. The process is much faster than laser sintering and combined with the fact that the machine will be much cheaper means that it will be a game changer. However, we are yet to see details about mechanical properties, resolution, accuracy, surface finish, reliability, repeatability, maintenance cost, material cost and ink cost so the usefulness is still yet to be determined."
Joe Kempton, industry analyst at Canalys, reckons it's a very strong start, but it's only one of seven different types of 3D printing, so the impact may be initially confined to one segment of the industry:
"With its Multi Jet Fusion 3D printer technology, HP is truly offering a revolutionary new type of 3D printing. There is often a lot of overhype in the 3D printing market over new technologies, most of which fail to live up to these lofty expectations. But HP's MJF technology is different. The speed and quality that the printer offers for a such significantly low price blows the competition out of the water. HP have crunched their numbers with sophisticated models, and so the figures they have given are presumably highly accurate. As long as it can live up to these claims, it has a strong chance to become one of the dominant vendors in this market. Its competitors, who have previously controlled this landscape, will struggle to bring their technology up to speed and match HP's offering, meaning the market will shift dramatically over the coming years. Ultimately though, regardless of who ends up on top, this competition will only result in substantially lower costs and faster print speeds for businesses which use the technology, and should help reignite a faster growth and innovation in the 3D printing industry.

Despite this, it is important to remember that this technology is powder bed fusion, only one of the seven different types of 3D printing as defined by the American Society for Testing and Materials (ASTM). Therefore, even though the technology is a game-changer, it will only affect a portion of the 3D printing industry, and within this segment, only the middle market of the enterprise space which requires powder bed fusion. It is also important to note that as it currently stands, this technology will only really be used initially for prototyping, but what HP has planned further down the road offers the most excitement.

HP has also promised much, much more in terms of 3D printing potential from future iterations of its 3D printers. It claims it will be able to affect material properties at the voxel (volumetric pixel) level, as well as offering many more materials and color options. The danger with this is that new customers hold off on purchases until the next improved iteration is released. If HP can avoid this situation, then it seems set to enjoy a large share of this evolving market. It may also be that HP is unable to achieve some of these claims as there may be severe limitations of the material science involved. HP have also come to market at a crucial time when economic headwinds have really hampered the growth of two of the largest vendors in the market, 3D Systems and Stratasys. This could easily hinder or help them as they try to outpace the growth of their competition. The competition has also been given years of advance warning to prepare for this situation; it will be interesting to see what product offerings rivals have been developing behind the scenes. HP only really has one shot to get this right, and get it right first time. All eyes will be on the market over the next few months to see how customers react."
Finally we have a comment from Terry Wohlers, industry analyst and president of Wohlers Associates. He says that "HP's Multi Jet Fusion technology is going to shake up 3D printing in ways that we have not seen in the past. The company's involvement will strengthen an already strong and fast-growing industry."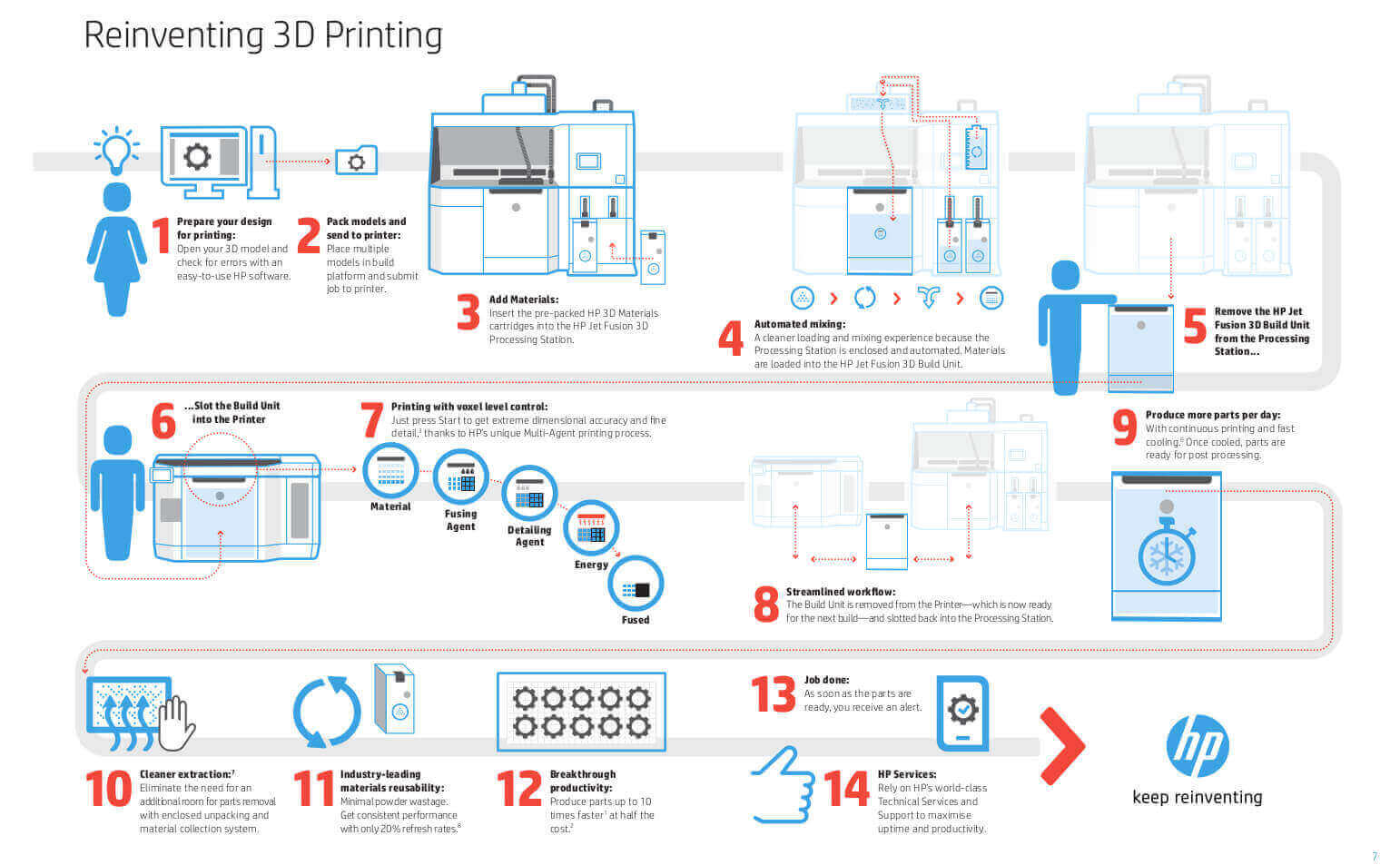 License: The text of "HP Launches Jet Fusion 3D Printers at Rapid 2016" by All3DP is licensed under a Creative Commons Attribution 4.0 International License.
Subscribe to updates from All3DP
You are subscribed to updates from All3DP
Subscribe
You can't subscribe to updates from All3DP. Learn more…