Exclusive interview with MakerBot CEO Jonathan Jaglom on the latest and greatest 3D printing innovations from the company.
Don't Miss: Brand New MakerBot Replicator+ is Faster, Bigger, Quieter
Taking over the reins at MakerBot in February 2015, Jonathan Jaglom is the CEO of the most widely recognized 3D printing company in the world. He came on board from parent company Stratasys, where he previously served as General Manager of Asia Pacific and Japan.
In a short space of time, Jaglom has made a sequence of difficult decisions considered necessary for MakerBot's continued survival. He and his team have rebranded, restructured and repositioned the company, focusing less on consumers and more on education and professionals.
At the TCT Trade Show in Birmingham, ALL3DP sat down with Jaglom for an exclusive interview. He spoke at length about the recent product launches from MakerBot, the growth of Thingiverse, and more besides.
ALL3DP: We've had a long period of quiet from MakerBot, and then an avalanche of new hardware and software announcements. Is this part of the strategic pivot away from consumers and more towards professional and educational markets?
First of all, great observation. We took last year to really redefine what we are about and investigate that deeply within the roots of the company. We took our time. When I started off, I went on a listening tour, visiting something like 80 customers in six to seven weeks. I think I knocked off over 30 states in the U.S. alone. Despite coming from Stratasys for the previous ten years, I needed that input. Then we did focus groups. We set up a product marketing team that didn't exist.
We did all that as part of this desire to re-evaluate and redefine what MakerBot is about and what we can offer to our target audiences, whether it's the professional or the educational. That's exactly what we did. It's all synced in very flawlessly, I think, both between the professional and the educational.
I can assure you that we didn't come to market with an announcement before we felt we had a viable solution to present. So we had products in hand before launch, but we kept it at bay because that's not enough. We need more software, hardware and materials. So the avalanche of products that you mentioned is a carefully crafted, orchestrated repositioning and focus, drifting away from a very product-centric mindset to a much more user-centric mindset. At MakerBot, we really look at an entire experience. We look at content, community, workflow, and output.
We talk about ideas in the making. I can share with you that R&D spending internally at MakerBot is roughly equal hardware and software. The size is actually equal. We're definitely not only a hardware company. So we look at content, community, workflow, output; and we do it in a seamless, connected experience to allow designers and engineers to bring ideas to light as quickly and as easily as possible, whether it's an educator or a professional.
And we're really happy with the launch, both from a product perspective and also from the reception by the media. We did a great job, and I think a lot of that has to do with the fact that it's genuine and it's been thought through very carefully. That's the new MakerBot.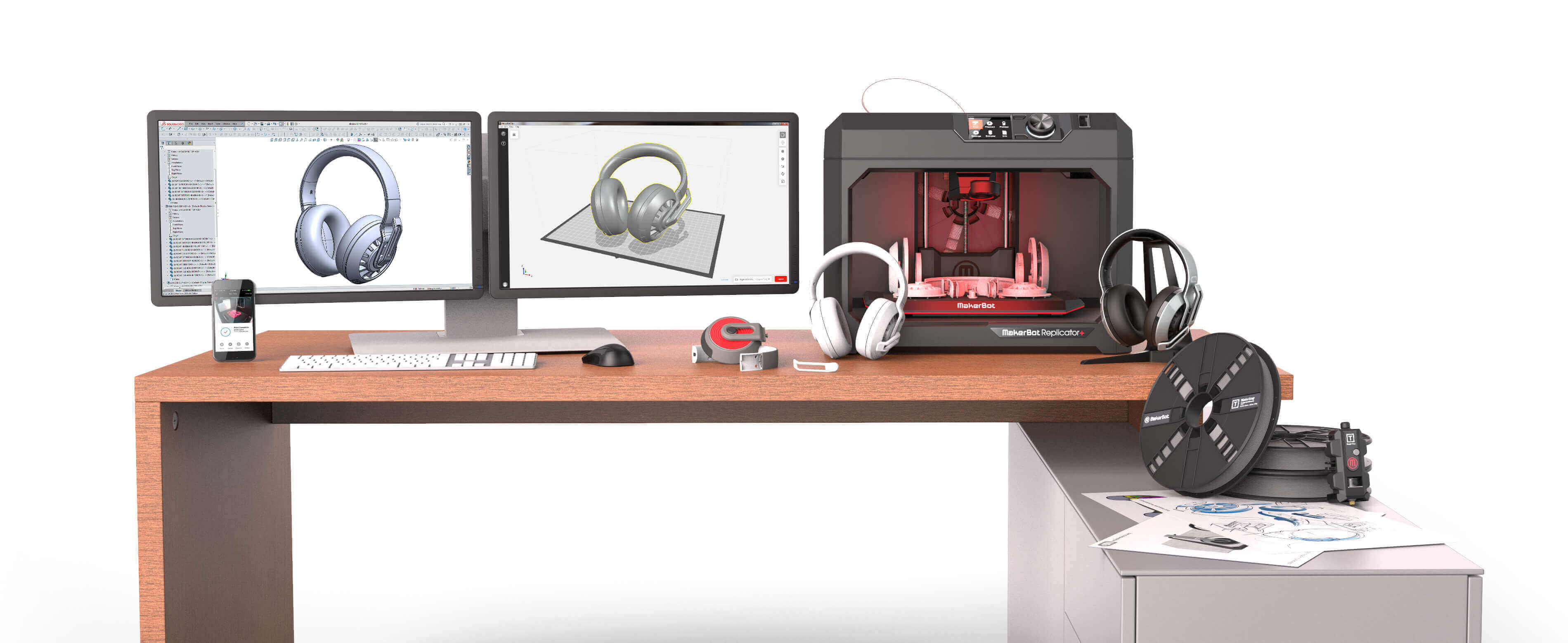 ALL3DP: So do you feel like MakerBot has turned a corner on previous troubles?
Absolutely. I'm so proud of what we have achieved in such a short period of time and where we are today relative to where we were just a year ago. Honestly, I could not be more proud. I'm super excited. We've been through a lot. A lot of it has been painful; it hasn't been fun. You can be assured about that. But there were necessary steps that needed to happen and today we have an extremely viable solution offering. Again; software, hardware, materials. Our production is entirely done at Jabil in China, who is a fantastic partner.
All the printers, all the hardware that you're seeing is coming out of Jabil, which in itself alludes to operational excellence. Unless your background is in operations, it may be hard to understand that pulling off the Jabil transition in four and a half months is pretty remarkable. We've managed to do that because we really have a top-notch team and we really pushed it through. Again, so to have the new products coming out from this wonderful partnership through Jabil, the messaging, the repositioning, the rebranding; all that tied together really puts us in a great position.
One more thing, if that's not enough, we have had two sequential growths from financial quarter to quarter — Q116 v. Q415, Q216 v. Q116 — so we're definitely moving up. And with this, we're going to have fun. We deserve it.
ALL3DP: When it comes to professional sector, it seems like a slightly puzzling decision to offer a printer without a heated bed, and which only prints in PLA material. What's the rationale behind that?
So first of all, you have the Replicator Z18, which is a product that we've done a lot of improvements on and you could use that.
Secondly, we wanted to stick to having PLA. A lot of it has to do with the office environment. We wanted to ensure that for an office environment, we're in the bounds of what is friendly, no odours, no dissipation of particles, whilst also offering ABS like properties with our new Tough PLA. So, if you look at the spec sheets of ABS compared with Tough PLA; it's a composite material, but it has similar properties to ABS. We feel very confident that will it will do itself a lot of justice.
Actually, I can share with you that so far — it's only been a week since launch — the Tough PLA has really had a strong start, way above our expectations at this point. It's only been eight days, but it's really getting a lot of traction.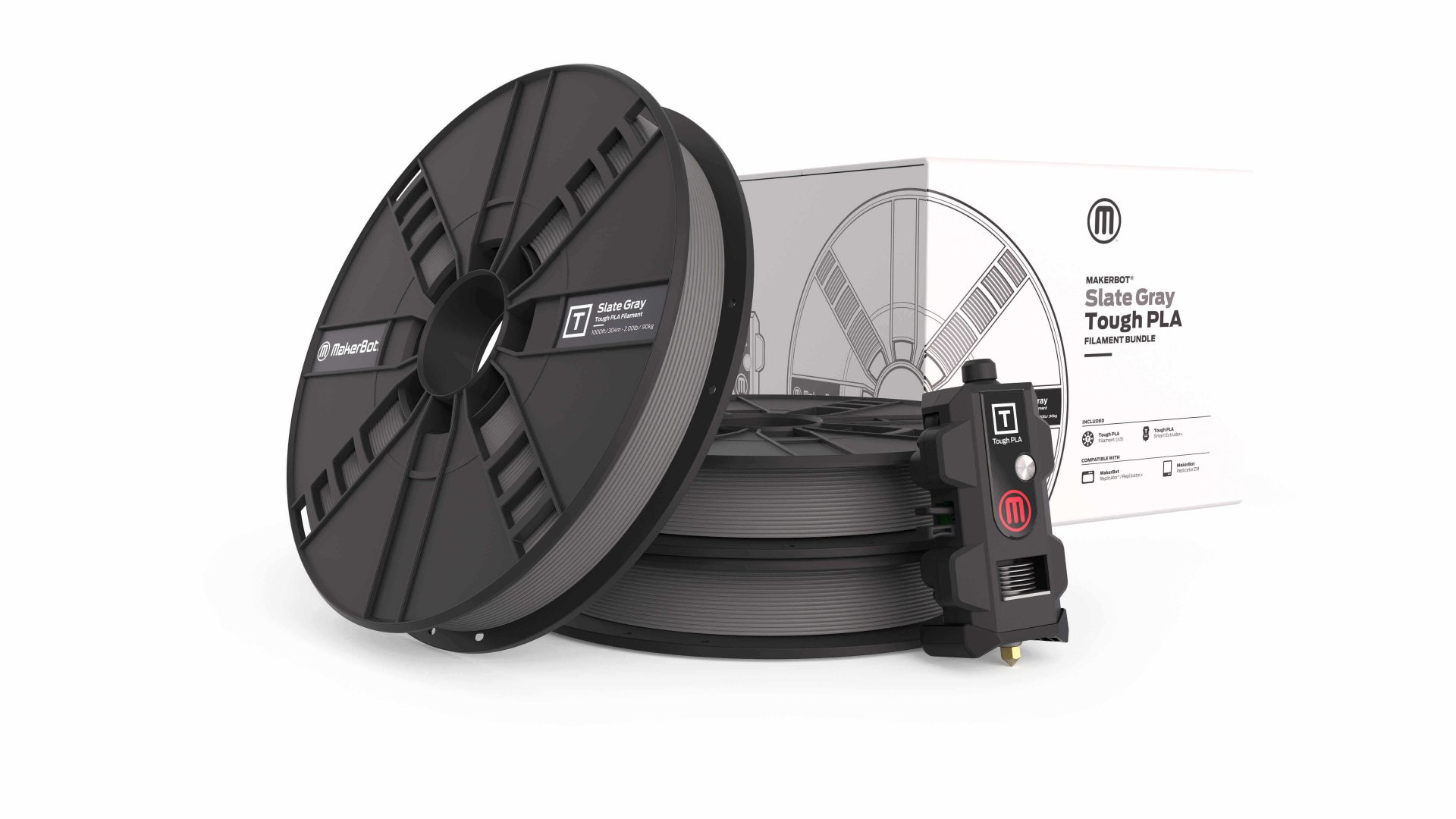 ALL3DP: And will there be any further materials launched? Any filaments with flexible properties, for example?
Obviously, we can't obviously disclose our product roadmap. That said, you could look at Stratasys. You could see its vast resources. It has multiple material centers in-house. Honestly, the best way I can explain it, we would be doing our customers and shareholders an injustice if we didn't tap into those resources for our own benefit.
To an extent, we have done that already. The Tough PLA is coming out of Stratasys. The software is coming out of a collaboration between MakerBot and GrabCAD based in Boston, a company which is part of the Stratasys group. So we're definitely leveraging off of Stratasys.
The quality assurance, by the way, is also an important part of the equation. One of our testing centers is in Stratasys. We have a whole lab of printers that is solely for the purpose of quality assurance, tested by Stratasys, which is now driving quality assurance within the industry. So we have three different sites to ensure the highest possible quality.
ALL3DP: MakerBot started out as a consumer 3D printing company, as did many others. Now everyone seems to be targeting engineers and small businesses. Would you say the market is leaving consumers behind?
I can't speak to the entire market, obviously. It is very fair to say that MakerBot started as a consumer play. But back in the day, given the momentum and the hype around desktop 3D printing, I think MakerBot was at the right point at the right time and targeting a play that it believed was valid. I think that it was extremely successful and outgrew that segment and then embarked on an educational strategy, but still not coming with a value proposition that's tied into a professional audience.
I'll give you a great example. When I came onboard from Stratasys, I asked "Where are the spec sheets? Where are the material spec sheets?" And the typical answer was, "We don't have spec sheets for materials." I was like, "How do you want to sell into a professional audience if you don't have material specs? How can you convince a customer like Volkswagen in Germany if you don't show the engineer your specs?" So we have specs. That's part of the things that we have done. We are targeting now to very clear audiences.
Education is another very clear audience for us. We have printers in over 5,000 schools in the U.S. alone, which is huge. And then in the professional space, we're now addressing that space. We have some really interesting customers, but we want to see more traction there.
Coming back to the consumer play, I truly believe in it. But it's not happening right now. The things that we will do for the professional and educational markets will help play out a consumer angle, but we're not there today.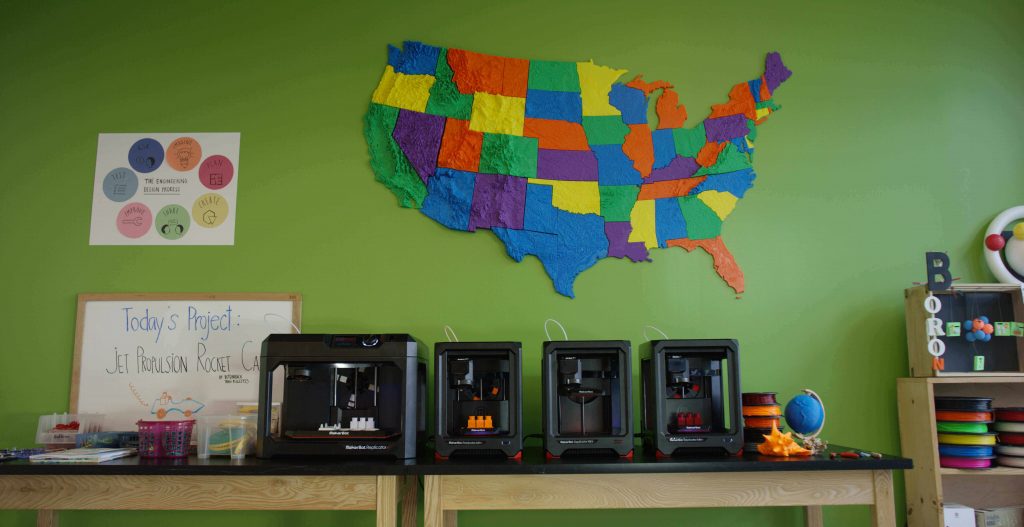 ALL3DP: In the short-term, is MakerBot not in danger of conceding the consumer space to the likes of XYZPrinting or FlashForge, or any other low-cost 3D printer manufacturer?
I prefer a world where there is competition to a world where there isn't competition. I'm happy that we have competition in the landscape only because first of all, the customer has a choice and I think philosophically, it's the most important thing. You have to recognize and you have to accept and you have to appreciate. Secondly, it puts you on the edge. It requires you to continually think, what is your strategic angle? Where do you want to play that you believe you have an advantage over?
That's exactly what we have done. MakerBot is not an output-driven printing device. We are an entire solution offering. We have 2.5 million people that come to Thingiverse every month to shop around. We built Thingiverse Education with over 100 lesson plans. We're providing content to anyone. We're providing a software-connected experience through CAD to print. On our MakerBot Print, you don't need to use STL anymore; you don't need to convert any file. You design in Solidworks and you can directly print. So why do we do that? We do that because MakerBot is about ideas in the making. That is what we stand by.
We believe that there is an innovator in everyone. So everything we do is tied to that. So our role is to provide an experience that is as easy, as seamless, as connected as possible to unleash creativity, whether you're a designer or an educator. As long as we do that, we have a very strong competitive advantage versus the other players that you mentioned, which are really around output. We are trying very hard, and I think we've been successful, to detach ourselves from this output-driven mindset.
We are an entire experience where you can unbox a Mini or Replicator+ in less than five minutes. You have seven steps, and your printer is connected and off you go. And you set up your account and regardless of where you are in the world, what printers you connected, your account will identify all the printers. You don't have to connect every time as you used to in the past. Through one account everything is connected. So it's cloud-based, obviously. So this is just part of our advantages.
ALL3DP: What are your future plans for Thingiverse?
Our mindset has been clear with the API platform that we launched earlier in 2016. That is a clear indication of where we want to go. We're inviting everyone and anyone. We're also inviting our competitors. If you think you have an interesting, viable solution to offer the largest platform in this industry in terms of community — Thingiverse being by far the largest — then call us. Tap into the platform.
We have already roughly a dozen. I love the 3D Hubs example, because I think it's beautiful. We have 2.5 million people logging in every month on Thingiverse. You have more than 35,000 printers around the world on the 3D Hubs network. By connecting both, which we have successfully done, you're providing the opportunity to any one of those 2.5 million people to have a printed part in their hand, regardless of where they're located.
So again, it's that spirit that we're trying to expand. And we invite anyone out there to tap into our platform if they think the solution they provide brings value to the audience. It's how we want to position ourselves. And by the way, there's very little monetization on Thingiverse. You can tip a designer. And in the API through 3D hubs, obviously, users pay per service. But it's good stuff. I'm excited.
ALL3DP: Agreed that Thingiverse is a fantastic platform. In some ways, perhaps, it's outgrown MakerBot. Do you feel sometimes that the child has outgrown the parent?
I'm very happy that Thingiverse is out there. It's a huge boost to the trust of the community. I think the API platform is also huge. There's a lot of things you can do with that in the future that we're thinking about. But it will always stay very much at core to the design and to the community and will always be open. I've been asked a lot of questions about that. We don't plan to change any of that. If anything, through the API, we've opened it up more than it ever was before.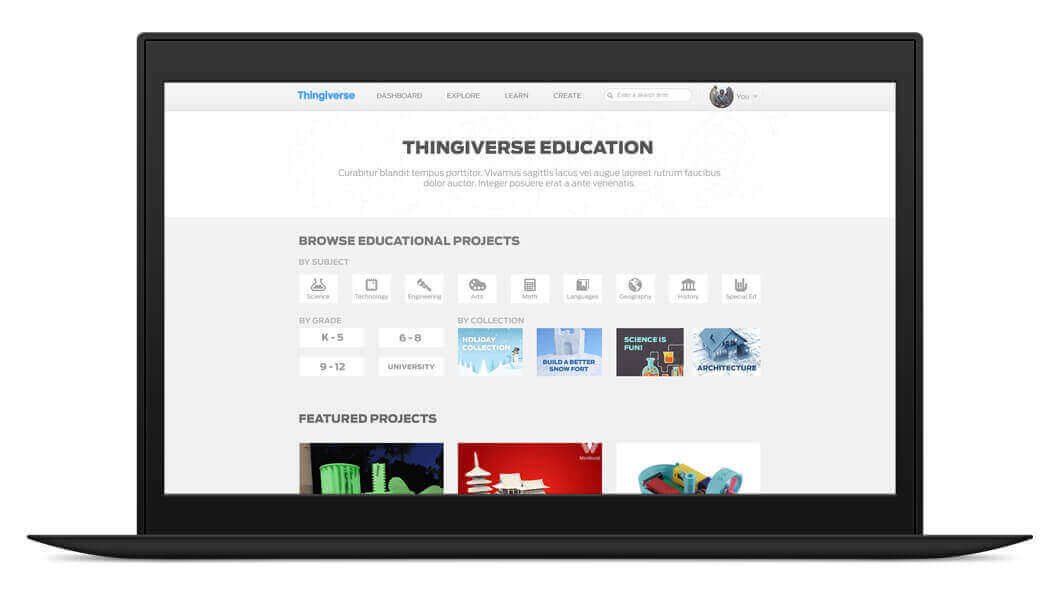 License: The text of "Interview with MakerBot CEO Jonathan Jaglom" by All3DP is licensed under a Creative Commons Attribution 4.0 International License.
Subscribe to updates from All3DP
You are subscribed to updates from All3DP
Subscribe
You can't subscribe to updates from All3DP. Learn more…