HP and Siemens are forming a partnership to integrate NX product development and manufacturing software into HP Multi Jet Fusion 3D printers. 
Ever since HP launched its highly anticipated Multi Jet Fusion 3D printers at RAPID 2016, the industry has placed high expectations upon these potentially revolutionary machines.  These additive manufacturing systems have trickled their way into various 3D printing service bureaus and big-name companies. However, we've yet to see the full impact of the tech giant's technology.
On Wednesday, HP and the German manufacturing conglomerate Siemens rolled out a major 3D printing integration partnership. Under the recently announced deal, HP's Multi Jet Fusion 3D printers will be integrated with Siemens' NX software platform. Conversely, Siemens NX module for HP's 3D printing systems is also now certified.
Read More About HP 3D Printing: Signup for Early Access to HP Multi Jet Fusion with Shapeways
The NX software specializes in product development and industrial manufacturing, two aspects that HP plans to conquer with their technology. The new software module is aptly named "Siemens NX AM for HP Multi Jet Fusion."
Now, customers will be able to develop and manage parts in a single software environment for their HP 3D Printing projects. The module will help avoid costly and time-consuming data conversions, eliminate the need for third-party tools, and will also improve their overall design-to-finished-part workflow efficiency.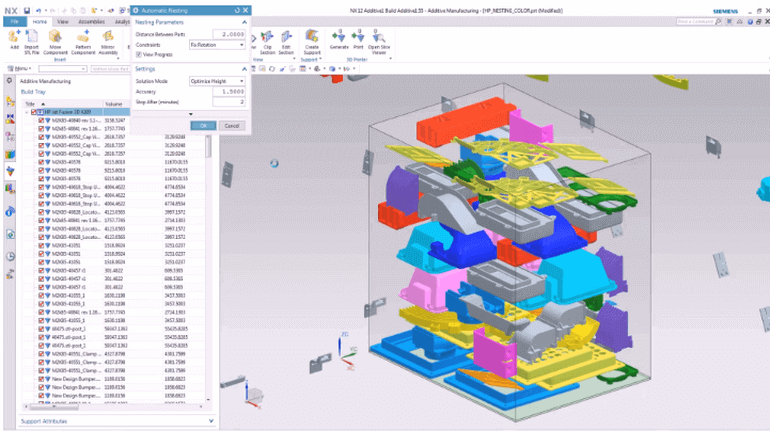 HP and Siemens Partnership: Two Gargantuan Companies, One Objective
Siemens and HP will also align on future technology roadmaps, enabling product engineers to take full advantage of 3D printing. NX users will be able to combine design, optimization, simulation, preparation of print jobs, and inspection processes all in one environment.
According to Michelle Bockman, the global head of 3D Printing Commercial Expansion and Development at HP, the partnership will spark promising potential for product development.
"HP and Siemens are bringing together the best in design and manufacturing workflow software for the best in 3D printing, unleashing a wave of new product possibilities with the speed, quality, and economics required for the modern digital industrial era. We look forward to collaborating with Siemens to continually raise the industry bar on what's possible for customers with the voxel-level design capabilities of our Multi Jet Fusion 3D printing solutions."
HP Multi Jet Fusion users will now be able load and automatically nest multiple 3D part models into NX. This feature will make the most of the printer's limited print volume.
In the future, the module will allow unprecedented control of material characteristics down to the individual voxel-level. This means that users will be able to modify and print parts with specialized textures, density, strength, and friction. On top of that, NX users can enhance thermal, electrical, and conductivity characteristics as well.
All in all, HP and Siemens both share the same objective, to further the industrialization of 3D printing technology. By partnering up and integrating NX software into the acclaimed Multi Jet Fusion systems, the two companies will most certainly be on the forefront of additive manufacturing innovation.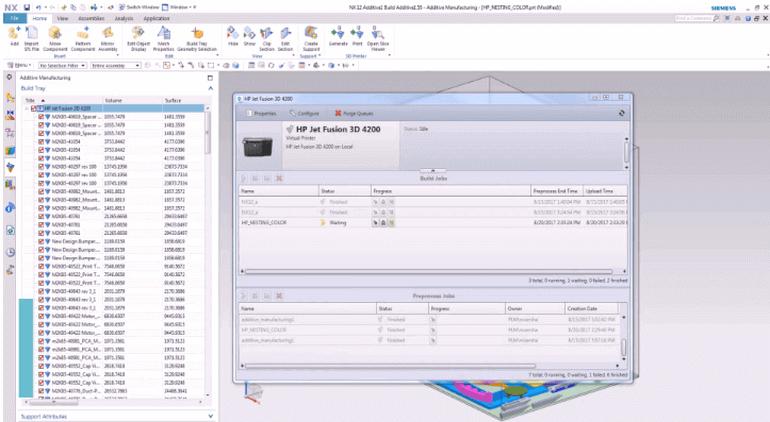 Source: HP
License: The text of "HP Integrates Siemens NX Into Multi Jet Fusion 3D Printers" by All3DP is licensed under a Creative Commons Attribution 4.0 International License.
Subscribe to updates from All3DP
You are subscribed to updates from All3DP
Subscribe
You can't subscribe to updates from All3DP. Learn more…