The two companies are bundling their products to give hospitals a leg up when establishing in-house 3D print labs.
During a show floor appearance at the Radiological Society of North America's annual meeting, SLA 3D printing specialists Formlabs and print service and software provider Materialise have announced a partnership that will see them offer packages of their products to healthcare institutions.
The offering is said to be a "complete, cost-effective and easy-to-use solution". It will see Materialise Mimics inPrint medical imaging software bundled with Formlabs Form 2 desktop SLA 3D printers.
In a healthcare industry in which we frequently see meaningful use of 3D printing, the move could remove a big obstacle for many hospitals investigating the technology. With setup- and initial cost per part being the primary prohibitive factors, Formlabs and Materialise hope to dispel such barriers with this turn-key solution.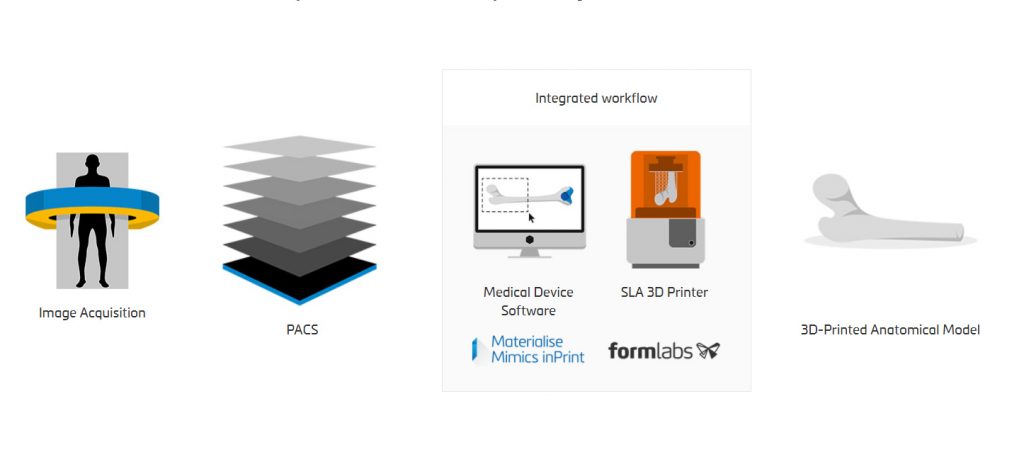 A 3D Printer in Every Hospital
The primary use case cited for explaining the partnership is the rapid adoption of 3D printed anatomical models. Essential to the meticulous planning that happens pre-surgery, anatomical models taken from patient's scans can mean significant savings in cost and surgery time.
Materialise's Mimic inPrint is a purpose-built program for transforming image data, compiling it into 3D models for the user to extract 3D printable files. There's a fascinating series of videos detailing how it works over on the Materialise website.
Speaking of the product tie-up, David Lakatos, Chief Product Officer at Formlabs said:
"By combining Materialise's software with Formlabs' 3D printers, we have developed a simple, easy-to-use solution for hospitals to incorporate 3D printing into their daily practices. Together, we're introducing technology that enables advancements in precise patient care."
Interested healthcare professionals can find out more on the Materialise website.
Source: Formlabs
License: The text of "Formlabs and Materialise to Make 3D Printing Accessible to Hospitals" by All3DP is licensed under a Creative Commons Attribution 4.0 International License.
Subscribe to updates from All3DP
You are subscribed to updates from All3DP
Subscribe
You can't subscribe to updates from All3DP. Learn more…