Lightweight automotive parts made with selective laser melting (SLM) 3D printing can improve fuel efficiency and reduce CO2 emissions.
Additive manufacturing has had a positive impact on the automotive sector. But most of this innovation is generally reserved for prototyping purposes.
But one team of University of Nottingham engineers are extending what's possible with 3D printing technology. The research group is using selective laser melting (SLM) 3D printing to produce lightweight automotive components.
These functional car parts are fabricated with complex lattices that could boost vehicle fuel efficiency, reduce CO2 emissions, and even cut noise.
The Functional Lattices for Automotive Components (FLAC) project seeks to manufacture car components with complex lattices. The FLAC project is also the recipient of a £368,286 grant from government organization Innovate UK.
The team is utilizing the funds to produce a range of components for the luxury car and motorsport market. These parts include brake calipers, heat sinks for LED headlights, and powertrain subsystems.
The ultimate goal is to produce car parts with 40 to 80 percent reduction in weight and enhanced thermo-mechanical properties. In addition, these components will also deliver decreased CO2 emissions by 16.97g/km.
Reducing CO2 Emissions with the FLAC Project?
Selective laser melting (SLM) is an additive manufacturing technique that uses a high-powered laser beam to melt layers of aluminum alloy powder into solidified structures.
This industrial 3D printing process inherently increases functionality and decreased productions costs. SLM also provides environmental benefits like less material waste and reduced transportation. But these promising advantages are amplified with the use of complex lattices, which help to reduce weight while maintaining strength.
According to Professor Chris Tuck, the FLAC project lead, their research will ultimately strengthen the UK automotive industry.
"FLAC will benefit UK automotive companies, increasing their competitiveness by allowing them to adopt innovative routes for the design and manufacture of lightweight on-vehicle componentry, with shorter lead times and lower costs than are presently available."
3D printing technology is used by automotive manufacturers across the world, from carbon fiber parts by Honda to the fully 3D printed Strati by Local Motors. But the FLAC project differs from most, using complex lattices to produce lightweight and exceptionally functional automotive parts.
Source: University of Nottingham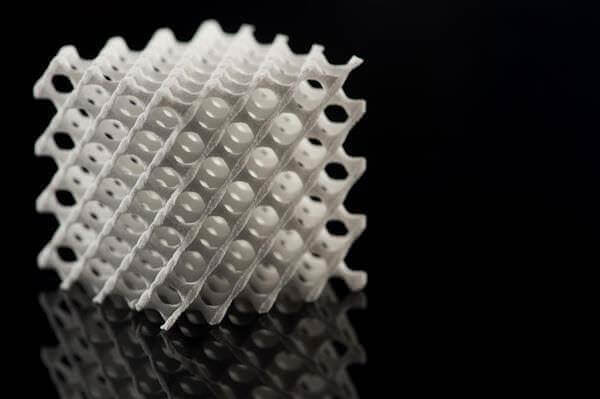 License: The text of "3D Printed Automotive Parts Could Reduce CO2 Emissions" by All3DP is licensed under a Creative Commons Attribution 4.0 International License.
Subscribe to updates from All3DP
You are subscribed to updates from All3DP
Subscribe
You can't subscribe to updates from All3DP. Learn more…