The only thing sexier than Local Motor's 3D printed car is getting to drive it. Here's how the "Strati" behaved on the street.
Car companies were the first to adopt 3D printing for their prototyping needs. Interestingly enough, it took more than two decades for someone to put a fully 3D printed car on the streets. The now famous Local Motors can be credited to making that happen. Their first popular model is called the "Strati".
The Strati is a fully 3D printed electric two-seater. It's solid, silent, and very low to the ground. Body and chassis are indistinguishable, lending it a strong, uniform quality. The strange matte striations across the body don't just add texture, they remind the driver of its recyclability.
The 3D printed Car is "A Blast to Drive"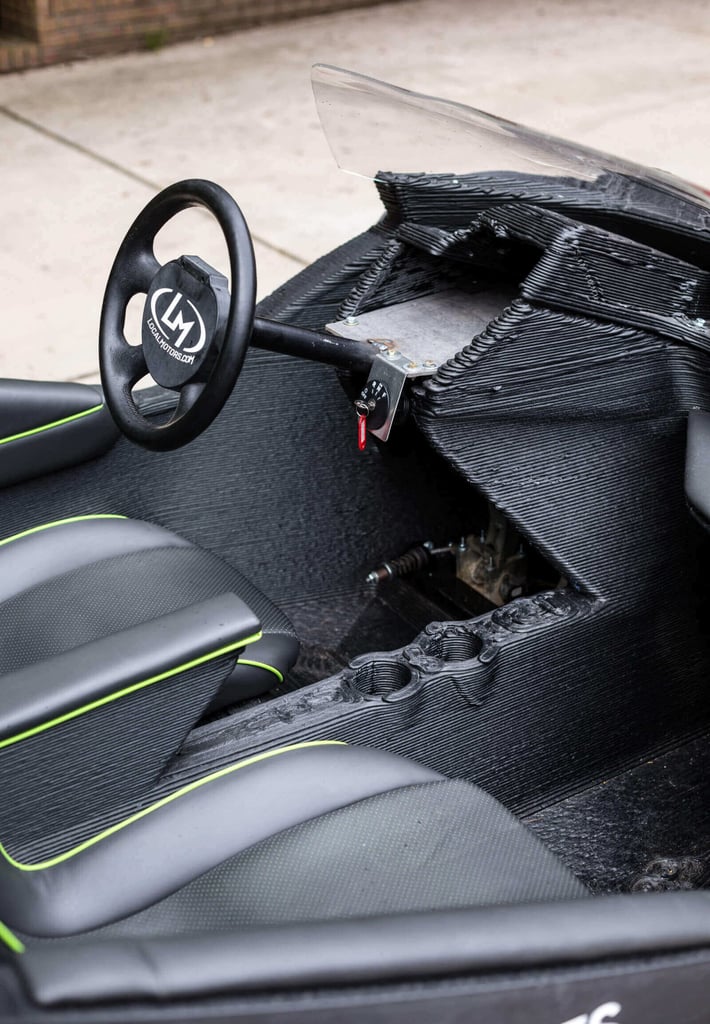 Popular Mechanics took a test drive and found it "a blast to drive".
At the moment, the Strati maxes out at about 50MPH, is 100% electric and equipped with both front- and rear-wheel drive. Given the speed and small size, many have compared it to a golf cart, but that doesn't mean people are less excited. Ezra Dryer, who reviewed the Strati for Popular Mechanics, came to the conclusion that "it's a lot of fun already. The rear suspension rides on an aluminum subframe, and with no distinction between body and chassis, the car feels inordinately solid, substantial. There's some clunking from the stand-in motor, but the car itself is silent. Put a Mitsubishi i-MiEV motor back there and this thing would be a riot."
More 3D Printed Cars Will Follow
The car in question is the third from Local Motors, and took 40 hours to print. In the future, it could cost as little as $5,000 to create, making it very practical for developing countries. This could be a powerful alternative for a family that is forced to cram itself onto a motorbike.
The future of Local Motors is looking bright—not only will they keep producing, they are continuing to make major changes to the car industry. They are currently working on 100-person mini-factories, where they will prepare and produce 3D printed cars, and perhaps auto parts intended for resale. If they keep trucking forward, Local Motors may soon be a household name. (Via: Popular Mechanics)
License: The text of "Test Driving the "Strati", Local Motor's 3D Printed Car" by All3DP is licensed under a Creative Commons Attribution 4.0 International License.
Stay informed with notifications from All3DP.
You get a notification when a new article is published.