Mcor Technologies' selective deposition lamination (SDL) technology is being used by Honda to create paper molds for carbon fiber CFRP parts.
Based in Ireland, Mcor Technologies stands apart from the rest of 3D printing pack with their selective deposition lamination (SDL) technology. This is an innovative paper 3D printing process that produces in full-color.
Their unique technology has come in handy for creating colorful replicas of sunken warships and high-reaching mountains. But one might not expect that Mcor's paper 3D printing process would be of much use in the industrial sector.
However, automotive giant Honda Corporation recently showcased an innovative application of SDL 3D printing. They produced molds to create carbon fiber-reinforced plastic (CFRP) parts.
Many companies would traditionally choose CNC machining for short-run manufacturing of CFRP parts. But the turnaround time and production costs make this option less than desirable.
Instead, Honda has been using an Mcor ARKe to create 3D printed paper molds and coat them with traditional CFRP. The coated mold is then placed in an autoclave at a temperature and pressure that allows the carbon fiber to form, creating the final part.
Learn more about the Mcor ARKe 3D printer in the video below:
Honda Finds Great Use for SDL Technology
"We've been working with Honda for 12 months now, and they've been using our SDL technology to see how could it be used in various segments within the Honda corporation," Mcor CEO Conor MacCormack said.
"The one that we were most excited about was using it for making carbon fiber parts. The reason they used it is because paper is extremely strong under compression."
According to MacCormack, the 3D printed paper molds have characteristics that are akin to wood. This enables them to withstand extended exposure to heat and pressure.
The tungsten carbide blade slices the layered paper with exceptional accuracy, producing a dimensional accuracy of 100 microns. In addition, the mold is coated in a release agent; this allows the CFRP to be easily pried off after the autoclaving is complete.
Effectively, Mcor and Honda have proven that SDL technology is capable of more than just full-color prints. The paper material offers some unique properties from the industrial market that can even extend into molds for sand-casting metal parts.
According to Honda's estimates, 3D printed CFRP molds cost about 10 times less than traditional CNC molds. Although their new Mcor ARKe desktop 3D printer costs $17,995, the potential of having industrial and full-color capabilities in one compact machine makes the hefty price look like a bargain.
Source: Engineering.com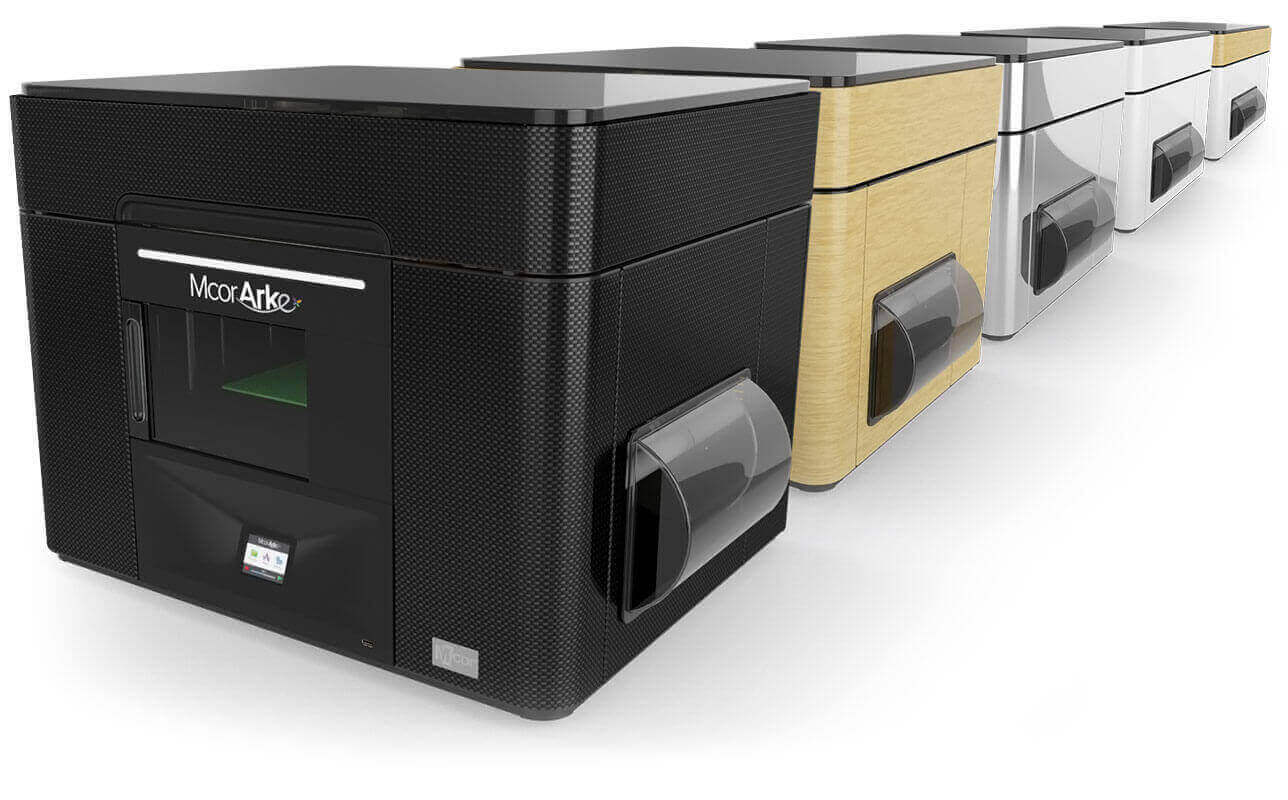 License: The text of "Honda Produces Carbon Fiber Parts with Mcor Paper 3D Printing" by All3DP is licensed under a Creative Commons Attribution 4.0 International License.
Subscribe to updates from All3DP
You are subscribed to updates from All3DP
Subscribe
You can't subscribe to updates from All3DP. Learn more…