Despite being a crowd-funding success story in 2015, production of the BigBox 3D Printer is officially discontinued by E3D online.
Don't Miss: E3D BigBox 3D Printer Review: Unbeatable (Budget) Performer
Today saw a major announcement from E3D, a leading manufacturer of 3D printer parts and accessories, about the future of their BigBox 3D printer. In short, there isn't one. The team has decided to end all production and sales of their open source desktop machine.
The news was released in a lengthy blog post, where E3D explained the rationale behind the move. The company was also at pains to stress that support would continue for existing owners. According to the post:
"It was with a great deal of reluctance and sadness that we decided to end the BigBox project. It had been an exhilarating, crazy, and exciting time but the long days, sleepless nights, and constant anxiety that came with it were ultimately unsustainable. We would again like to emphasise that BigBox customer support is ongoing. However new BigBoxes will no longer be sold."
It's certainly been a wild ride for the boxen of bigliness; it began life as a crowd-funding campaign on Kickstarter in Summer 2015. With a modest goal of £30,000, the final tally came to £262,143, smashing their original target by 873%.
With the project functioning as a company-within-a-company, BigBox was able to deliver on all pledges to 465 backers within the space of a year. But this came at a cost.
E3D revealed that BigBox was not able to complete fulfillment of all orders using only the funds from the Kickstarter campaign. Instead — in their capacity as parent company — E3D decided to sustain a financial loss to assist with completion.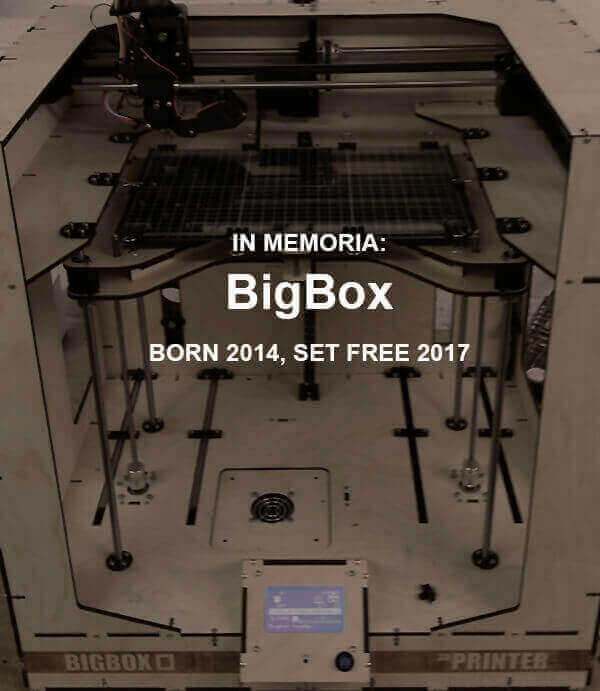 Fare Thee Well, BigBox
So why did BigBox prove unsustainable after such a spectacular beginning? Instead of a single reason, it comes down to several. The initial demand was overwhelmingly high, which created additional pressures of labour requirements, production lead times, shipping issues, and pricing.
High demand was "probably the largest factor that affected us, as the demand for the product was much higher than our intended production methods and our facilities were capable of handling." The BigBox wasn't designed or intended to be produced at such a scale.
The logistics of delivering the 3D printer were another complication, "exacerbated by the many variants, versions, and add-ons we offered to the standard machine." Because of the exponential increase in the complexity of ordering, logistics and packing, E3D had to hire extra staff to handle the workload.
Despite the sad news concerning BigBox, E3D were keen to emphasize that the wider company is still in tip-top shape. "We have a print farm of 20+ BigBoxes ourselves," they said, "so you can be sure that we also want to see BigBox maintained."
Moving forward, existing users will continue to see maintenance of the Marlin firmware, Simplify3D profiles, and availability of spare parts.
After a run of negative stories concerning 3D printing and Kickstarter, it's a relief to see E3D emerge relatively unscathed by the crowd-funding experience. They faced a series of difficult challenges but they delivered on their promises. And they did so with complete transparency.
In the meantime, E3D continue to offer market leading accessories like the V6 hot-end and Titan extruder. Keep them in mind next time you're building an open source 3D printer.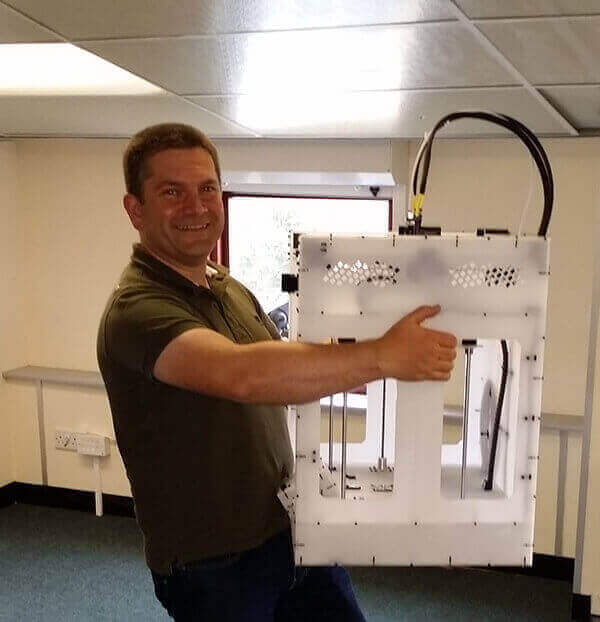 License: The text of "E3D Ends Production and Sales of BigBox 3D Printer" by All3DP is licensed under a Creative Commons Attribution 4.0 International License.
Subscribe to updates from All3DP
You are subscribed to updates from All3DP
Subscribe
You can't subscribe to updates from All3DP. Learn more…