With 48 hours left on their Kickstarter campaign, Next Dynamics face questions about the legitimacy of their claims for the NexD1 3D printer.
UPDATE 26/01: Kickstarter has officially suspended funding for this campaign. Read on for the full story.
Popular crowdfunding site Kickstarter has a fresh scandal on their hands. German startup Next Dynamics is under fire from angry backers over misleading marketing materials and accusations of copyright infringement. With just two days left before the campaign closes, supporters are moving swiftly to revoke their pledges.
Their NexD1 is supposedly capable of multi-material and electronics 3D printing; at launch it soared past its €200,000 funding goal to a tally in excess of €400,000. It seemed like another crowdfunding success for the 3D printing industry, joining the ranks of Formlabs, Zortrax and CELRobox.
But a whiff of controversy arose in early January; a backer named KRS paid a visit to the Next Dynamics headquarters in Berlin and didn't like what he saw:
"Unfortunately I have to report that I wasn't presented a printing process as promised. Instead the promised observation of a fully functioning NexD1 got delayed several times for different reasons. One stating, that they have more important stuff to do. I am very disappointed, as I have extended my stay here in Berlin just too see a proof of concept. This proof wasn't given to me although I have given the team many opportunities."
Other backers then piled in, concerned that the promotional materials didn't actually show the NexD1 printing anything. The team at Next Dynamics attempted to reassure backers with an update showing sample printed objects.
But this only served to pour fuel on the fire. It emerged that the designs for several of these objects were under copyright. Designer Bathsheba Grossman stepped into the comments thread to say:
"I'm posting here to repeat a comment which I made on the most recent update, because I think it may be important to some backers. I believe that this campaign has either copied a copyrighted artwork, or presented as coming from their machine a part which they did not print."
Because the STL files are not publicly available, it's not possible to have made them on the NexD1. To add to the intrigue, Grossman disclosed she'd sold one of these models via Shapeways at the beginning of the year.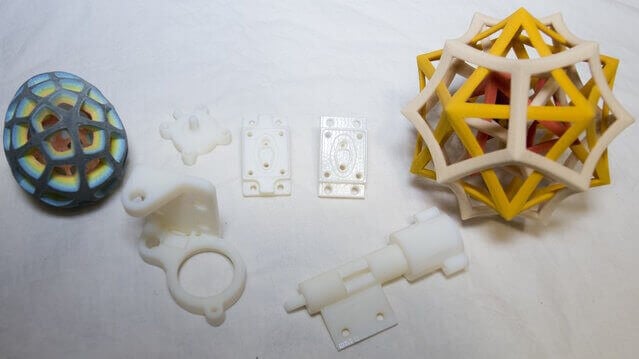 Questions Swirling Around Next Dynamics
Shortly after this episode, eagle-eyed backers noticed the departure of a core member from the Next Dynamics team. Between 18 – 20 January, Creative Director "Cindy" was removed from the campaign page. The changes are viewable on the Wayback Machine here and here.
Recognising the damage to their public trust, the team at Next Dynamics last night moved to reassure their backers about the capabilities of the NexD1. On their YouTube channel they have uploaded several videos of the machine in action, and promised a livestream at a future date.
But backers remain unconvinced. There are too many questions surrounding Next Dynamics and the NexD1 to inspire any confidence in the legitimacy of their campaign.
Many backers have withdrawn their pledges, causing a steep dropoff in funding momentum. According to Kickstarter rules, backers cannot cancel their pledge less than 24 hours before the end of the campaign. That means the window for action is rapidly closing.
The comments thread on the campaign page currently has over a thousand posts; many are hoping that Kickstarter representatives will step in to cancel the campaign entirely.
ALL3DP has reached out to Next Dynamics for comment. We'll continue to monitor this story for future developments.
Source: Justpaste

License: The text of "Next Dynamics Embroiled in Kickstarter Controversy" by All3DP is licensed under a Creative Commons Attribution 4.0 International License.
Subscribe to updates from All3DP
You are subscribed to updates from All3DP
Subscribe
You can't subscribe to updates from All3DP. Learn more…