Ultimaker has released Cura 2.4, the latest update to their open source 3D printing slicer software. Learn about the new features here.
A vital part of the 3D printing work-flow, slicing software acts as the bridge between a CAD model and the 3D printer. There are a whole range of packages available; one of the most popular is the Cura slicer by Ultimaker.
After rolling out version 2.3 back in September 2016, the community-driven 3D printing company is back with their first software update since the dual-extrusion Ultimaker 3 hit the market. In Cura 2.4, Ultimaker is focused on improving user experience, new slicing features, and squashing a few bugs.
The latest version of their open source slicer should benefit both general users and those with the new Ultimaker 3 in a number of ways. Before we dive into the changelog, you'll be pleased to know that Cura 2.4 can be downloaded for free directly from the Ultimaker website.
Cura 2.4 Recap: Improved User Experience
There are a number of improvements to the user interface of Cura 2.4. Here is a quick recap of what to expect:
Project saving & opening: The latest slicer update enables users to save their build plate configuration, as well as the printer's meshes and settings. Now, when you reopen a file on Cura, the configuration of the project will remain in place.
Searching for settings: The enhanced search function will allow users to quickly sort between custom settings on the side panel.
G-Code control: You will now be able to modify the start and end g-code settings for single-extrusion printers.
Live streaming functionality: Want to keep an eye on your print process from a remote location? Cura 2.4 offers a new live streaming function.
Better advice: Now, when slicing operations are halted by errors, the software will provide solutions on how to repair your settings for printing.
Temperature command: The initial and final printing temperatures is fine-tuned, resulting in higher quality print finishes.
Duplicating objects: Duplicating objects with Cura used to be a hassle, but you can now multiply objects at the click of a button.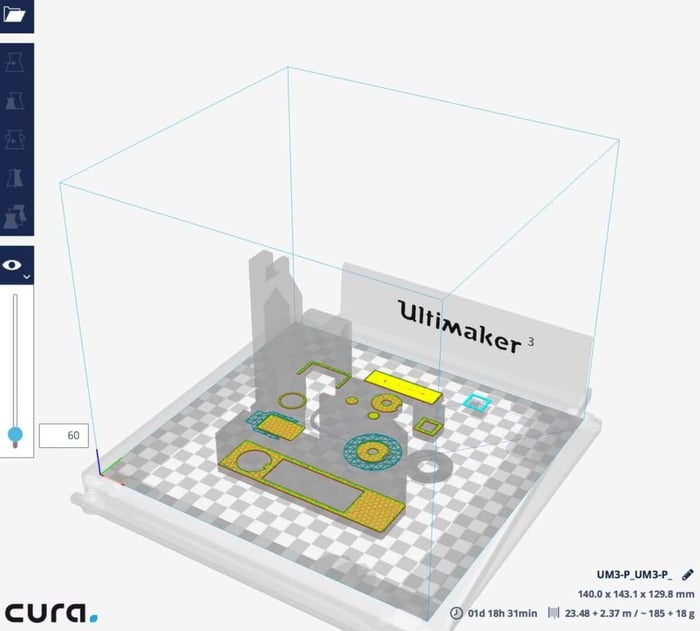 Cura 2.4 Recap: New Slicing Features
The Ultimaker team has also integrated exciting new slicing features, most of which increase usability of the Ultimaker 3:
Hollow prime tower: With hollow prime tower, you can now reduce material use while improving the stability of your print. The oozing material on the prime tower is now being wiped from the inside, containing all excess material within.
Cool it down/heat it up: The printing process will now begin and end at a lower temperatures. This minimizes the heat absorbed by the material and reduces the risk of nozzle clogging.
Cleaning up the Mesh: Now, in areas where two different models overlap, each layer can be alternated. This improves the bond between dual-color models, and provides increased control of build plate color mixing. You can also turn off the resolving of overlapping meshes function, allowing for mixture of colors on the build plate.
Experimental Infills: There are two new experimental infill patterns on Cura 2.4. Cubic subdivision infill is similar to cubic infill, but instead generates larger cubes as it gets further inside the mesh. This feature can help reduce material use and print time, while maintaining structural integrity. Concentric 3D infill touches the shell of every X layer, leading to better support to top layers of prints.
Mind the Gap: You can also fill small gaps in between walls to make thin areas dense rather than hollow, increasing the strength of your model.
Other features improve the functionality of 3D printer components, including the build plate and printing temperature, fan, nozzle, overhangs, and support structures.
Also noteworthy is the reintegration of Delta 3D printer support, which is still not extensively tested but is a step in the right direction. Additionally, Cura 2.4 will also include Applemage for Linux, making the software much easier for Linux users to install.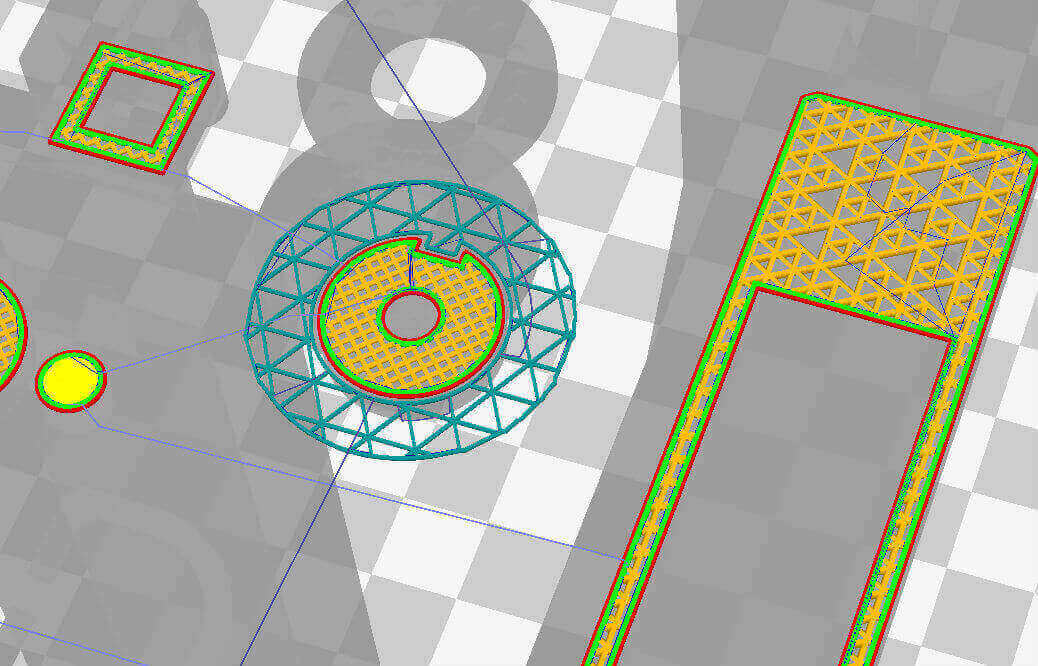 Major Strides in Ultimaker 3D Printer Functionality
The latest version of Cura is also focusing on improving the performance of the Ultimaker 3.
For starters, version 2.4 will include a range of Ultimaker 3 printing profiles that boost reliability and cut print time. The initial and final print temperatures reduce oozing during PLA/PLA, PLA/PVA, and Nylon/PVA prints, making prime tower now optional. The development team also repaired the issue with performing single-extrusion prints with Ultimaker 3 dual-extrusion system.
With Cura 2.4, it's also easier to monitor print cores and materials that you are using in the Ultimaker 3. The latest update also includes improvements to the Ultimaker 2's build plate and material changing function.
According to a Reddit post by ahoeben — who claims to be employed by Ultimaker — Cura 2.5 will be released in "a couple of months". You can take a look at the extensive list of new features and improvements in Cura 2.4 here. All in all, the flurry of new features and enhanced usability place this slicer at the front of the pack.
New to Cura? Take a look at our extensive tutorial on how to optimize your use of this industry-leading slicer!
License: The text of "Cura 2.4 Update: New Slicing Features, Usability Improvements" by All3DP is licensed under a Creative Commons Attribution 4.0 International License.
Subscribe to updates from All3DP
You are subscribed to updates from All3DP
Subscribe
You can't subscribe to updates from All3DP. Learn more…