An ambitious concept to help rebuild Mosul post-ISIS involves 3D printing spider bots and drones. The Five Farming Bridges project could create multiple bridges comprised of homes and farms.
Once a populous city straddling the river Tigris, the city of Mosul is now, unquestionably, less than a shell of its former self. Following the occupation by the so-called Islamic State group and subsequent liberation by a coalition spearheaded by the Iraqi Army, it's estimated that up to 75% of the city's buildings have been reduced to rubble.
Included in this inventory of destruction are the five historic bridges that crossed the Tigris. In all the cost of the city's rebuilding after its horrific occupation is expected to exceeds US $1-billion.
With Mosul's devastation in mind, annual architectural competition The Rifat Chadirji Prize has focused on the city for its 2017 edition. An entry by the firm Vincent Callebaut Architectures — the eventual third-place-winning concept — proposes a radical rebuilding of the five bridges using 3D printing.
The architecture firm's proposal outlines the building of some 55,000 plus-energy houses, complemented by urban farms and agricultural lands. By recycling the rubble left by the war, a new Mosul referential of the old would emerge. Oh, and these bridges would be 3D printed by articulated spiders.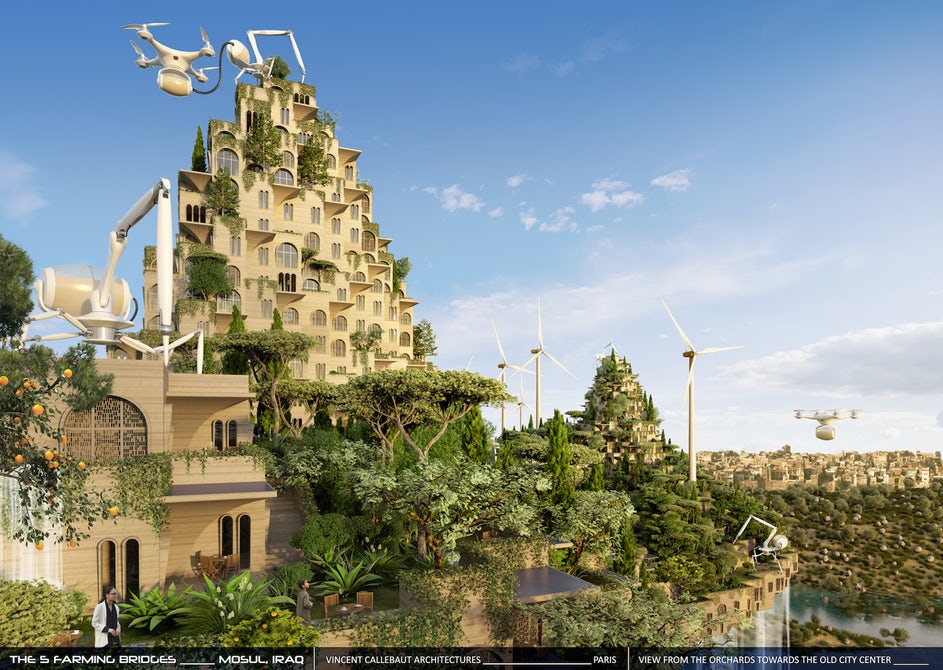 Wait… What? Articulated 3D Printing Spiders?
Printing a network of homes in a style inspired by traditional architecture, the proposed method of construction is decidedly not traditional. The towering spider-like devices would extrude a concrete mixture comprised from Mosul's current ocean of debris, fed to it by an attached drone.
The architect claims five of these spider printers would allow for 30 houses per day. Though current 3D printing construction techniques are nowhere near this proficient, progress is being made.
Indeed, the aim of these architectural visions are less about feasibility in the here-and-now, and more about spreading awareness. With such interesting concepts as this painting a visually stunning future, it effectively highlights Mosul's plight. And to a greater extent Iraq's other shattered urban areas.
Now that the so-called ISIS is largely removed from the country, efforts can begin to focus on rebuilding. And if it takes a terrifying spider-bot to get our attention, more power to them.
Source: NewAtlas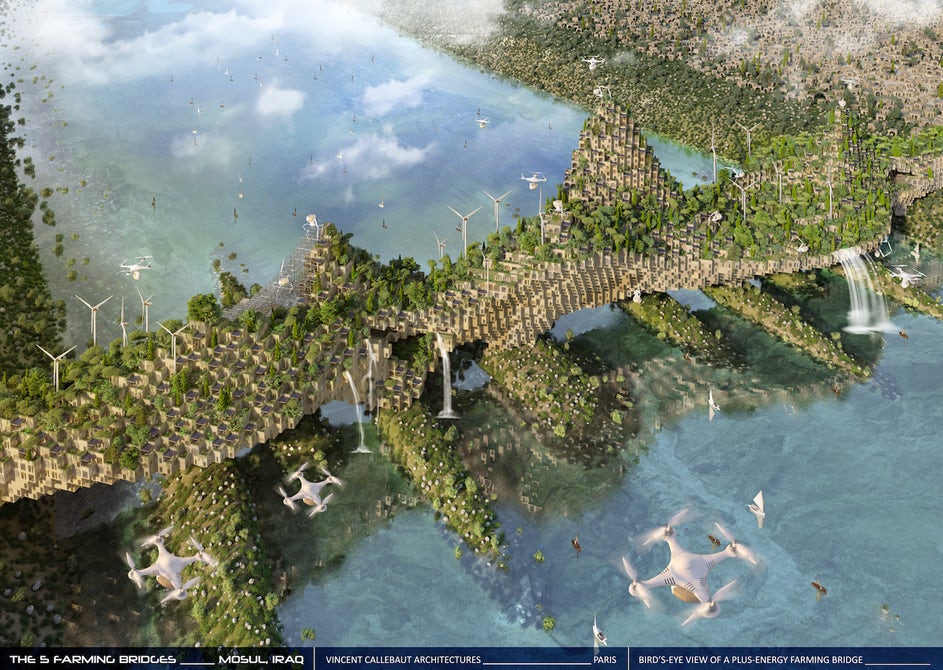 License: The text of "This Concept Plans to Rebuild Mosul with 3D Printing Bots and Drones" by All3DP is licensed under a Creative Commons Attribution 4.0 International License.
Subscribe to updates from All3DP
You are subscribed to updates from All3DP
Subscribe
You can't subscribe to updates from All3DP. Learn more…