In an exclusive inteview, BCN3D Technologies CEO explains how a commitment to open source and higher education can be a formula for success.
Don't Miss BCN3D Sigma Review: A Fantastic 3D Printer
In the April edition of the 3D Hubs trend report, a curious thing happened. An unknown 3D printer had shot straight to the top of the charts, leapfrogging over established machines from Formlabs, Zortrax and Lulzbot — and it's been sitting there for the past three months.
That printer is the BCN3D Sigma, a dual extrusion fused filament fabrication (FFF) machine, and the buzz around it grows louder by the day. So the questions are; who made this 3D printer that's got everyone so excited? What's so great about it? What other tricks do they have up their stealthy sleeves?
To find out, ALL3DP paid a visit to the BCN3D Technologies HQ in Barcelona, Spain. We toured their offices and factory where these machines are produced, and we sat down for an interview with CEO Roger Uceda. He graciously talked us through the story of BCN3D Technologies and the BCN3D Sigma.

The Origin of BCN3D Technologies
First things first, some background. "BCN3D Technologies is not a company," explains Uceda. "It's a division of a non-profit foundation called Fundacio-CIM." In turn, Fudacio-CIM is affiliated with the Polytechnic University of Catalonia.
For the past two decades, Fundacio-CIM has been providing technical services, like a 3D printing bureau, and has developed extensive experience in the 3D printing business. The first 3D printer in Spain — a stereolithography (SLA) machine — was developed by Fundacio-CIM in 1998.
"Fudacio-CIM also does research projects, and in this capacity we started to work with the RepRap movement in 2010. We saw an opportunity in RepRap to help develop FFF (fused filament fabrication) technology in order to have low cost machines with low cost materials."
Following in the footsteps of Adrian Bowyer in the UK — the inventor of the RepRap project — researchers at Fundacio-CIM put together a Mendel90 with selectively laser sintered (SLS) parts. And they quickly realized that building a 3D printer was more than just mechanics; it was also about software and electronics too. That, and the fact that the RepRap community was growing fast.
"So we decided to create RepRapBCN. We started holding 3D printing workshops, and selling kits of the Prusa i2. And all the profits were put back into the project because we are not funded, we are self-funded. We did the same that Bowyer did with RepRap Limited – we sold printers, and that money was put back into the project."
After a period of contributing to the development of the Prusa, and then changing their name to BCN3D Technologies, the team launched their first RepRap printer in 2012. "It was based on a MendelMax, but it was our design," says Uceda. "And with that machine, we sold like 300 machines in half a year. We realized that there was a lot of room for improvement, so then we launched the BCN3D+. That is our best machine in terms of sales; we have sold 1,500 BCN3D+ machines during the last two and a half years."
A Plug & Play Dual Extrusion 3D Printer?
The team at BCN3D continued with their project, but to continue growing they needed to sell more machines. And to sell more machines, they needed to tap into markets located not just in Spain, nor Europe, but internationally. Based on feedback from their distributors, it was decided that the next step was a plug and play machine that didn't require assembly from a kit.
"So we started working on the BCN3D Sigma, but we wanted to do something different," explains Uceda. A member of the engineering team had spotted a independent dual extrusion system on a RepRap forum. The benefits of an IDEX is that, where standard designs attempt to mount two extruders and hotends onto a single carriage — which makes them heavy, bulky, and prone to error — the IDEX splits them into two, so that each print-head operates separately from the other.
"The benefits are obvious. You have two different extruders, that means you can just park one when it's not printing. And each extruder can have a different calibration." In a market where are there are few truly reliable dual extrusion 3D printers, the IDEX system helps to solve a lot of problems.
Of the production process, Uceda explains how they built and designed a full aluminum monocoque machine with an IDEX. "We designed not only the machine mechanically, but also locally sourced electronic components and the evolution of the firmware that's based on Marlin. All this firmware is in our GitHub repository, so everybody who wants to build a dual independent extruder can go and have a look and design their own. That's what the RepRap Project is all about."
Indeed, the team at BCN3D recently released the full documentation, blueprints and software for the Sigma under an General Public Licence, so the machine is fully open source and modifiable by anyone with the skills to do so. "After sharing this information with some Sigma users from countries like Germany, Sweden, United Kingdom or the United States" said Uceda at the time, "we have realized that following this path will be easier to evolve our technology, answering the challenges that have been proposed to us."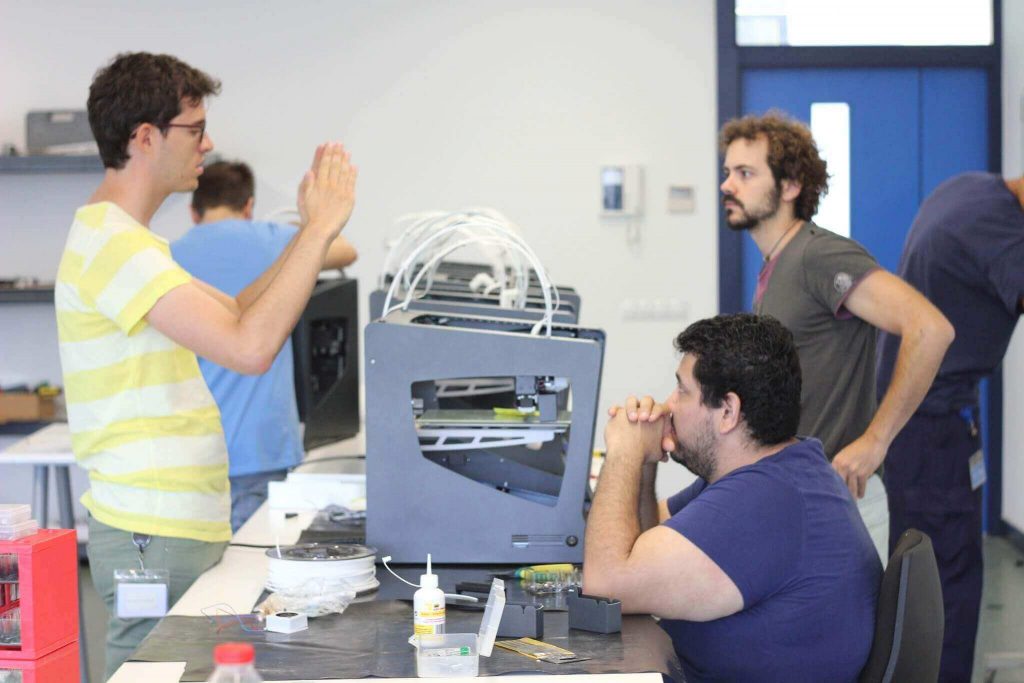 3D Printing with Lofty Goals
Just over a year since the release of the BCN3D Sigma, the company is busier than ever, working hard to keep up with demand. Orders are coming in from France, the UK, the USA, Taiwan, and China. And the consistently high ranking of the printer on 3D Hubs has vindicated their choice of dual extrusion FFF.
"It's very easy to sell a single extruder machine without having customer support problems," jokes Uceda. "But what we have seen with customers who buy a BCN3D Sigma is that they have very high expectations of what they can do with a dual extruder, in terms of working with different materials. For example, with PLA and Fila-Flex, and we have seen some projects for prosthetic hands, mixing both flexible and rigid materials."
He continues: "We have another customer in Sweden who is mixing PLA with conductive materials. So there are these expectations, and it's not that dual extrusion is twice as difficult, but difficulty squared; you have to learn new things with one material, and so on with the other, and then you have to bring those two materials together."
But the effort is worth it because, explains Uceda, this fits with the purpose of BCN3D Technologies and Fundacio-CIM. "For me, it's about three things; it's about providing technological services like rapid prototyping. For another, it's about research and development — developing the BCN3D Sigma was effectively an R&D project. Finally, it's our mission to help everyone in the maker community — in Catalonia, Spain and Europe — to have access to technological resources and be competitive."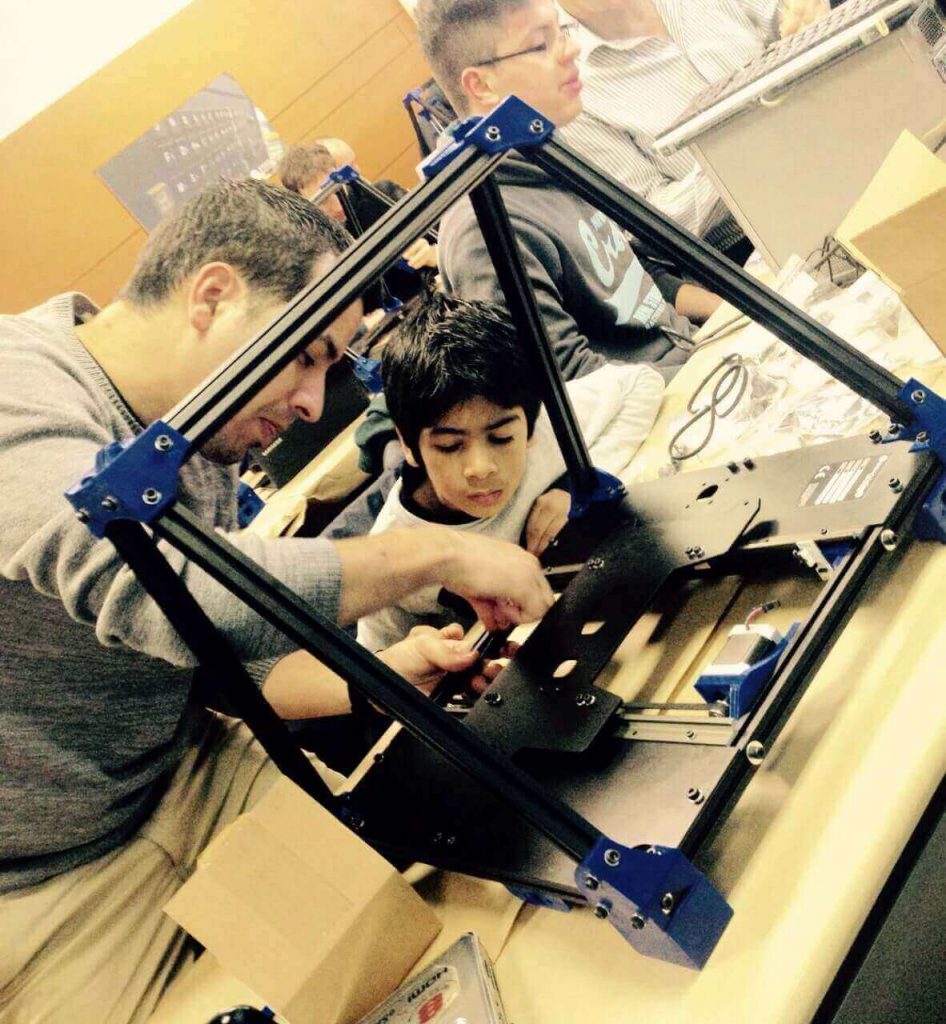 License: The text of "Interview with BCN3D Technologies CEO Roger Uceda" by All3DP is licensed under a Creative Commons Attribution 4.0 International License.
Subscribe to updates from All3DP
You are subscribed to updates from All3DP
Subscribe
You can't subscribe to updates from All3DP. Learn more…