SmarTech Analysis released the fifth edition of its Additive Manufacturing in Dentistry, an in-depth look at the market opportunities 3D printing has in the dentistry industry.
The Crozet, Virginia-based company is a provider of market research reports.
"This new study has integrated an expanded market model scope providing detailed market forecast insights perfected over the past four years of interacting with the dental printing community," explained SmarTech Analysis in a press release.
A few of the most interesting insights include a projection that the total market for additive manufacturing in dentistry will surpass $2.7 billion (USD) in 2019. This includes services, materials, hardware, and software.
Furthermore, by 2022, the report states that 500 million dental devices and restorations will be produced annually via additive manufacturing.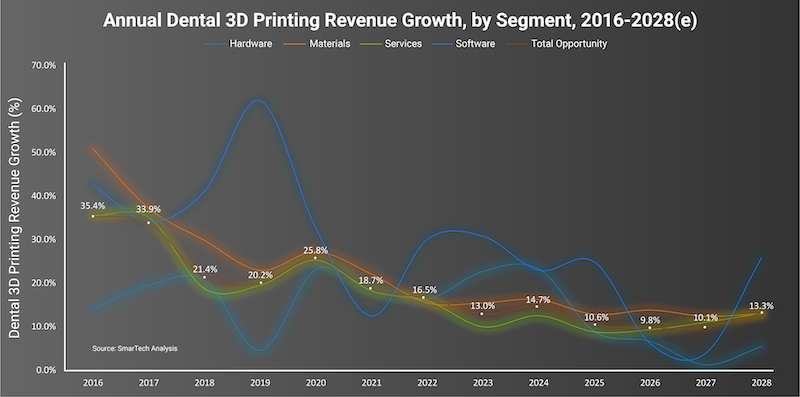 3D Printing Meets Dental Care Needs
The report shows that there has been a growing focus on increasing access to dental care for aging populations and improving care in emerging economies. Thanks to low cost dental printers, SmarTech anticipates that needs will be readily met in the future.
Industry activity hasn't slowed and as automated systems improve and higher printing speeds are achieved, productivity increases and in-office production of aligners and dentures becomes possible.
SmarTech Analysis' report explains that 3D printing is right at the center of change in this industry as it transforms. The quick adoption of the technology is largely due to how flexible it is.
Furthermore, material jetting technology for dentistry will be able to "address unmet needs in dental 3D printing." For example, "highly functional restorations using dental composites that can be produced and shaded in a single system for the creation of temporary crowns and bridges, dentures, and ultimately permanent restorations."
SmarTech Analysis believes that such developments will place material jetting technology into competition with vat photopolymerization technologies.
Interested in learning more? In the report, you can find a written analysis, hardware metrics, material metrics, and dental print service revenues.
For more on 3D printing and dentistry, check out these stories:
Source: SmarTech Analysis