An Indian 3D printing company that specializes in rapid prototyping produced a 1.9-meter Spiderman model for a local store in the city of Surat in just one week.
STPL 3D Printing's most recent project underscores how quickly 3D printing can produce specialized projects like this in comparison to typical manufacturing practices.
"With 3D printing complexity is free," said company CEO Rahul Gaywala. "The printer doesn't care if it makes the most rudimentary shape or the most complex shape, and that is completely turning design and manufacturing on its head as we know it."
A traditional fine-arts manufacturer, which wanted to decorate its new Entertainment store due to open, commissioned the print. In one week, this dream became reality and they received the extremely detailed Spiderman.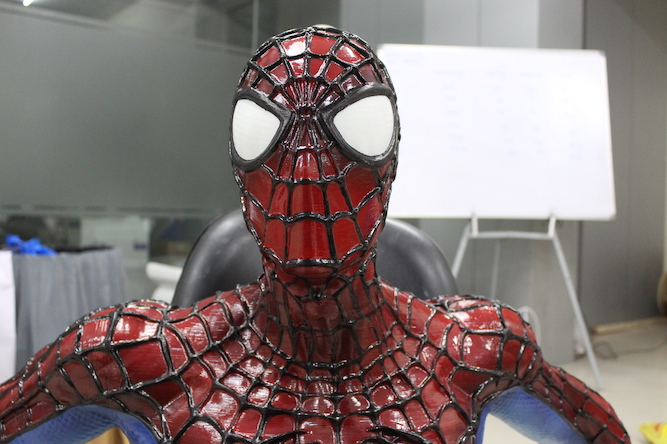 3D Printing Spiderman in 30 Pieces
The team at STPL 3D printing began by downloading an open source file to modify and scale it up to meet the client's needs. Spiderman was then cut into 30 pieces. The company was able to print all of these parts in just two days due to its array of more than 15 FDM machines.
Once printing was complete, it was time to reassemble the parts. The post-processing team spent three hours with plastic welding and glue to ensure Spiderman reached his full height.
The most challenging aspect of this project was hanging the finished model on the wall of the Entertainment store, explained STPL 3D printing in a press release. In the end, the client took over and used "traditional skill and vast experience in the fine arts."
The final stats prove just how useful 3D printing was for this project. For example, production took just four days whereas to traditionally manufacture this huge model would take eight weeks. The cost was also reduced by 40% and the weight by 70% (making it much easier to hang on the wall).
"3D printing is going to catapult us into the future, but rather that it's actually going to connect us with our heritage, and it's going to usher in a new era of localized, distributed, manufacturing that is actually based on digital fabrication," said Gaywala.
If you're interested in more about 3D printing superheroes, check out these stories:
Source: Press Release