It's more of a land oddity than a space oddity, but that won't stop fans of the late David Bowie from flocking to the Festival Automobile International later this month.
The festival will be featuring its first full-scale concept car—created in tribute to musical icon Bowie—produced entirely with 3D printing, announced Massivit 3D Printing Technologies, one of its creators, in a press release.
"We were keen to support this project and present the car almost as a piece of art, very much like a sculpture," said FAI president Rémi Depoix.
"I am very impressed with this new technology. It opens up new opportunities in terms of creativity and design for the automotive industry."
The car—sleek, low and spaceship-looking with Union Jacks etched on its rims—was designed by Takumi Yamamoto, and created by Massivit and Marie 3D.
It was Yamamoto's dream to build a Bowie-inspired concept car embodying the artist's personal and physical traits.
The designer, who specializes in one-off concept Hypercars, among other things, created the body of the vehicle to represent Bowie's "chameleon-like personality" and used crystals to show the "purity of lyrical and musical message."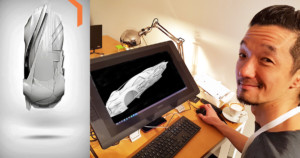 From Concept to Creation: Bringing Bowie's Car to Life
Due to 3D printing's capability to "produce complex and creative geometry forms," it was "the only feasible production method," said Marie 3D.
3D printing was also more cost-effective than other production forms because it is faster and less wasteful, added the Paris-based company, which has experience in the automobile industry and specializes in large-format 3D printing services.
"This was an exciting challenge combining a work of art with a prototype," said Marie 3D's managing director, Philippe Marie.
"This concept car exposes a completely new method and capabilities for prototyping through 3D printing. Our goal now is to expose the possibilities to the automotive world."
The company printed the car using the Massivit 1800 large format 3D printer, which allowed them full creative control and independence from a car manufacturer.
"This project highlights how Massivit 3D's large format 3D printing technology facilitates fresh opportunities for scale 1:1 concept prototyping," said Massivit 3D's vice president of business development and marketing, Amir Veresh.
"[It] is sure to fuel the imagination of tomorrow's car designers and manufacturers," he added.
For more 3D-printing innovations in the automotive industry, check these stories out:
Source: Press release