Florian Jouanny, an athlete with tetraplegia, has set his sights on the September Para-cycling World Championships 2019 in Emmen, Netherlands. For this, he requires high-performing gear.
Fortunately, Jouanny is a very experienced athlete. In fact, he was the first European tetraplegic athlete to complete The Ironman Triathlon. This competition consists of a 2.4-mile swim, 112-mile bike ride and a marathon 26.22-mile run and must be completed in under 17 hours.
In 2011, Jouanny was left almost entirely paralyzed after a skiing accident. However, he went on to complete the Ironman Triathlon twice. His best speed is 15 hours, despite his wheelchair tire running flat during the marathon part, meaning he had to push the tireless rim.
His experiences in the Ironman Triathlons have taught him exactly how his gear needs to be customized.
So, he turned to French 3D printing company Athletics 3D which specializes in equipment for professional athletes to help him create the equipment he needs.
"We are working to design a hand bike handle for Florian Jouanny," Clement Jacquelin, the CEO of the company said, adding, "3D printers have been crucial in getting this done."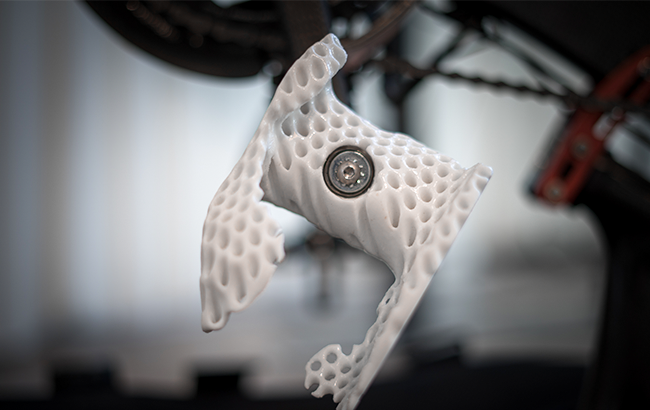 Improving Jouanny's Rate of Force with 3D Printing
Athletics 3D's aim was to improve the rate of force Jouanny could generate with his hands which would translate into energy to drive the bike.
Jacquelin explains: "We actually measured this energy in watts. This way we could tell if we were making progress or not. What we were after was improving the energy-efficiency of the whole system consisting of the bike and the athlete."
By working on the ergonomics, the team was able to produce a handle which outperformed Jouanny's standard handle at the prototype stage.
To streamline the design process of the high-performance handle, Athletics 3D installed a 3D printer at Jouanny's home so he was able to test prototypes.
After the team had finished working on a design, they would send Jouanny the .stl file to print and take out for a ride before sending over his feedback.
Once the design was perfected, the next stage was making the print durable. After much trial and error, the team chose to use the Z-ULTRAT material and their Zortrax M200 3D printer.
Jouanny's next challenge is to take part in the September Para-cycling World Championships 2019 in Emmen, Netherlands before hopefully heading to the Tokyo 2020 Paralympics.
"Florian is a two times French hand bike champion, so he certainly is a force to be reckoned with," said Jacquelin. "We have all the reasons to believe with the right equipment he can aim for results that will qualify him to the next Paralympics."
For more on 3D printing innovations in sports, check out these stories:
Source: Press release