Another three months is up and the 3D Hubs Online Manufacturing Trends Q4 2018 report is here. This report uses data from 6,000 international pro service providers which fabricate over 200,000 3D printed parts every quarter.
The quality of the prints is reviewed by customers and then, voila, 3D Hubs then has an overview of trends in the 3D printing world based on hard numbers.
As 3D Hubs has changed its business model towards professional 3D printing and less towards a maker's manufacturing network, its resulting report categories have changed drastically over the last years – gone are the maker's machines, the report just mirrors 3D Hubs professional clients base. If you're looking for the most popular consumer 3D printers, you'll have to look here instead.
But, there are categories offering insights into the most popular industrial and desktop 3D printers, geography, tech and materials, and even CNC machining and injection molding.
Alkaios Bournias Varotsis, Technical Marketing Engineer at 3D Hubs explains: "For the first time, Geographic distribution of CNC users was introduced in this edition of the Trends report, giving room for comparisons with the 3D printing market."
This summer, data showed a clear increase in the use of 3D printing by professional users which has resulted in some interesting highlights. Let's take a look at a few, starting with the most used desktop printers.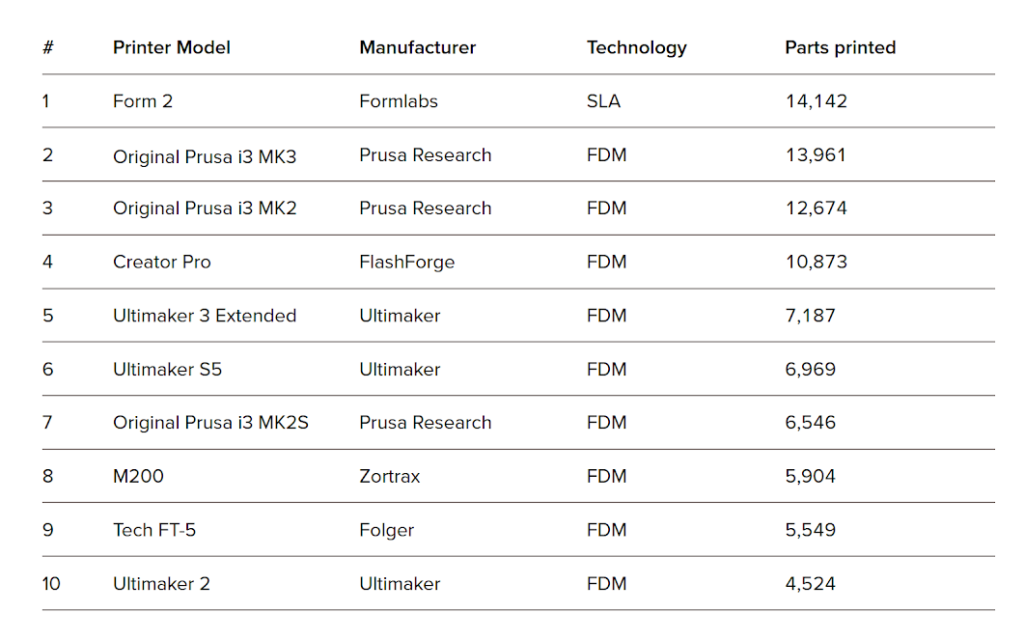 And The Highest Ratings for 3D Printing Go To…
For the "Highest Rated Desktop 3D Printer", this quarter the Lulzbot Taz 5 overtook the Zortrax M200. In the "Most Used Desktop 3D Printers" category, Formlabs Form 2 and the printers of Prusa Research are still coming out on top. Also, Ultimaker ranks with three printers, with their flagship Ultimaker S5 rising significantly.
Next up in the Industrial 3D printing category, the HP Jet Fusion 3D 4200 continues "to reign supreme" taking the top spot for "Most Used Industrial 3D Printer" with 6,400 parts printed. In fact, it received a score of 4.91 out of 5.00 which 3D Hubs points out is "almost flawless".
But, climbing up the ranks in the "Highest Rated Industrial 3D Printers" charts are two large-format SLA/DLP systems. These are the UnionTech Lite 600 and Shining 3D iSLA-650 Pro.
Also entering the "Most Used Industrial 3D Printers" charts are three Material Jetting systems (PolyJet) by Stratasys. Together, they produced 2,500 parts. Varotsis adds: "This shows a need in the market for high accuracy parts with an injection-molding-like finish by pro users."
For the "Most Used 3D Printing Materials" winners, the report shows that the market share considerably increased for standard and durable resin for both SLA/DLP and Material Jetting. In fact, it even surpassed the share of SLS nylon.
Finally one of the last most interesting highlights from the report is that New York has been knocked from second place in the Top 3D Print Cities category. London still holds top place but Austin overtakes the Big Apple.
Want to find out more? The Digital Manufacturing Trends is available on the 3D Hubs website.
Source: Press Release