With a factory full of 3D printers producing Invisalign clear aligners, Align Technology is expecting over $1.3 billion in sales for 2017.
Ever since 3D printing has emerged as a valuable tool in the medical field, the dental industry has welcomed the technology with open arms and a bright smile. 3D printer manufacturers like 3D Systems and Formlabs are tailoring their products to serve this sector, but dental and orthodontic companies are also integrating additive manufacturing into their production workflow.
Align Technology is leveraging SLA 3D printing, using it to produce their popular Invisalign braces. With an estimated $1.3 billion-plus in sales for 2017, the company owes a hefty amount of their success to this emerging technology. The "clear aligners" manufacturer uses SLA printing from 3D Systems, helping them create over 220,000 clear aligners per day. Each set is customized to tackle patient-specific issues, a task that is easily overcome with 3D printing on the production line.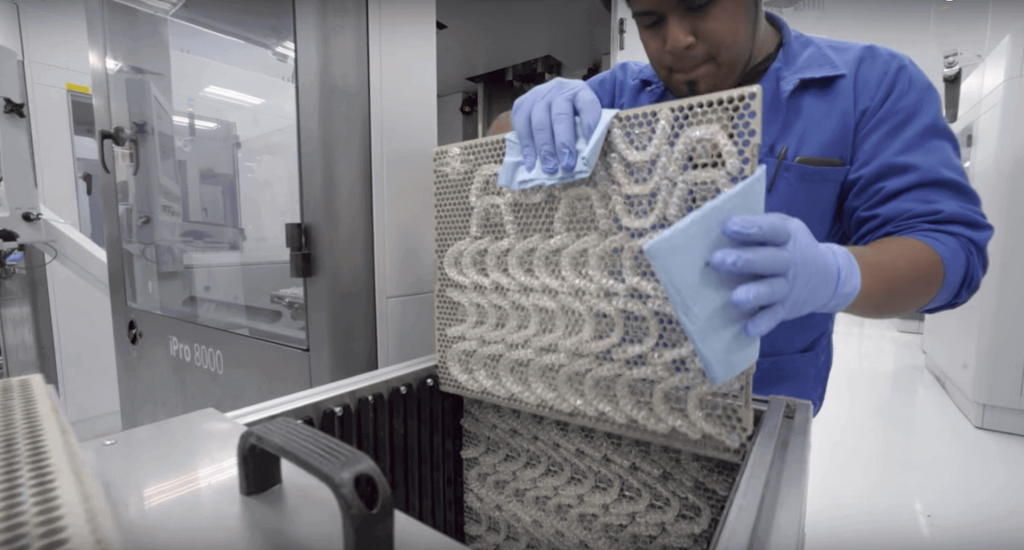 SLA 3D Printing Helps Align Technology Produce Invisalign Braces
In the promo video available below, you can see an Align Technology employee removing a rack of Invisalign from a iPro 8000 3D printer. A recent Forbes article suggests that the company has 50 to 60 machines in a 20,000 square foot factory, one of which could be the new Figure 4 platform.
According to Srini Kaza, Vice President of Product Innovation at Align, improvements in polymer materials continue to strengthen their product.
"One key area where the field is rapidly progressing is the development of highly innovative materials. Early materials could be brittle but today's polymers have improved in leaps and bounds. These new emerging material formulations will even surpass the quality we are seeing now, enabling the industry to print more functional and biocompatible parts directly in the printers," he says.
Although Align Technology manufactures over 8 million Invisalign braces every year, and also has a $15 billion market cap, they believe that they only satisfy 9 percent of around 6 million cases that would benefit from their aligners. While 91 percent of their money comes from Invisalign, the company also sells a iTero 3D Scanning system for the dental market.
In the past, we've seen plenty of dental cases solved with the help of 3D printing (heck, we've even seen clear aligners that you can 3D print at home). But for Align Technology, the integration of SLA technology has amplified that impact on a larger scale. With material and manufacturing capabilities continuing to expand, 3D printing will help keep Invisalign on the forefront of orthodontic innovation.
Source: Forbes
License: The text of "3D Printing Helps Invisalign Producer Hit Billion Dollar Sales Mark" by All3DP is licensed under a Creative Commons Attribution 4.0 International License.
Subscribe to updates from All3DP
You are subscribed to updates from All3DP
Subscribe
You can't subscribe to updates from All3DP. Learn more…