Mysterious parcels held up at customs. Bundles of cash sent to YouTuber PayPal accounts. What is the 3D printer manufacturer TEVO up to?
Don't Miss: The Truth about Wanghong: Interview with TEVO CEO Tan Qianmin
A strange episode related by a influencer in the 3D printing community has sparked furious anger about the business practices of 3D printer manufacturer TEVO. The tweets are flying thick and fast, so bear with us as we try to make sense of a complex situation.
The 3D printing community is perplexed by the unorthodox business practices of the 3D printer maker TEVO.
Toms3D is a popular YouTube channel hosted by Thomas Sanladerer. Over 100,000 subscribers regularly tune in for his insightful and objective reviews and tutorials about the wonderful world of 3D printing. Full disclosure: Sanladerer has worked with ALL3DP in the past, and we would happily do so again in the future.
Zhanjiang TEVO 3D Electronic Technology Co is a 3D printer manufacturer based in the Guandong Province in South China. They specialize in cheap DIY 3D printer kits like the TEVO Tarantula and the TEVO Tornado. Full disclosure: ALL3DP is currently testing a TEVO Tarantula for review.
Last night Sanladerer shared redacted documents on his public twitter account, showing two things. The first was that TEVO had sent him a 3D printer to review, and that it was waiting for him to collect it from his local customs office in Bavaria, Germany.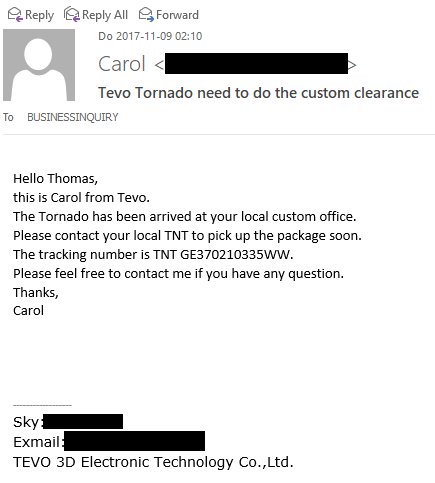 The wrinkle was that Sanladerer hadn't requested the printer for review; he wasn't even aware it had been sent.
"No TEVO Printers, THIS IS NOT HOW THIS WORKS!" he said in tweet. "You can't just ship me a printer that I don't even want from you, not ask or even tell me ahead of time and then expect me to deal with customs on a pinch because you screwed up the declarations. No thank you!"
Shortly after, Sanladerer shared a second screenshot from his PayPal account.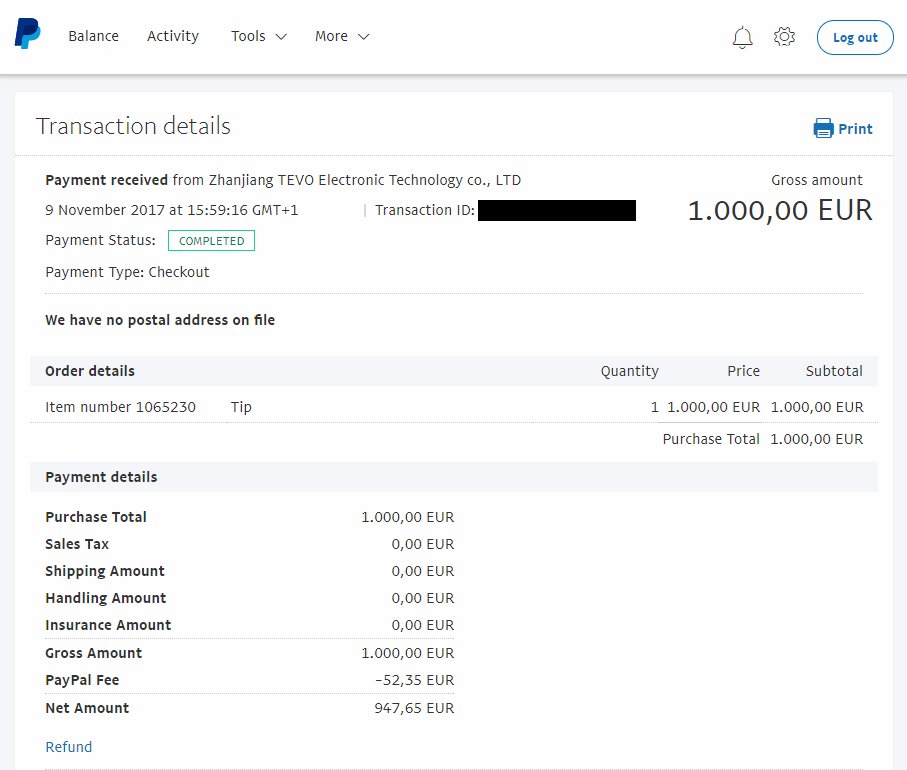 It seems that in response to his first tweet, TEVO had transferred €1,000 euros to his account, without describing the purpose other than the word "tip".
Sanladerer tweeted: "Did TEVO just try to bribe me? Refunded, obviously."
The implication from this sequence of events is that TEVO had attempted to placate Sanladerer with cold, hard cash. Which didn't sit well with him at all. In subsequent exchanges over Twitter, a representative from TEVO said it was to compensate him for dealing with customs fees.
"Thomas please relax," they responded. "We have no much time ask you how much tax you will pay and we will return you. $1000 which is only a number, no pain no gain. We waste your time to Twitter this news, That's why we send the money."
This explanation seemed suspicious, however, on the basis that customs fees would not be that high for a budget kit. That, and no description for the sudden appearance of the funds other than the word "tip".
"Why would you do that to anyone, let alone a top 3DP tech influencer. Crazy."
"Of course, there is some room for interpretation here," Sanladerer later told ALL3DP. "The practice of sending out review units without any sort of communication might be questionable, but the generous 'tip' very much feels like a bribe given its context. I don't know whether sending out 'tips' like these is common practice for TEVO, but I don't know of any other influencers who publicly posted about receiving a similar payment."
The reaction to this sequence of events has been shock and dismay. Even if TEVO was guilty of nothing more than poor communication, the absence of transparency in their dealings raises some questions.
Joel Telling, the self-styled 3D Printing Nerd who hosts a popular channel on YouTube, shared his reaction on Twitter: "I cannot imagine this is how business is done, and it's scary to think you (Sanladerer) aren't the only one to get such a 'tip'".
Elsewhere, Richard Horne, co-author of the book 3D Printing for Dummies, was also surprised. "Oh, so it was not even an order! Just a random out of the blue delivery? Then a mysterious 'payment' — that's not good at all," he tweeted. "Why would you do that to anyone, let alone a top 3DP tech influencer. Crazy."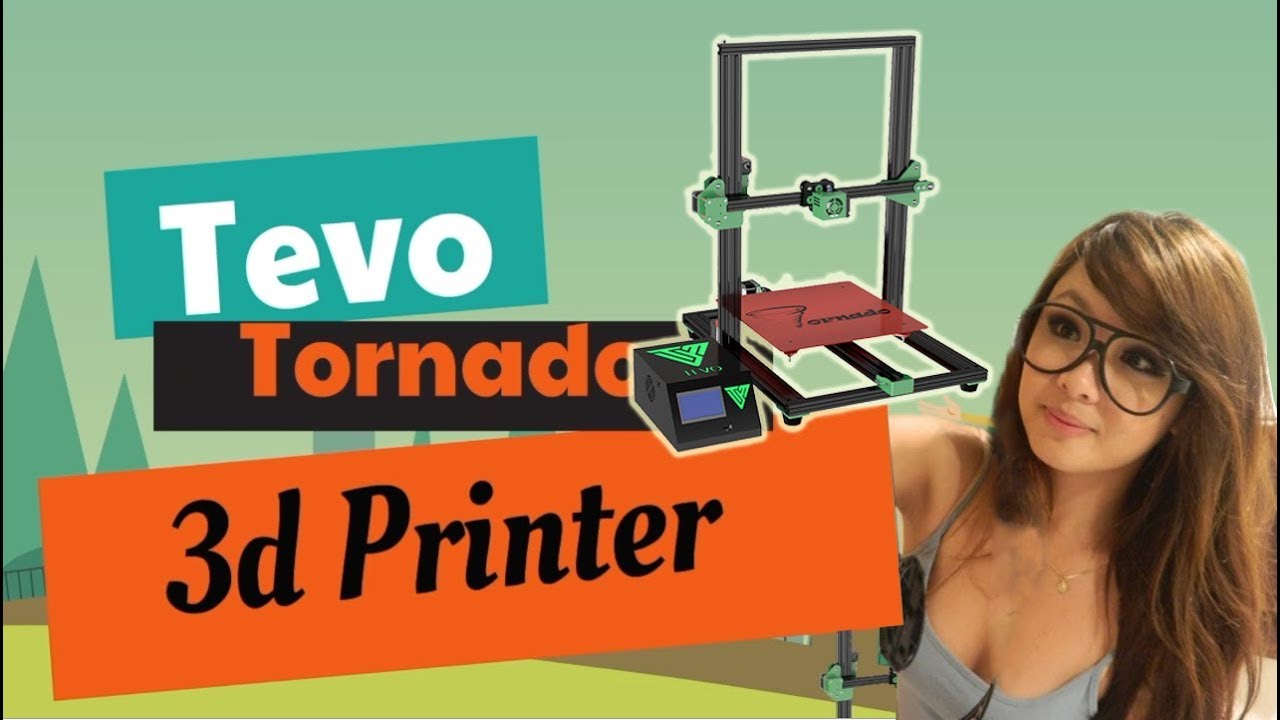 TEVO Also Banned from Major 3D Printing Facebook Group
Another account of TEVO's fractious engagement with the 3D printing community comes from Miles Scott, who is an administrator of one of the largest 3D printing communities on Facebook. Full disclosure: Scott is a regular and current contributor to ALL3DP.
"In my now several years of moderating the 3D printing Facebook group," he told us, "we have constantly had to deal with major issues. Not just from members of the Tevo community but the company itself. To see this situation with TEVO on Twitter does not surprise me in the slightest."
Scott goes on to describe a situation from 18 months ago. "We had not only members of their community constantly harassing belittling and insulting anyone who had the slightest issue or negative opinion of any TEVO product, but we had members of the company themselves harassing members. Telling them they were stupid or built their machines incorrectly when they had the slightest problem."
"To see this situation with TEVO on Twitter does not surprise me in the slightest."
"That was bad enough, but when confirmed Facebook accounts of members of the TEVO staff were joining in and in certain cases instigating it was unacceptable. After weeks of this, the moderation team banned all members of the TEVO staff from the Facebook page. They as representatives of the company were basically the biggest trolls we had in the group."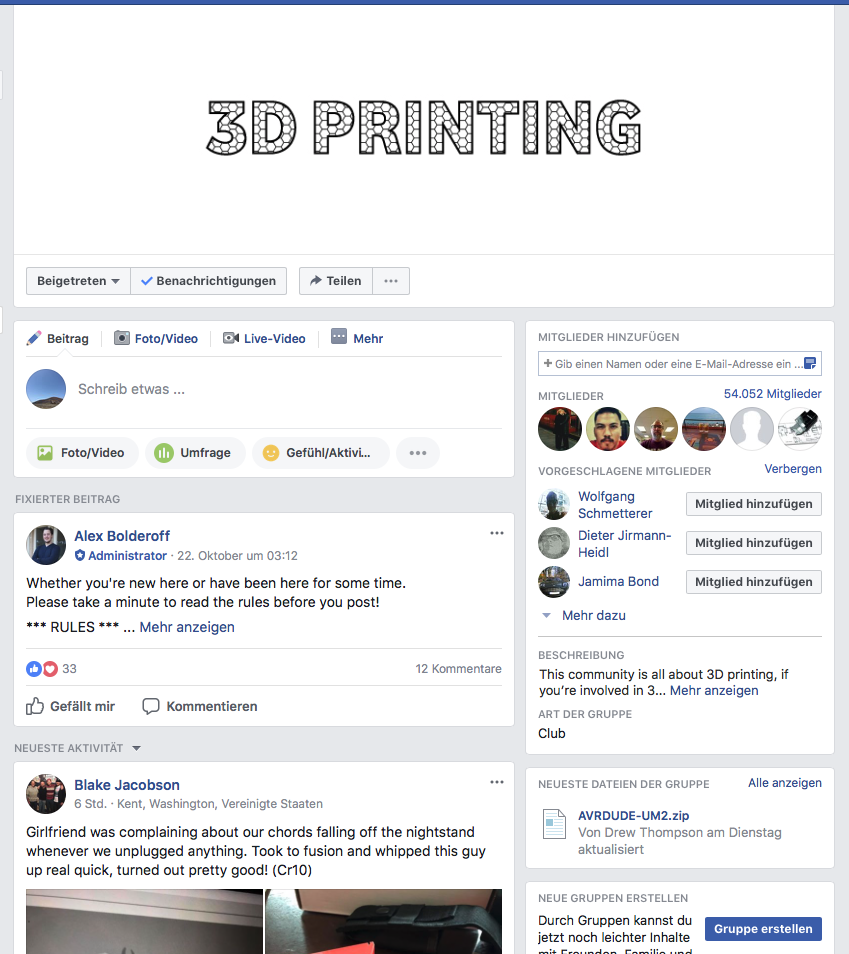 This is a notorious distinction. According to Scott, no other 3D printing manufacturer has behaved in this manner. "We have never had a single representative of any other company banned. Let alone a blanket ban on the entire company. This incident with Tom just demonstrates that nothing has been learned."
ALL3DP has reached out to TEVO for comment. We'll provide further updates on this story as it develops. In the meantime, if you have experienced similar issues in your interactions with the company, let us know in the comments below.
Update 11/10/2017, 19:00 CET
TEVO haven't responded to our questions yet, but they commented on this article on Twitter. Their reply is colorful, to say the least. Here's a screenshot.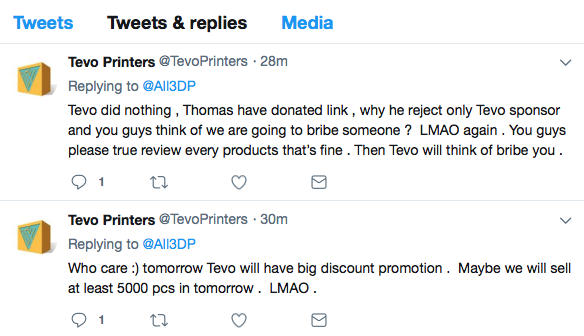 Update 11/13/2017, 16:30 CST
While we still await an official response from TEVO, the 3D printing community is still abuzz over the issue. The CEO of TEVO, Qianmin Tan, has been active on Facebook and talking about the controversy.
Over the weekend, Tan answered comments in the TEVO Tarantula Prusa i3 Owners private group. According to Tan, the company had previously sent Sanladerer a $500 tip, which the YouTuber had accepted without raising any questions.
Here's a screen-cap of his comments: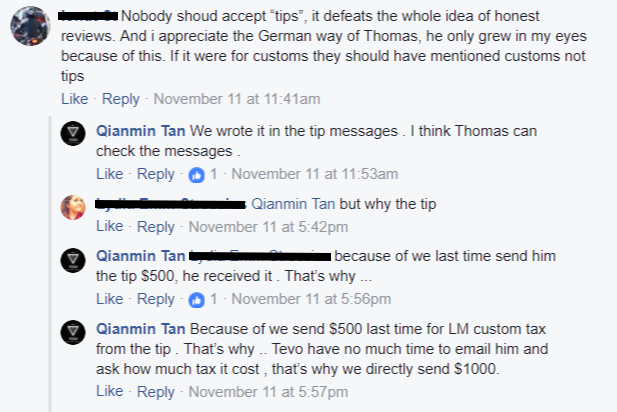 We asked Thomas Sanladerer about the veracity of this claim. After sifting through his PayPal records, he acknowledged that he did in fact receive money from TEVO in the past. However, he explains that the payment was sent alongside other tips during a video livestream of a TEVO Little Monster build, and it didn't catch his attention.
"When TEVO brought up that they already paid $500 to me with the Little Monster shipment," he says, "I actually had to look up what that was all about. Turns out they had actually sent a payment just after I livestreamed the unboxing and shared my impressions on the process."
"Yes, there was money sent to me from TEVO before, but I wouldn't say I've just quietly 'accepted' it"
"This had gone under my radar," he explains, "as it was mixed in with the PayPal notifications for livestream tips. So yes, there was money sent to me from TEVO before, but I wouldn't say I've just quietly 'accepted' it."
He continues: "Again, $500 seems a bit much to cover just imports fees, so looking back at it, it was a somewhat similar situation and open to interpretation. I'll definitely be donating any amount past the actual import costs to the original open source projects the Little Monster is building upon!"
Here's the video of the aforementioned Little Monster live build. We're still waiting for a response from TEVO. Stay tuned for further updates.
License: The text of "The 3D Printing Community is Angry with TEVO Business Practices" by All3DP is licensed under a Creative Commons Attribution 4.0 International License.
Subscribe to updates from All3DP
You are subscribed to updates from All3DP
Subscribe
You can't subscribe to updates from All3DP. Learn more…