The new Star Wars trailer has only been out a matter of weeks, and enterprising 3D designers have mined it for a printable model of what we can only guess is the new trilogy's Ewok equivalent.
Well that didn't take long now, did it. As sure as night follows day and water is wet, the internet loses its collective mind over a new Star Wars thing.
And that thing just so happens to be the latest trailer for Star Wars: The Last Jedi. In it we catch a glimpse of Rey, Finn and co. for what could be a riskier tale when compared to the by-the-numbers The Force Awakens.
Plot musings aside, we also get a good look at the newest creature addition to the franchise — the Porg. Kind of like a guinea pig with little penguin wings, it ticks all the boxes of merchandizability.
With a new critter to obsess over, it was only a matter of time before 3D models of the Porg trickled onto the popular 3D model repositories. Jump to 1 minute 32 seconds on the video below to see the Porg in action.
Print a Porg
If you jump on over to Thingiverse you'll find a couple of different models to 3D print. Designer bazookaplasma has uploaded Sitting Porg. It's still designated a work in progress, but has several Thingiverse users posting photos of their makes. Similarly user stevenquinn has posted a Porg model with added legs for desktop stability.
Meanwhile over on MyMiniFactory designer Fotis Mint has an alternative Porg model that demonstrated a little more love with a fully painted finish. The wings look a little tricky to print standing upright — supports are probably necessary.
If you feel inspired by all this Star Wars talk, check out our big roundup of cool Star Wars 3D prints to do at home. Or if you feel cold toward the new creature on the block, there are printable Ewoks too.
Source: htxt.co.za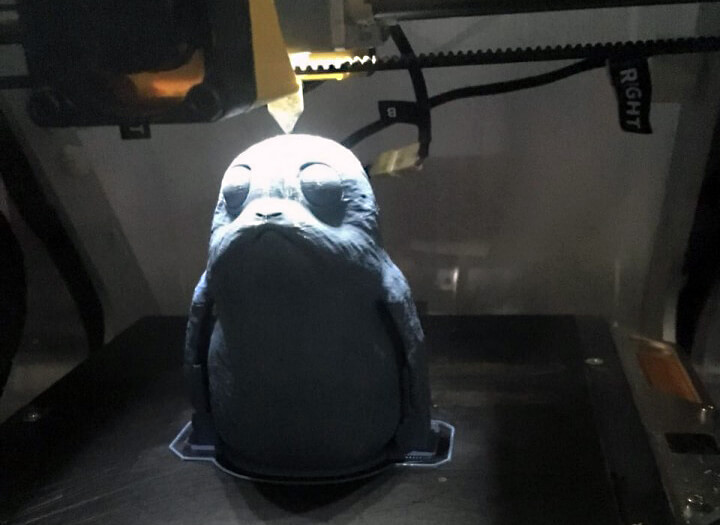 License: The text of "3D Print Your Own Star Wars Porg" by All3DP is licensed under a Creative Commons Attribution 4.0 International License.
Subscribe to updates from All3DP
You are subscribed to updates from All3DP
Subscribe
You can't subscribe to updates from All3DP. Learn more…