Add a little spice to your hobby crafts with designer Christophe Laimer's guide to constructing a brushless motor. At 600W and 80 percent efficiency, it's got some kick.
With a master's degree in Electrical Engineering, a background in software development for the semiconductor industry and a passion in all things mechanical, it comes as little surprise that Christophe Laimer is a dab hand at complex project work.
Indeed it was only in March that the industrious Swiss last crossed our radar with his entirely 3D printed tourbillon clock (what else, from the home of complex timepieces.) That design won Laimer Pinshape's Designer of the Month award.
However lately, he has been busying himself with a 3D printed brushless motor. Laimer has uploaded the designs of this to member-gated repository makeSEA. For a $10 fee, you can acquire a non-commercial license for the plans so you can make one yourself.
Making a 3D Printed Motor
This is the second motor Laimer has designed. This particular model is brushless.
With the exception of ball bearings, copper wiring, magnets and the screws to hold it all together, the entire setup is 3D printed.
Using Fusion360 to design, Laimer's final assembly (and self-printed tools) requires 12 3D printed parts. Indeed, the vast majority of these parts use PETG for strength. However, the two stator cores use Proto Pasta's Magnetic PLA.
Laimer details the benefits of using Magnetic PLA in a separate video:
"PLA has a problem at higher temperatures, but the metal powder [in Magnetic PLA] not only helps to increase the magnetic flux, but also helps to dissipate heat. Two shell layers at 95 percent infill are recommended."
The end result is pretty magnificent. Spinning up to 6,500 rpm, the motor boast more than 80 percent efficiency. For those with an interest in RC aircraft, an itch to mod their bicycle for long range lazy cruising or any kind of motor-deficient projects, it's easy to see the possible applications for such a machine.
You can check out more of Laimer's projects on his makeSEA profile page.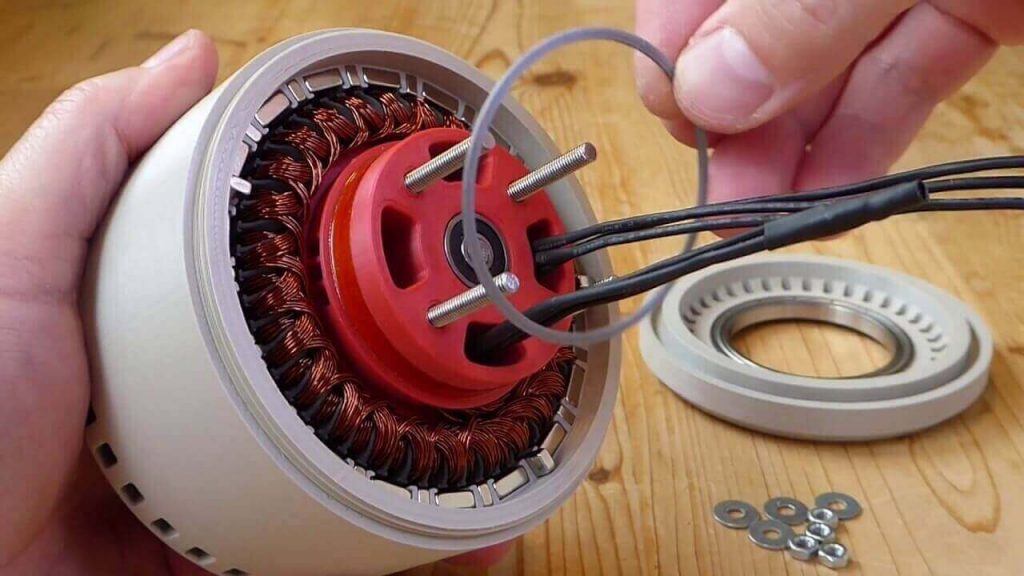 License: The text of "3D Print Your Own Powerful Brushless Motor" by All3DP is licensed under a Creative Commons Attribution 4.0 International License.
Subscribe to updates from All3DP
You are subscribed to updates from All3DP
Subscribe
You can't subscribe to updates from All3DP. Learn more…