All3DP visited the first ever Additive Manufacturing Show in Amsterdam. Here are the three trends you need to know about.
As far as 3D printing trade shows go, the Additive Manufacturing is the first step of a transition from a consumer to business focus. ALL3DP spent several days roaming the hall and listening to industry gossip (and eating cake).
Our impression from this show is that the 3D printing industry is pivoting away from consumers and more towards industry, with desktop consumer brands like Zortrax and Ultimaker looking to compete with industry titans like Stratasys and 3D Systems and offer low-cost FDM solutions.
They have a good chance of succeeding. Here's three strong reasons why we think this is the case. Agree? Disagree? Let us know in the comments.
1. 3D Printing is Alive and Kickin'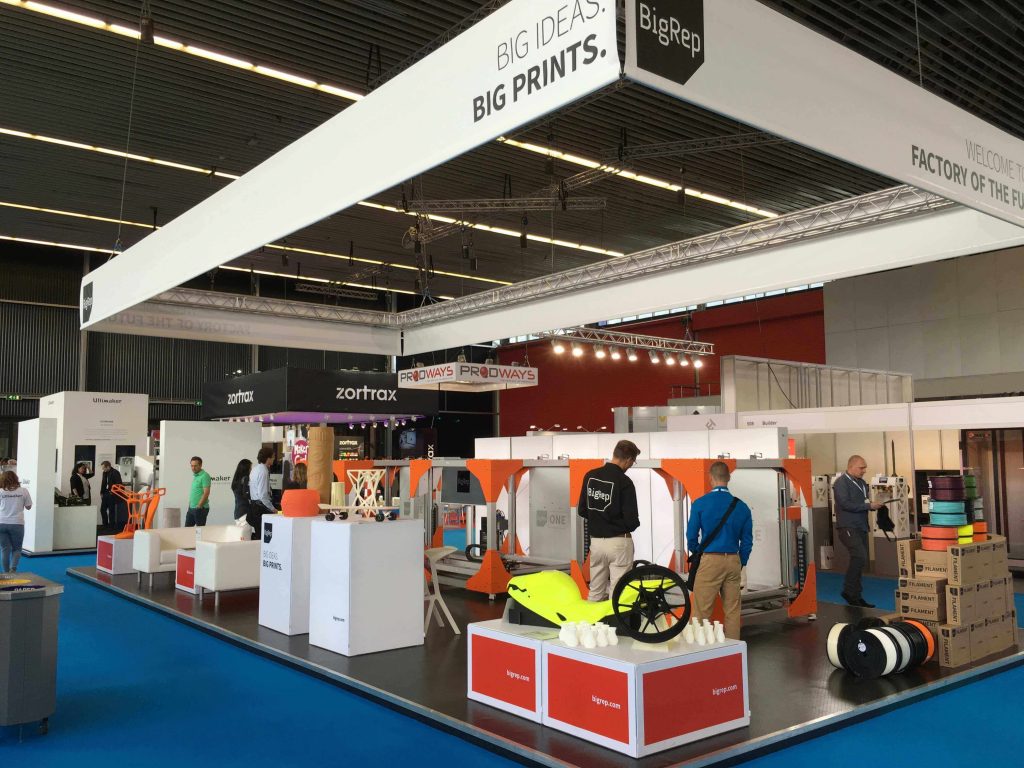 Additive Manufacturing is the successor of the 3D Printshow, which toured European and American Cities for three years — until it came under new ownership. The new and improved Additive Manufacturing show tries out a new angle. It is aimed mainly at prosumers and businesses instead of consumers — and on that front, they have mostly succeeded.
Around 100 printing companies exhibited at the show, most of them were showing FDM or SLA printers, 3D printing filament, or 3D printing services.
Still, the show floor and attached conference wasn't very big and definitely not crowded ("Tumbleweeds", as a colleague put it). But most of the major players in the business were here. You could talk in-depth to company representatives, do business, exchange information — and really, it doesn't get any better than that.
What was definitely missing was the typical consumer that formerly attended the 3D Printshow. Students, or makers, or the merely curious. Which is a shame, because most of the companies in attendance would still have been of interest for them.
Another drawback was that market leaders like 3D Hubs, i.Materialise nor Shapeways did not have a presence, even though the show was right at their doorstep.
Also, Makerbot / Stratasys were missing… but that's no surprise regarding their recent history.
What does it mean for you?
If you're thinking of visiting the next Additive Manufacturing Show in California, you should give it a try. You can meet the most important FDM 3D printing companies, talk to 3D designers, resellers, and journalists. But be prepared; it's not about flashy announcements and booth babes (with one exception).
2. The Next Generation Printers will be for Professionals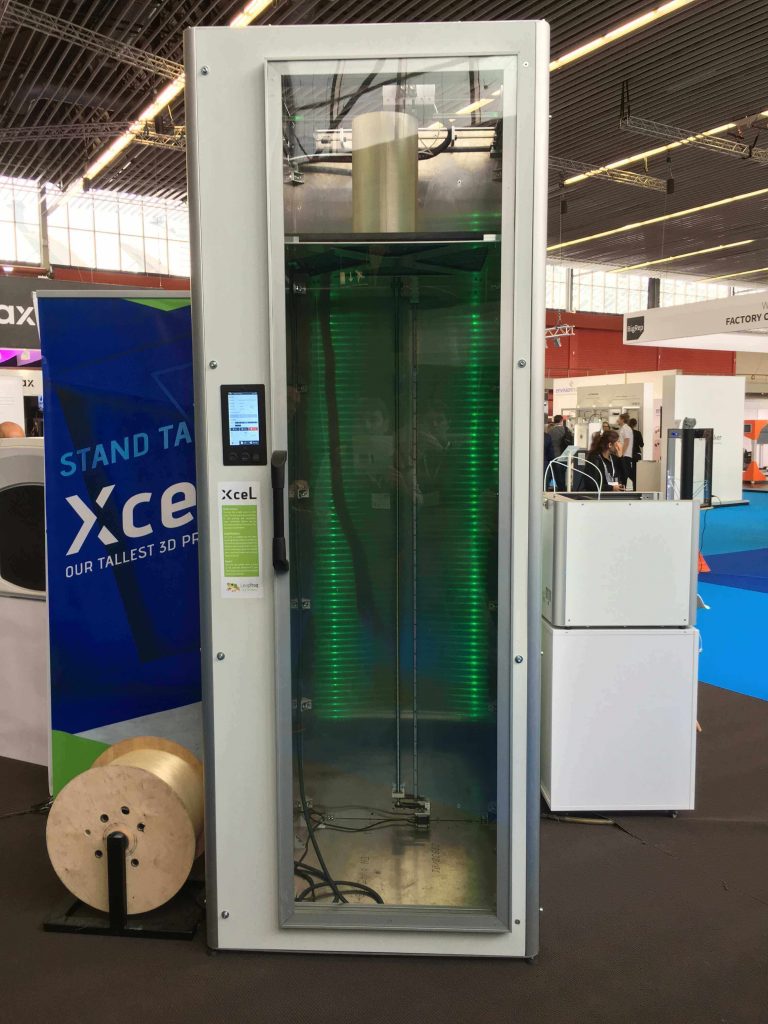 For the 3D printer companies attending the show, it's a race to the top. Ultimaker, Zortrax, Sharebot, Formlabs, Leapfrog, WASP, Builder, BigRep, BeeVeryCreative, Zmorph — most of them were showing new 3D printers or new add-ons for existing 3D printers.
It's the nature of any business cycle to add MORE and BIGGER and BETTER with every iteration of a product — the idea being to add more value. In the case of Polish 3D printer manufacturer Zortrax, this meant the launch of the Zortrax M300, a super-sized M200 with a whopping build volume of 300 cubic millimeters. This also means ramping up to 2-kilogram spools of newly designed material especially for their new printers M300.
It doesn't stop there. Leapfrog showed a 3D printer with a huge build volume. The Leapfrog XCel has the looks of an oversized American fridge and a build volume of 0.9 x 1.0 x 2.9 meters — total overkill for an FDM printer.
Also, Italian Delta printer expert WASP presented their 3 meter tall Delta Wasp 3MT, which not only prints with plastic pellets (making prints significantly cheaper), but also offers interchangeable nozzles for semi-fluid materials (concrete, clay) and even a milling machine. Bonus: we sat on their 3D printed chairs and they were exceedingly comfy.
Elsewhere, a BigRep 3D printer at the Additive Manufacturing show had a sale price of 50,000 Euro — too much for a consumer, but a steal for committed prototypers.
What does it mean for you?
Is a BIGGER printer really a BETTER printer? At first glance, it's good to get a size boost — you don't have to split your prints any more. But if you want to buy a 3D printer for your home, you'll have to pay significantly more for the next-gen models, and they're probably too oversized for most workspaces.
On that basis, one might foresee a change in consumer behavior. People on a budget will either buy a 3D printer kit (if they have the skills to build it) or a low-cost alternative 3D printer from the likes of XYZPrinting or Flashforge.
Also, Kickstarter and Indiegogo frequently offer dirt-cheap 3D printers, and they frequently find backing by an audience that wants to try out a 3D printer. Even if some of them can't deliver, price will continue to be a factor for the foreseeable future.
3. Filament Companies are flirting with the Semi-Pro Customer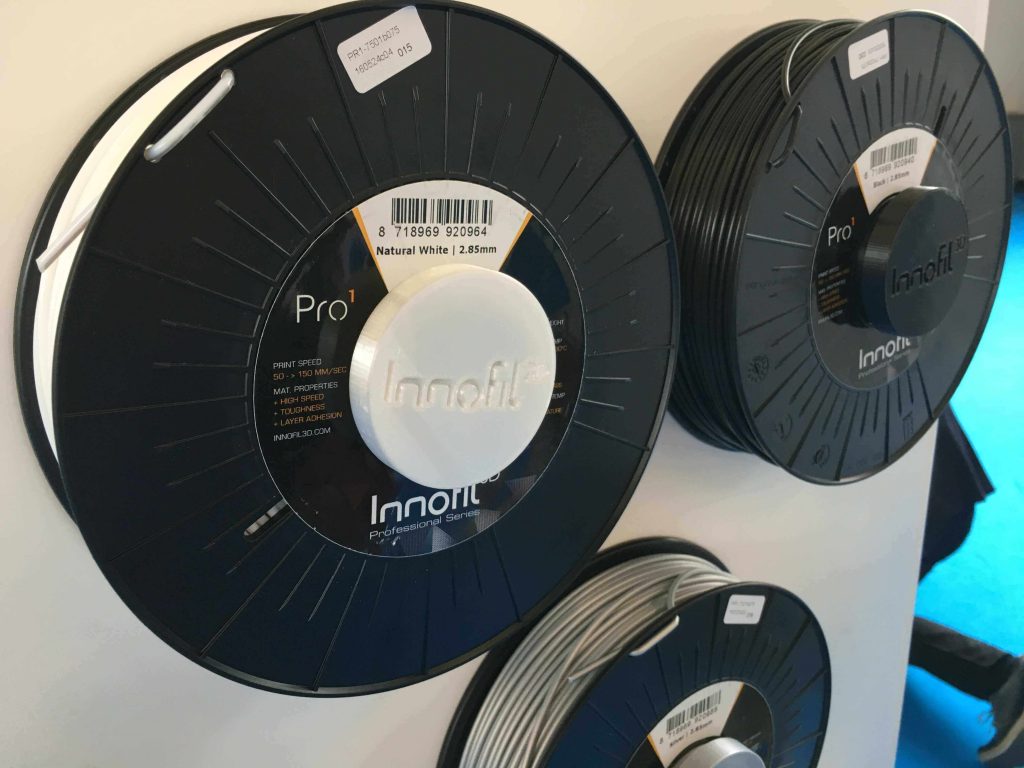 This brings us to the 3D printing filament companies. The trend we saw at the Additive Manufacturing Show was that they have set their sights on more demanding prosumers — small businesses, architects, engineers and professional labs — with more industrial grade material.
Their promise in 2016 is to move beyond the existing ABS and PLA flavors. Innofil, for example, were showing their new Pro line for demanding makers and professionals. The mechanical properties are ISO certified (ISO 527 Tensile Strength, ISO 178 Charpy Impact Strength, ISO 179 Flexural Strength) — more than enough for discerning customers.
What does it mean for you?
So, that's good, right? Absolutely — but for the consumer, this development has a slight drawback. If you want to enjoy the benefits of this pro filament, you also have to pay around $60 per kilogram spool. Also, some of the materials simply can't be printed with your standard desktop 3D printer — for some materials, you need a nozzle temperature of 270 degrees centigrade and 110 degrees for the heated bed.
Still, it would be unfair to say there's only pro filament on the market — Colorfabb and NinjaTek have just launched great new 3D printing materials for consumer printers. Read about them here (Steel filled PLA) and here (Rubberlike material).
License: The text of "3 Things We Learned at the Additive Manufacturing Show" by All3DP is licensed under a Creative Commons Attribution 4.0 International License.
Subscribe to updates from All3DP
You are subscribed to updates from All3DP
Subscribe
You can't subscribe to updates from All3DP. Learn more…