The software's user interface (UI) is crucial for good user experience. A UI that's confusing or overwhelming can inhibit the user's ability to fully appreciate its features. This is the same for any 3D printing software, and in this section, we'll cover some aspects of both slicers in regards to user interface and experience.
Overall Layout
A good layout should be clean, with recognizable icons and buttons, which in turn would make the platform as intuitive as possible.
At first, both slicers display nice clean layouts with similar tools for importing models. While Cura has bigger icons and smaller toolbars, Simplify3D's left panel allows the instant management of all imported models and printing processes.
The buttons for positioning and scaling models are fixed on the right in Simplify3D, while in Cura, they only show up when a model is imported.
Printing Settings Panel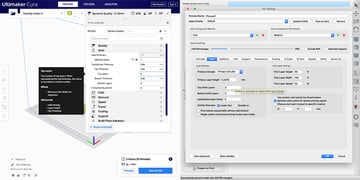 As for process settings, Simplify3D displays a big overlaid window for adjusting the printing parameters. All customizable settings and processes options are divided into tabs, for a total of 12 tabs.
These tabs are organized by specific 3D printing parameters, such as layers, infill, supports, and temperature, enabling a streamlined workflow. Each printing parameter displays a small description when hovering with the mouse.
Cura has a somewhat different approach, as the print settings panel is presented in a side window that occupies only part of the interface. The parameters available at the window are customizable, so you can choose to keep only the settings most used or relevant to your 3D printers.
Cura also displays settings descriptions when hovering, but these are a bit more lengthy than Simplify3D's.
Print Preview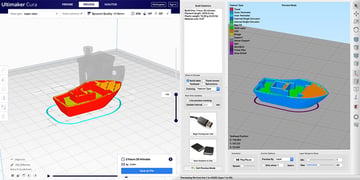 Both slicers have preview environments, where the printing process can be simulated, analyzed, and checked for errors and inconsistencies. If anything needs changing, the printing parameters and model positioning can be altered within the preview environment in Cura, but this isn't possible in Simplify3D.
For Simplify3D, if any improvement is spotted during simulation, you first need to exit the preview mode before entering the changes. This back-and-forth can be tiresome since the model must be reprocessed and sliced whenever entering the preview mode. Depending on the size and complexity of the model, the slicing process might take some time (and CPU), even with the fast processing capabilities of Simplify3D.
With that said, both platforms present similar tools for analysis, with different visualization modes like color schemes for different line types (like outlines, infill), feedrate, speeds, and so on.
Cura grants a bit more control of the simulation, with two manual sliders rather than the one in Simplify3D, which allows control of both layer and line progression in the simulation.
Printing Information
Regardless of the type of user, from service providers to hobbyists, printing information like time and filament usage is very important.
Simplify3D displays these statistics on the left panel in the preview mode environment (see above). If you want to see the impact of a printing parameter on these statistics (like layer height vs. printing duration), you'll bump into the same issue raised in the last section – the back-and-forth between working and preview modes.
By default, Cura performs model slicing as soon as the model is imported. Once that's done, the software is able to display the printing information, which is done through a small window in the lower right. It's necessary to hover on the little "information" icon to see all the stats, though.
While it's very handy to have all this info available at all times, whenever the model or print settings are changed, the software will slice it again and take some time doing it. If this becomes too bothersome, the auto-slicing feature can be disabled in Cura's Preferences tab.