Though many don't realize it, the skin is the largest organ, and healthy skin is essential to a healthy life. Since it covers our body and is our first line of defense, it's prone to many different injuries. Burns, deep wounds, and non-healing cuts can all pose a large threat and need to be treated immediately.
The best way to heal a serious skin injury is through a transplant, but conventionally, this has to come from a donor. For more severe wounds, this skin would need to span across all three layers of skin: The epidermis, dermis, and hypodermis, making it very difficult to find a proper graft.
On top of this, healthy donor skin in any form is a scarcity, and patients who urgently need a transplant may be out of luck.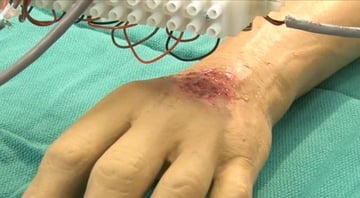 Thanks to 3D bioprinting, this soon won't be the case. New technologies have enabled doctors to manufacture grafts for their patients, and they hope that they can soon eliminate the problem entirely.
Bioprinters can create skin transplants perfectly-suited to a patient's injury, matching the depth and shape needed. They can also print all three types of skin cells, meaning that even severe burns and cuts can be treated this way.
These projects are extremely promising, and they likely will end up in hospitals all around the world in the near future.