The STL files for the Retro Rocket LED Lamp can be downloaded from Thingiverse. Keep in mind that the designer has issued a warning that the LED rocket lamp is just a novelty item, and that you should carefully make and use it at your own risk.
Agababian states that all five of the parts should be 3D printed with support structures. For the nose cone, which is where the light will emanate from, you should use transparent PLA with 3 wall thickness and no infill.
Aside from the 3D parts, you'll also need a handful of other components. Here's the checklist:
As you might have inferred from the parts list, there will also be some soldering involved in this project. The designer shared the circuit diagram on Thingiverse for you to follow along with.
The lamp itself is powered by the Arduino Nano v3 and the 12-LED NeoPixel ring. Using the MCP9808 temperature sensor, the ambient temperature is detected and showcase through the TM1637 4-digit 7-segment display. In order to access different lighting modes or brightness levels, the maker added a momentary push button.
For the assembly, use superglue to attach the fins to the body of the rocket and the thruster to the base. The designer opted to use a couple drops of hot-melt glue to the nose cone so that it could be opened up again if necessary.
The electronics will require a tight squeeze into the base of the rocket, so the header pins should be removed from the boards and wires soldered in place before putting it all in place. Use the Kapton tape or another type of insulation material to cover the boards and prevent shortages.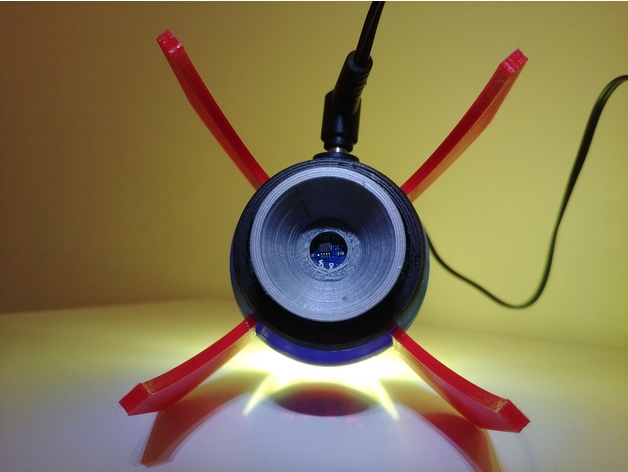 The designer behind this project seems to be tweaking it a bit, and some additional instructions may be needed to complete this rocket. Feel free to contact Agababian via Thingiverse if you have additional questions.