To get started using this scanner, the first step is to go through a slightly intrusive activation process that requires filling out your gender and all sorts of other personal information. Then, you have to wait up to 24 hours for your account to be created with the company. Only after this happens can you start scanning.
If you've already got an account with Creaform, this part isn't an issue. But, if you're like us, we had to wait exactly 24 hours before we could use the scanner – not ideal when you're champing at the bit.
However, once you're out of the 24-hour waiting period, the rest of the set up is simple.
Calibrating
Calibration is easy and the calibration device comes in a wooden case that opens up to reveal the calibration plate. Like all calibration devices, you want to take good care of it so as not to scuff it up. Peel helpfully warns you to be careful and not to touch the targets, heat it or scratch it.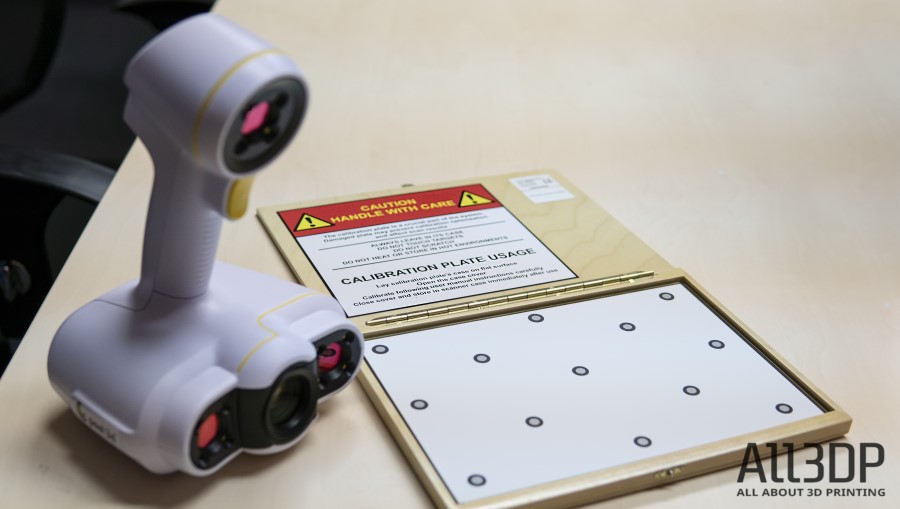 Just lay the case open on a flat surface and follow the instructions on the computer screen – hold the scanner over the calibration plate and try to get its white square of light to match up with the green square on the PC screen.
Once your machine is calibrated, it's go-time.
Ease of Use
Peel's tried to make the scanning process an easy one. (Things get more complicated when it comes to using the software (but more on that later).)
This is apparent by the simplicity of the product's design, the not-overwhelming number of wires to wrangle and helpful features like the positioning targets coming in a handy box where you just pull the rope of stickers and they pop off.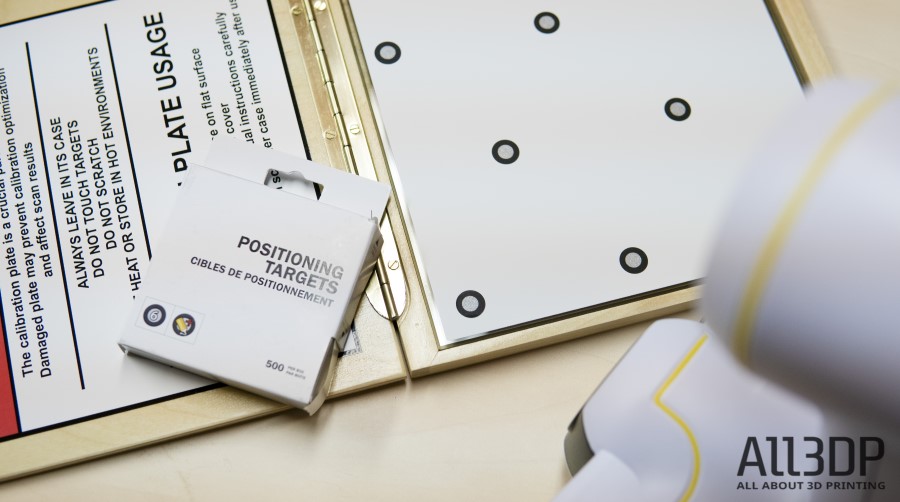 The process is also fairly streamlined. The scanner itself is easy to hold and doesn't weigh too much (though it can feel heavy when scanning for a while) and you scan by pushing a trigger on it with your index finger (and this absolutely can get tiring for your finger).
Depending on what or how you're scanning, you may not be able to see your PC screen to know how the scanning is going. Are you too close to the object? Too far? Have you lost tracking? The device uses a coded light system on it to keep you informed. A red light at the top means you're too close, a green light in the center means you're right on target, and a red light at the bottom means you're too far.
This is an elegant solution to not being able to see your PC screen while you scan. However, where it is slightly unwieldy is when you've lost tracking. Often, it can be hard to find your place again without having to look at your PC and see what area the software thinks you should be at and position the scanner accordingly.
Alternately, you can pick a place to reorient your scan yourself using the Resume Scan tool, a useful – and slightly cumbersome – tool that requires ceasing scanning, going to your PC, clicking on the icon and then selecting the area of the object where you'd like to resume scanning.
The software will also show what you've captured so far, with yellow being the last correctly positioned frame and purple showing that the tracking has been lost.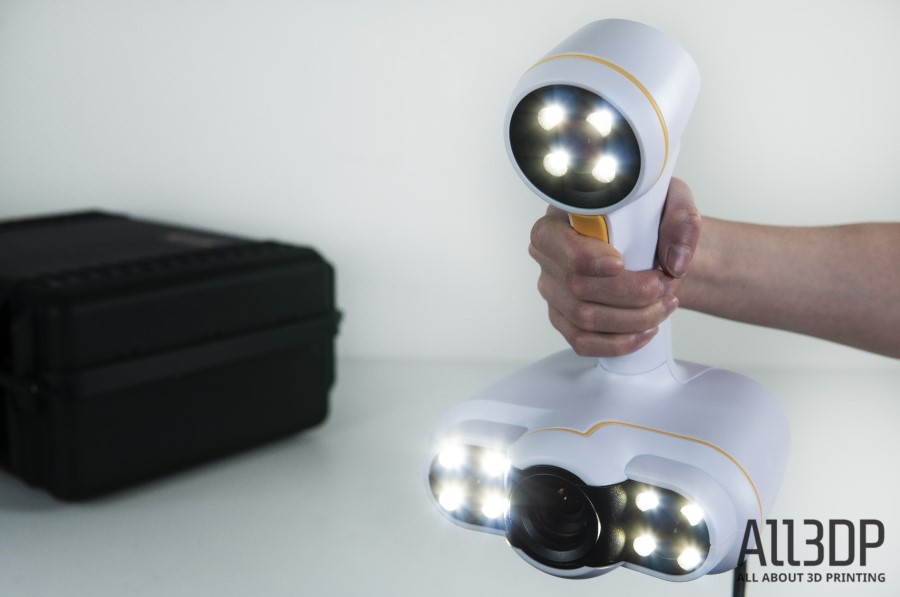 Scanning People
One of the perks of the Peel 2 is it's particularly good at scanning people in comparison to similarly priced scanners on the market. This is in part because it handles fabrics quite well, so picking up clothing isn't too challenging, but it's also because in the software you're able to pick a setting called Semi-Rigid Positioning, which lets the software be more forgiving when the subject shifts ever so slightly.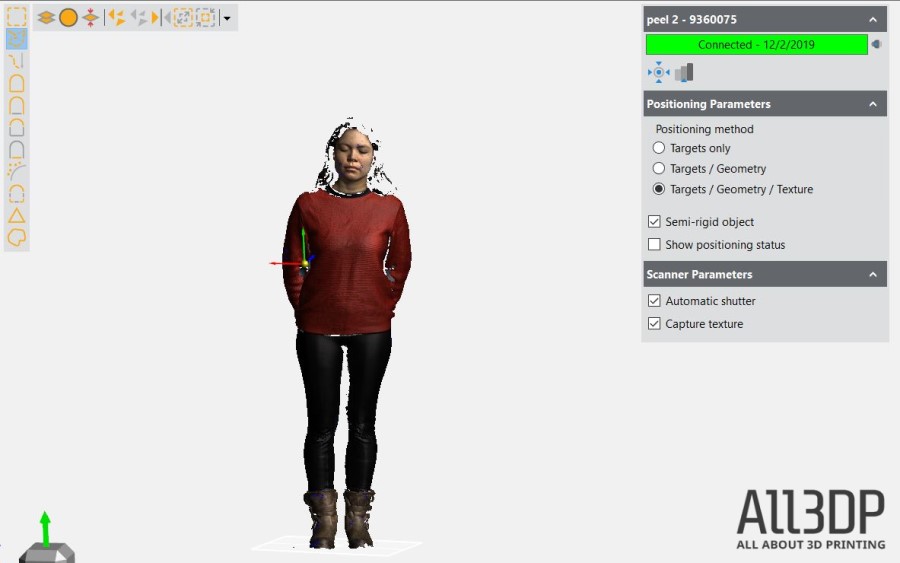 Scanning Objects
The Peel 2 is also adept at scanning objects, however, as mentioned, its strength lies in objects that are a minimum of 30 cm. Anything smaller and you'll have a rough go of it. This does not mean, however, that it cannot pick up small details. It absolutely can, but any intricate objects that are small are out of the question.
For large flat surfaces, the Peel 2, like the Peel 1, comes with tracking markers to stick onto the object and help the scanner identify where it is. These markers show up in white and are red when the scanner is directly on it.
Like most scanners, it struggles with hair (which can be somewhat helped with a liberal dousing of dry shampoo) and reflective surfaces (and there are sprays for this as well).
Accuracy
The Peel 2 can scan with an accuracy of up to 0.25 mm. This isn't the highest accuracy on the market in its price range. An Einscan Pro 2X and Pro 2X Plus (which, with an optional upgrade can both scan texture), for example, offer an accuracy of up to 0.05 mm when in their handheld mode. A similarly-priced Artec Eva Lite boasts an accuracy of up to 0.1 mm (but does not offer texture scanning).