Scanning with the Einscan Pro 2X Plus, as mentioned, can come in three main forms.
In Handheld Rapid Scan mode, the scanner is capable of processing up to 1,500,000 points per second (30 fps). The Handheld HD Scan mode is a bit slower with processing, but the scanning accuracy is up to 0.05 mm and, lastly, Fixed Scan mode, which is used when the scanner is stationary and has accuracy of up to 0.04 mm.
Calibration
Calibration is very simple and you only have to recalibrate if you're changing your scanning mode, if it becomes less accurate, if you're plugging in the texture camera or if you've just subjected the machine to a bumpy ride. Other than that, it only needs to be calibrated once every 15 days.
To do so, the process is explained on the software in quick videos as you go from step to step. Essentially, you hold the scanner over the calibration board and pull it away upwards at a 90-degree angle five times, moving the board around each time. The whole procedure is clearly explained by the software as you do it — it guides you through the process – to make it seamless.
However, it's not completely foolproof. It can fail if there are scratches on the board or if the lens isn't clear, for example. And if you're concerned about how well the scanner is picking data up — maybe you're getting a lot of tracking lost notifications while scanning, you can run an accuracy test to make sure everything's in tippy-top shape.
Markers
The Einscan Pro 2X Plus comes with a stack of markers that you can stick onto objects you're scanning so the scanner knows where it is. This is an option instead of using just the features of an object. You have to use the markers for Handheld HD Scan mode, but they're optional for the other modes. In the Handheld Rapid Scan mode you can also opt for a hybrid alignment that uses both features (for the areas where there are a lot of features) and markers (in the more plan parts).
The markers are easy to use, but very time consuming to peel off and stick on. You need to use a lot of them — more than you'd expect — so that there are always at least four in the camera at any one time.
Reflective Surfaces
Not every surface is easily scannable. For example, hair can be super tricky to get because it tends to be very shiny. Other reflective surfaces, like metals, are also tough. To get around this, there are a few sprays and coating materials you can dull them with
For hair, dry shampoo is a great option. We used this when scanning people to help the scanner pick up locks, but found we needed to use a lot, emphasis, a lot to get it to work. Even so, there never seemed to be enough.
Shining 3D also recommended a few other materials to reduce the shine of items, like Helling 3D Laser Scanning Spray, which is specifically designed for 3D scanning and is easy to remove.
However, not all surfaces can be easily sprayed down. The scanner was unable to scan the black felt bottom of a trophy because it just couldn't pick it up. There are always workarounds, and in this case we taped some paper to the bottom, but then the tape showed up in the scan and the base wasn't perfectly flat.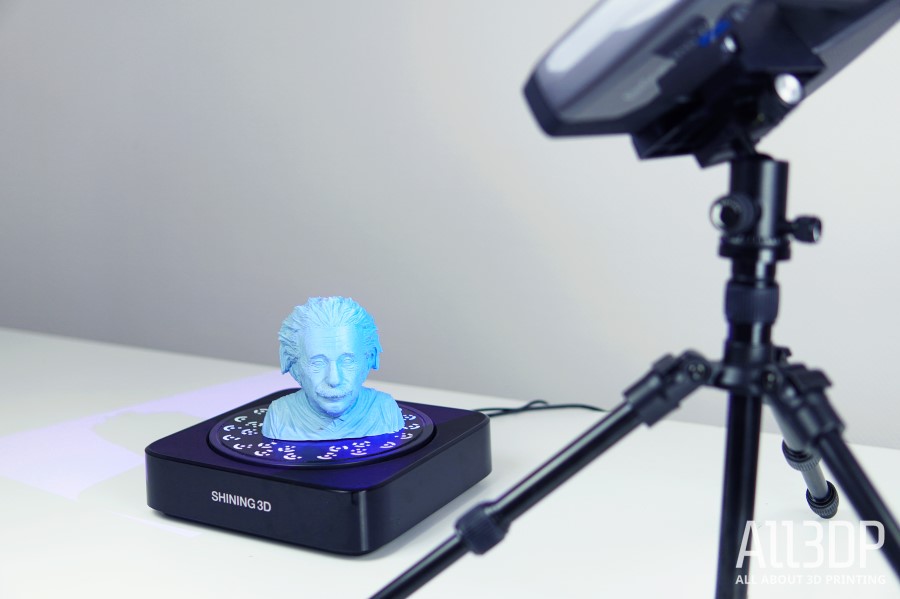 Scanning People
If you're considering investing in this to scan people, it works, but it's a little trickier given the fact that people move and their hair is shiny. All this makes it a little more time consuming to scan them over an object. We encountered a lot of notifications saying the tracking was lost, but there are ways to get around it — for example, by sticking markers on someone's face and the back of their head (it's not as easy as it sounds though).
Your subject has to stay extremely still, which is a difficult feat given the LED projector flashing in their face. Though the scanner is fast, it still takes some time to complete an entire scan of a head, so it's not exactly the quickest process.
And, as mentioned earlier, dry shampoo is a must, though it is (temporarily) aging.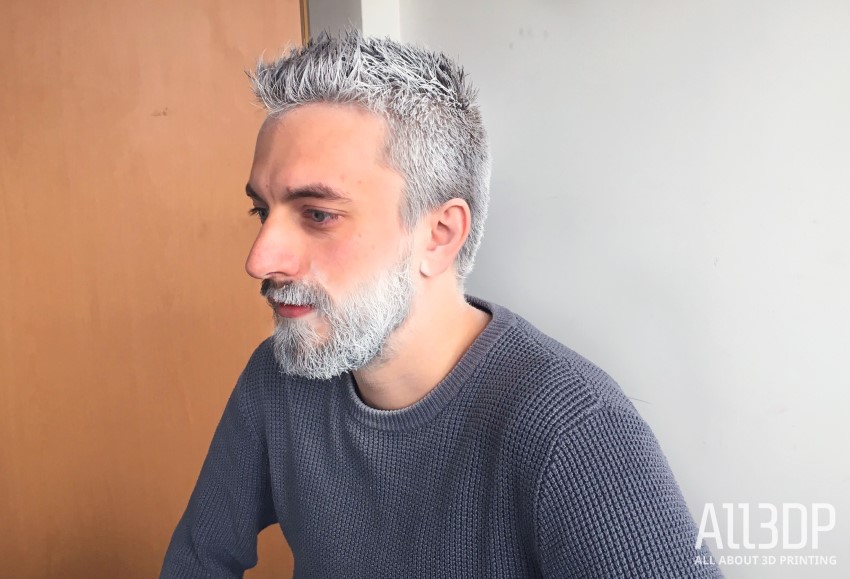 Once your subject is sufficiently sprayed down, the scanner should be able to pick up their hair. However, if you're hoping to use a texture camera to do this, don't buy the white color dry shampoo, but rather one that has a color (they come in blond, light brown and dark brown shades).
In order to really take advantage of the handheld scanning mode, Shining 3D recommends downloading the app AnyDesk to your phone for free and then syncing it to your PC. The 2X Plus comes with a handy phone screen mount you can hook onto the scanner itself so you can make sure everything is going smoothly without having to constantly look back and check your PC screen.
As you can see in the below scan, which has been meshed in the non-watertight mode, there are some areas that are missing. Unfortunately, the software wasn't able to identify some of the places where there are holes, and instead thought they were intentional. You can see the areas that are fixable using the manual fill tool in green and the areas that have already been manually filled in red.
We found this tool to be useful, but not perfect. Though you can pick between three different fill options: Flat, Tangent and Curvature, they don't always get the curvatures right. If you plan on doing some post-processing outside of the software, this is not an issue, but if you're counting on it for all your needs, you may at times get frustrated by its limitations.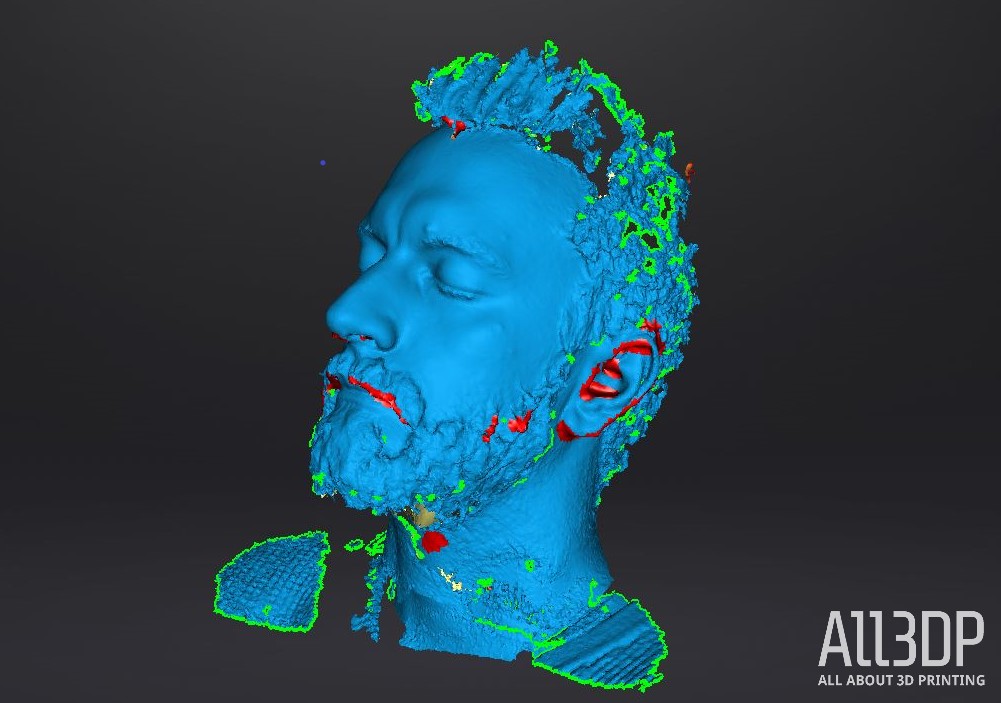 As you can also see from the image, in the Rapid Scan mode, the scanner also had trouble picking up the sweater material Matt was wearing. Depending on the fabric, and if you're also planning on doing a texture scan, spritzing some dry shampoo on it may not be the best solution.
Scanning Objects
Similarly to the issues we had picking up Matt's sweater, we also struggled with some objects that were very dark. In these cases, we just spritzed them down with dry shampoo and then had no further problems.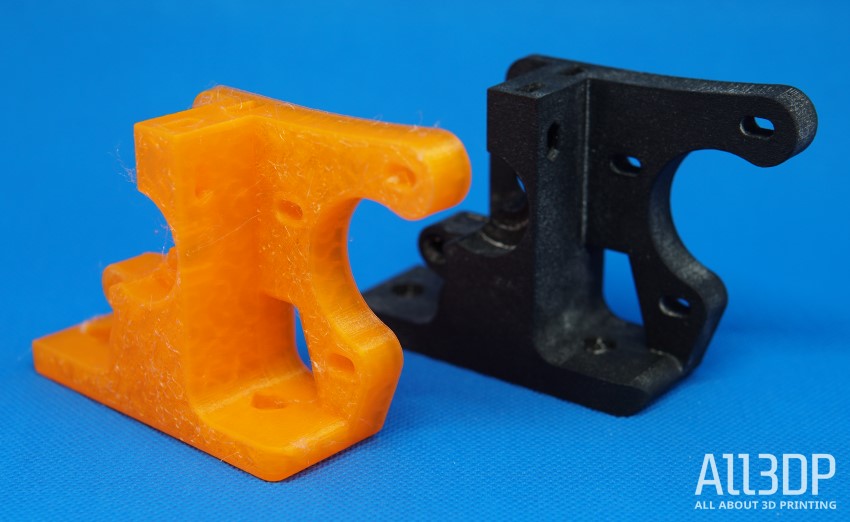 We especially enjoyed re-engineering parts, like the one pictured above. The scanner wasn't able to pick up the original part (the black one) in Fixed Scan mode, but after spraying it with dry shampoo, it had no problem. We printed out the re-engineered part in PLA with no supports just to see how it compared in the flesh.
The results were impressive. Measuring the parts and comparing them to one another, we found a discrepancy of o.2 mm — the reengineered part was ever so slightly bigger.
Similarly, we also re-engineered this turbine-type part, which was originally printed in alumide. We did this in Fixed Scan mode as well. The scanner was not able to get into the deepest crevices of the object, nor could it get much data from the hollow center of it, however, with very careful adjustments we were able to make some of the creases better than others.
(We printed this in PLA on a Prusa MK3S, which is why it doesn't have the perfect, smoothed edges of the original.)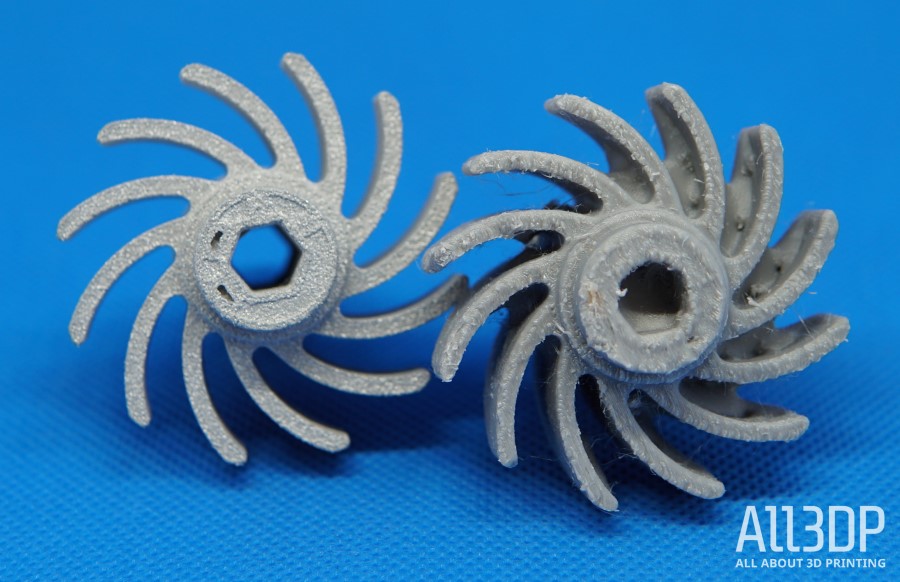 To take this back a little, with the two options of scanning a watertight and non-watertight model, the non-watertight one was the way to go. The watertight model was a little too heavy-handed for this part, as you can see in the first picture below. Meanwhile, while using the Tangent setting to manually fill in holes, we were able to get some perfect tips. The ones that weren't perfect unfortunately didn't have enough data for the software.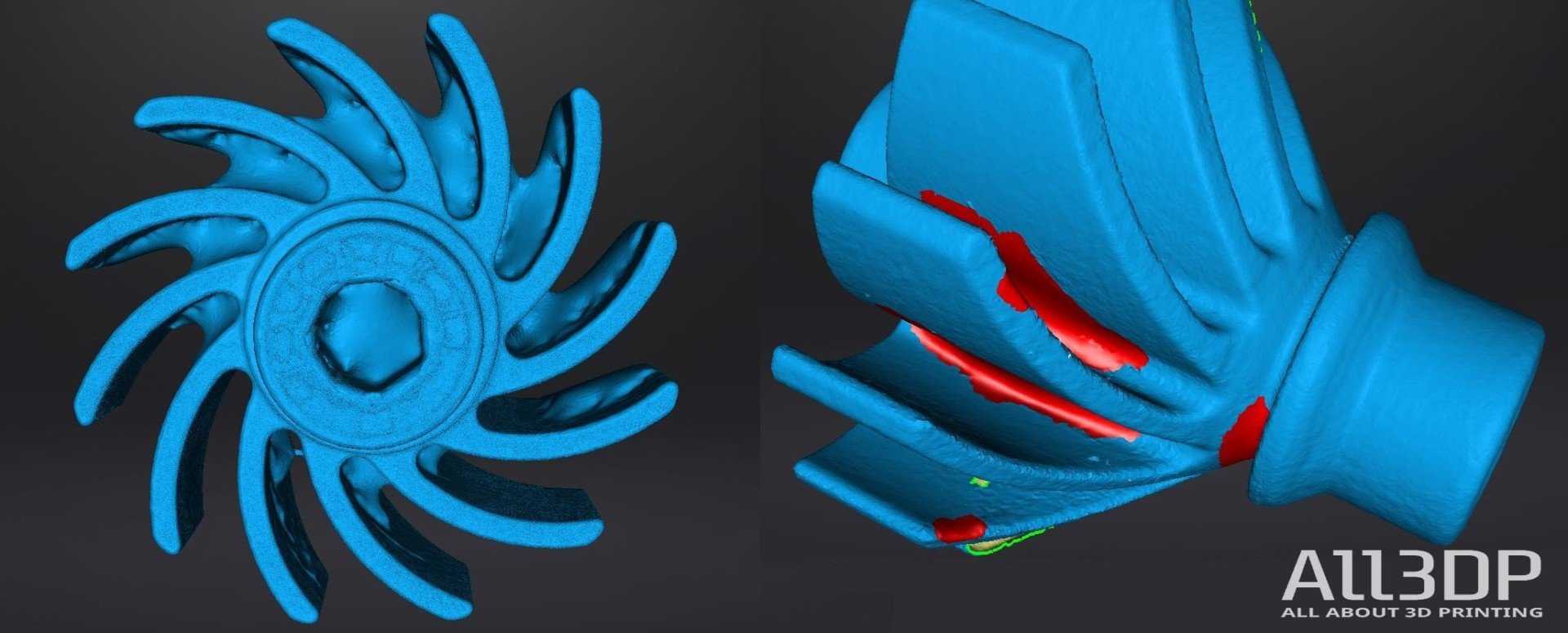 Overall, however, scanning, though it could sometimes get a bit tedious for some of the more crevasse-y pieces, was very effective.