We started our CraftBot 3 adventure off with a classic print: The Benchy. It turns out printing in doubles is twice as fun. The prints were fairly decent, but where the machine struggled was with overhangs and bridging. This issue would become more apparent the more we printed.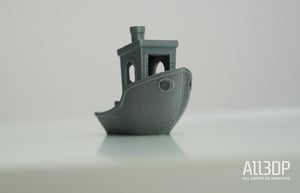 It was fun finding models for dual extrusion prints to test this printer. What was less fun was first figuring out how to get our prints to stick to the hotbed.
After a few prints came unstuck midway through printing and failed, we realized the solution is a lot of glue. Though our first successful print, Left Shark, was fairly decent, its success was tough to replicate. In fact, this printer's performance was consistently inconsistent.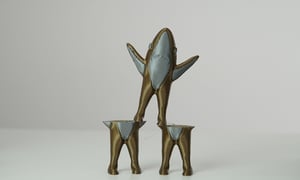 One of the main issues we had was with leveling the bed properly for prints. At its price range, automatic bed leveling would be preferred, however, with this machine, the pressure is on you to get it exactly right — a feat complicated by the dual extruders.
Wanting to test its extrusion abilities, we printed two Eiffel Towers simultaneously – one in gold and one in silver. Though it did print two towers – in the end – the result was a hot mess of stray strands of filament everywhere. It turns out its retraction abilities leave a lot to be desired.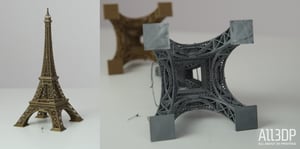 When using both extruders, and not at the same time, the printer builds a hollow filament tower to get rid of any filament blobs that accumulate on the end of the nozzle while it's idling. This works, for the most part, but has many downfalls. Not only does it waste a bit of filament, but when doing a large build, the tower can get quite tall and unstable. Midway through the print, the tower snapped in half – jeopardizing 20 hours of work with a remaining 20-30 left to go.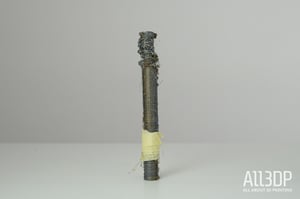 We ended up taping a metal rod to it to try and keep it upright and together so the entire print wouldn't fail or become more sloppy than it already was. And it worked, but if we hadn't been watching the printer in action right when this happened, we wouldn't have been so lucky.
As mentioned earlier, a big issue with the printer was its ability to handle overhang and bridging. On a cheaper machine, this would be more understandable, but for a printer marketed as for professionals, it was disappointing. Though it got through prints, there was nothing it made that wowed us.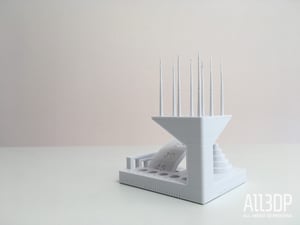 Our final print, the Autodesk Kickstarter test, looks at an FDM printer's precision – read more about it here. The CraftBot 3 achieved the following results:
Dimensional Accuracy: 5 of 5 points (24.92 / 19.94 / 14.94 / 10.08 / 4.94)
Fine Flow Control: 2.5 of 5 points (the spikes were printed to their full height, but we encountered some stringing at the top)
Fine Negative Features: 5 of 5 points (all pins were removable by hand)
Overhangs: 2 of 5 points (30°, 20° and 15° overhangs showed some minor irregularities)
Bridging: 0 of 5 points (all bridges contacted the surface beneath them)
XY Resonance: 2.5 of 2.5 points (no ringing detectable)
Z-Axis Alignment: 2.5 of 2.5 points (no layer registration effect visible)
Overall, the printer scored 19.5 out of a possible 30 points. (For comparison, a Prusa i3 MK3S scores 24.5 on this test.)
Ultimately, because the prints were generally mediocre, we did not bother testing the printer out with other materials.